Darsh is strapped to all kinds of machines in the neonatal Intensive Care Unit. The machines beep softly every now and then, as if giving evidence of life. Six-year-old Darsh, however, gives none, lying there with his eyes tightly shut.
His parents, Prashant and Nisha Jain, linger in the hospital waiting room. It's been two days. Around them, the heavy silence is broken by the occasional passing nurse. They pace around the sterile room, trying to find ways to distract their persecuted minds into some semblance of calm.
Prashant finds a spot near the blood bank to sit and stare. He's done with reading most of the "patient education" brochures lying around. On the wall in front of him, there is a framed picture of a newspaper cut out. He walks close to see that the article is about a child cadaver organ donor case from the same hospital from little over a week ago. A nine-year-old had died after a minor orthopaedic surgery went wrong. Instead of being enraged and demanding retribution, the boy's parents showed the courage to think about doing some good instead. As Prashant reads this, his eyes wander toward the board of the Zonal Transplant Coordination Committee (ZTCC) office opposite the blood bank.
He has not acknowleged the worst yet, even to himself. Darsh's death is far from his mind. He has no idea that soon he'd be taking a decision to donate the organs of his son.
But something makes Prashant go in.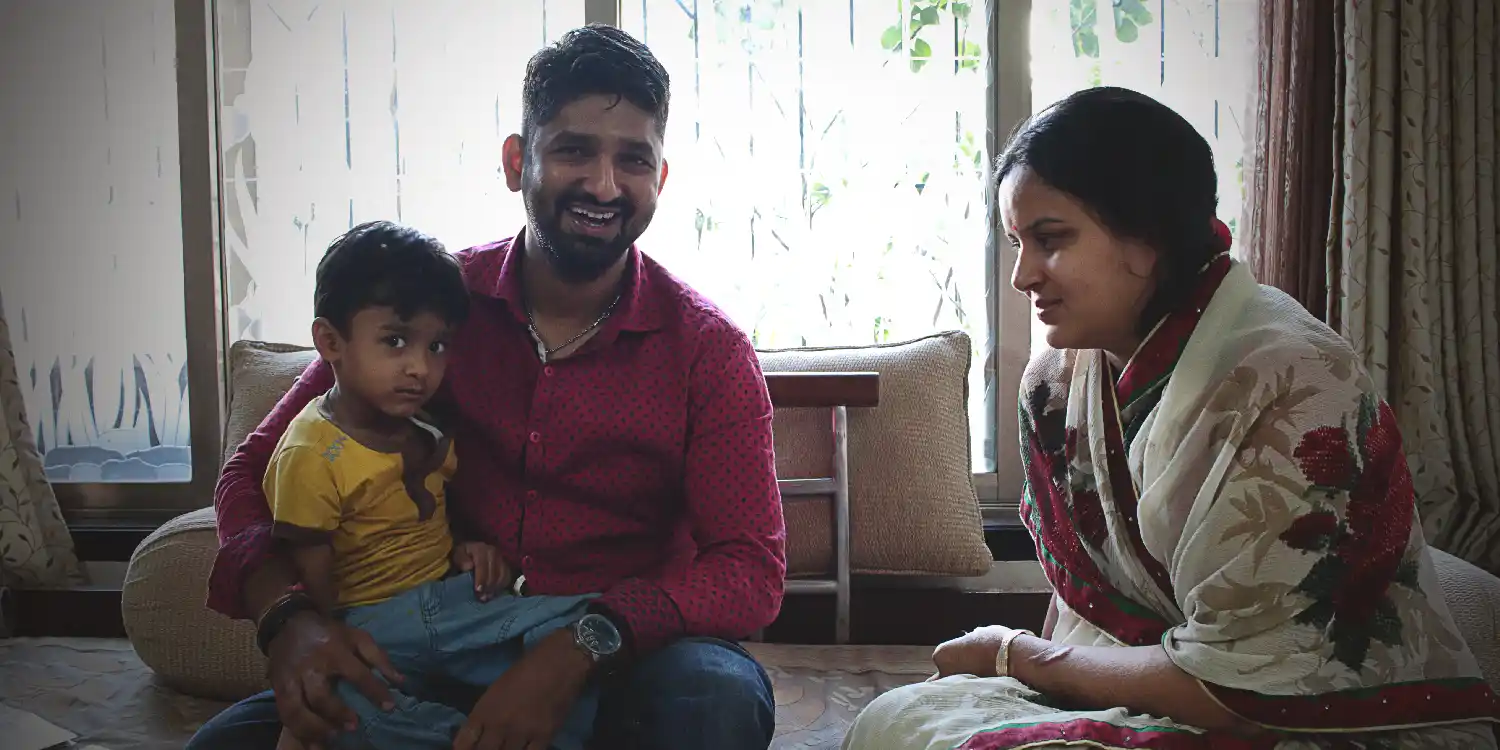 Vivaan was barely one when Darsh died. He's just learning he had an elder brother.
Pratik Gupta/ Arré
Two portraits of Darsh, in oil, hang in the Jains' living room. Their younger, three-year-old son is playing on the divan. Vivaan has learned to offer pranaam to these pictures – of Darsh before and after his mundan – every time he leaves the house. Vivaan was barely one when Darsh died. He's just learning he had an elder brother. "All he knows is, Darsh photo mein hai," says Prashant, who runs a fancy saree blouse-piece store in suburban Thane.
His wife Nisha walks in with nimbu sherbet for us, an offering we feel uneasy to accept. Nisha and Prashant have replayed events leading to Darsh's demise and their decision to donate his organs in their minds, to family, friends, and at awareness meets, countless times since February 24, 2014. It wasn't the kind of story one could listen to nonchalantly, over nimbu pani.
Darsh was a preterm baby. He arrived in the eighth month, weighing only 1.46 kilos. "This was not unusual in our family. We'd seen 800 gram babies too," Prashant says, as if to warn me not to think that his son's death was ever expected. At six months, they felt their son's growth milestones weren't as expected in the early months. A brain scan confirmed Periventricular Leukomalacia, a kind of brain injury seen in some premature infants. But the prognosis was far from dire. "Doctors told us things will happen, dheere dheere. It's not a condition where he'd not live," says Prashant.
That February, the year Darsh turned six, he caught the flu. Three days after his viral fever episode, Darsh slept in longer than usual, and he had to be cajoled to wake up for dinner, one he never finished. A sip of water he took began to run out of his nose, and he seemed to be losing consciousness. They called the doctor, who asked them to immediately rush him to a fully equipped hospital, where he had to be admitted to the NICU, and put on a ventilator. "He never woke up."
Five days after he was admitted to the NICU, Darsh was pronounced brain dead.
***
Organ donation in India is a subject rife with stigma. Even as awareness of the humanitarian nature of the gesture appeals to people, what stands in the way is the idea of cutting into a loved one's body. But more than that, what stands in the way is usually family.
When Prasant wandered into the office of the ZTCC and realised the path he had inadvertently set off on, he knew they had to at least consider it. After Darsh's death, the grieving parents drew strength from the story of the nine-year-old boy, and discussed it with their family doctor, close family, and friends. The fact that two of Prashant's family friends had suffered kidney failures and one of them had been saved by a transplant, also aided them.
Yet, the thought of having them cut their son to extract his organs was disturbing. "He'd suffered so much over the last few days – bruised and swollen, he looked fragile – we felt horror at imagining them cutting him open." But then a friend posed one question, "You are not going to keep your son's body in a fridge? You will be cremating it. Is that going be less painful than donating his organs?"
That question sealed the decision.
Once it sunk in, Prashant and Nisha worried about what relatives would have to say. "What if there's a community backlash?" They also knew that they would spend the coming months defending their decision to everyone who thought they'd desecrated their son's body, brutally cutting into it. But they were firm. They backed away from everyone who was against their decision and signed the paperwork to give away Darsh's liver, kidneys, and eyes. When the time came for the funeral, Prashant requested a full jhubba for Darsh, right upto his chin because he didn't want any conversation around the cut.
As far as Prashant and Nisha are concerned, the gift of four lives was Darsh's legacy, and they won't allow society to question it.
As parents who have lost a young child, Prashant and Nisha are not the first to wonder where in heaven their sweet boy now lives. But unlike others, they knew that some part of him lives on in other people here on earth.
"Who were the people who received my bachu's organs? Was the transplant a success, were they doing okay now?" Prashant understood this was going to be a problem. As per the Transplantation of Human Organ Act, the identity of the recipients is not to be revealed. But Nisha's grief wouldn't come to a rest so he managed to get the names of two patients along with an assurance that all four beneficiaries were doing well. Nisha sometimes checks the Facebook profile of the kidneys' recipient, a woman in the city, she confesses; but they don't intend to get in touch with her or the others. "Sometimes we think about how it'd be if we were to meet them, but it'll be too painful, flashbacks and all… Knowing that they are all doing fine is enough," says Nisha.
Today, Prashant and Nisha are torchbearers for the cause of organ donation and have spoken at several awareness meetings. Occasionally, ZTCC coordinators reach out to Prashant to speak to family members of brain dead patients about donating their organs. He says he tries, but doesn't always succeed. Family is too strong a hurdle.
***
I've been at Prashant and Nisha's house for three hours now. They look depleted after sharing their story yet again, but they take joy in narrating Darsh's memories. The family brings out for us a bag full of Darsh's memorabilia, certificates of donation, and photo albums. News snippets on their son's organ donation that appeared in various newspapers are neatly filed. I learn that Darsh loved songs. Arijit Singh's "Tum Hi Ho" from Aashiqui 2 was his favourite number. And that Darsh never said "ma" or "papa". Darsh never learned to talk, or walk without assistance.
Darsh is now Maharashtra's youngest paediatric cadaver organ donor. Prashant and Nisha have managed to find a silver lining in their dark times. They are convinced that Darsh was born to fulfil a destiny as an organ donor; he was born only to give others life. Prashant wishes to go the same way too, when his time comes some day.
An organ donor card rests in his wallet alongside pictures of his son.