Angadias are the nucleus of India's rural and urban cash economy. You'd think the demonetisation drive would've rendered them jobless. But that doesn't seem to be the case.
One look at Kamlesh and you'd say he's still 18. He's about 5'9" and unnaturally thin. If I ran into him on the street, I'd probably peg him for a college boy who flunked a year or two. So it comes as a real surprise when he tells me he's 24, married and has a kid on the way. He and his wife have been living in their one-bedroom apartment in Thakur Complex, Kandivali.
Kamlesh and I are drinking piping hot tea, which tastes like scalding hot ginger soup, but those tiny sips seem to be giving him the confidence to open up. Kamlesh is an apprentice in a secret society of angadias – the indispensable couriers of cash, jewellery, and gems – who are taught at the crib to always keep mum. Getting him to talk to me has been an endeavour that deserves its own story.
In his defence, the last one year hasn't been easy. With the government's demonetisation drive, business came to a screeching halt. Just after the announcement Kamlesh's clients had bigger problems than transporting their cash, so angadias had to lay low until economic equilibrium was established. Kamlesh's cellphone was switched off for a couple of weeks – an event that's akin to death in their business. He went back to his village until early January, when business slowly got back on track.
Kamlesh's last run before Modiji's surgical strike on currency was transporting ₹70 crore in cold hard cash across Mumbai, and from there on to Ahmedabad. He and "Uncle", the man who got him into this business, made their way to the Bharat Diamond Bourse at Bandra Kurla Complex, where two trucks along with two follow-vehicles awaited them. It was about 4 pm and they had until 9.30 pm to get their goods on the "angadia rail" or the Gujarat Mail that leaves Mumbai Central at 10 pm every night.
Of the two vans, one was a decoy, one carried the goods. Which was which, nobody knew, not even the men transporting the moolah. One crore in ₹1,000 notes weighs 12 kg, give or take a few hundred grams, Kamlesh tells me. Seventy crores rounds out to about 800 kg. With the new ₹2,000 notes, Kamlesh tells me, at least the weight will halve.
The train journey that night was his first ever. On the railway station, the canvas bags were quickly unloaded under the watch of a lone security guard with a bushy moustache. Porters in orange shirts whisked the goods to the train, flanked by other angadias clutching shoulder bags. After the loading was done, he and Uncle took their place inside the second-class car.
As uncle got busy snacking and gossiping with familiar faces in the berth next to theirs, Kamlesh remembers his palms being sweaty in a heightened sense of anticipation. He felt like everyone knew about the load they were carrying. Anyone could stage a robbery at gun point since the train travels through states recording nearly one-third of all Indian train robberies. But angadias are rarely robbed, even though the whole world knows about the train and the compartments these men usually occupy – S3 and S4.
It's a self-protecting system and everyone is in on it including the police and income tax officials, but the exact network of relationships between these various parties remains a trade secret. Some say Indian gangsters prefer clean, easy hits, and diamonds, unlike gold, are hard to sell quickly because the industry is tight-knit and it takes time to assess a gem's value. Collusion with the powerful underworld has long been suspected but never proved.
While his uncle chatted away, Kamlesh recognised some of the faces. Like the diamond courier Tarachand, a retired bank employee who has done more than 5,600 diamond runs, who carried his load in small pink paper pouches stitched inside his shirt. Kamlesh's main job was to stay awake while the others grabbed some sleep. He had been instructed to get on the train with empty bowels and bladder in order to avoid trips to the bathroom.
Diamond traders and businessmen prefer angadia services, as it involves mutual trust, is a completely unofficial channel, and faster than any other service.
Kamlesh didn't sleep that night or go to the loo. Those eight hours were the longest of his life and each train halt made his heart stop. In the morning, after the bags had been carried away to safety, he finally relieved himself at his sister's place and slept the sleep of the dead.
His first major run was over.
Angadias are the nucleus of India's rural and urban cash transactions and are central to the functioning of the cash economy. A few years ago, Mumbai tax authorities detained some angadias and demanded that they open their bags. The messengers refused, and angadias staged a wildcat strike. Pressure from crippled diamond merchants forced the government to retreat within days.
In a world of online banking and e-commerce, Kamlesh and his tribe are an anomalous remnant of times gone by, when the world wasn't one big website. Theirs is a system that evolved hundreds of years ago when men from villages would head to the cities/mandis to make money, but had no way to send remittances reliably to their families back in the villages. From there, it grew into a multi-million-dollar trade that forms the heart of India's cash economy.
Most angadias are from the Kathiawar region in Gujarat and belong to the same community. This shared community is a large part of the angadia guarantee. A cheating man will have no place to run if his family can be traced.
These carriers of India's cash have been in the business for generations. Diamond traders and businessmen prefer angadia services, as it involves mutual trust, is a completely unofficial channel, and faster than any other service. In today's world, unaccounted-for cash gets transferred within a matter of minutes. The angadias transfer money, diamonds, and jewellery, within a maximum of 24 hours and charge a small fee.
The rules and codes governing the business are strict and universal. The angadia lexicon is the lifeline of the trade: For example, "sau", or hundred, indicates a lakh, which is usually their commission for transporting the large sum. "Jokham" (literally, "risk") means precious cargo, and "dagina" stands in for gold and jewellery.
For the actual transaction, the sender takes a code from the recipient, usually the serial number of a ₹10 or ₹100 note in the cargo. Then the sender informs the angadia, who informs his person at the recipient's end. Subsequently, once delivered, the ₹10 note bearing that currency number is collected as proof of delivery. Sometimes, instead of the number of the currency, the telephone number is also used. Once the money is delivered, the recipient gives a missed call or a call on the courier's cell.
To avoid carrying large quantities of cash, some traders who transact daily, stash an amount, usually from ₹10-50 lakh, with the angadia companies. After the above exchange of codes occurs, the money is handed over by the angadia company and the accounts are squared off weekly. The services that an angadia provides a businessman are unparalleled; no system like this exists anywhere in the world. So central are they to the existence of these traders, especially jewellers, that when angadia services take a 15-day vacation during Diwali, many diamond traders declare holidays.
The most important part of the angadia trade, though, is the network of relationships they rely on. Kamlesh remembers the 2013 IT haul that seized four trucks carrying 102 packets of cash, jewellery, and diamonds that employed 50 people just to count the cash. Ironically, the consignment was being escorted by Mumbai policemen, who claim it is routine practice to provide protection to these couriers to avert robbery. Even that night, couriers from competing companies sat in packs near the railroad policeman assigned to each car.
As of today, the angadias are walking on thin ice. Has the cash economy revived itself? Was Modi successful in doing away with black money? Kamlesh is too young to answer that for me but he has been assured by his elders that nothing has changed. Half the money they carry, after all, is sarkari money. The system is being carried out today as it was decades ago, just a little hush-hush and no matter what happens, it will be the same for the future. It will be a blue moon before India becomes a cashless economy.
And where there is cash, there will always be angadias.
This is an updated version of an earlier published story.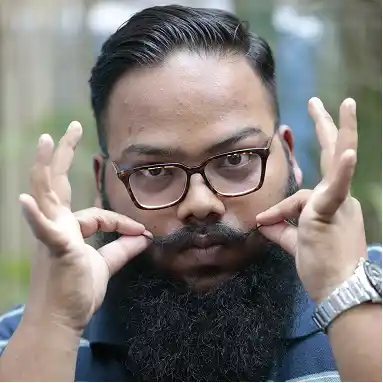 Damian loves playing videogames. If all the bounties he collected slaying zombies were tangible, he wouldn't need to write such bios. Seriously though, Damian used to be a cook who wrote, now he's just a writer who cooks.