What happened to Ameesha Patel, who was once primed for a place among the Kajols and Preity Zintas of the world? We turned to her Twitter feed to investigate.
The first film I ever saw in a theatre with my maternal grandfather was Kaho Naa Pyaar Hai. I was eight years old, and for some reason too hyped because #MuscularHrithik, so I'd forced him to take me to a show. When the credits rolled around, my grandfather joined my hyped state, convinced that the movie's leads were going to be superstars. That day, we walked out thinking we'd seen the future.
Ameesha Patel revolutionised the rich bratty girl who likes poor, good-natured boys in Kaho Naa Pyar Hai at the turn of the millennium. The following year, she wiped the floor with Sunny paaji in Gadar: Ek Prem Katha. Then in 2002, she ruled the screen in perhaps the most underrated Bollywood film of all time, Humraaz (I don't care if you haterz fill up my mentions).
That was Ameesha 18 years ago. The Ameesha we see now is still in that phase from almost two decades ago. A swift perusal of her Twitter timeline informed me that for this almost-there superstar, the last 20 years just did not happen. Ameesha is still RT-ing tweets about the success of Gadar, the nostalgia of Kaho Naa Pyaar Hai, and how she's still super attractive. All of which fills me up with a kind of sadness I usually reserve for Arsenal defeats.
In her inaugural three years in Bollywood, Ameesha played three roles with some measure of variety – more than most of our heroines could then hope for. She was primed for a place among the Kajols and Preity Zintas of the world. But we know what fate awaits the best-laid plans of mice and men. Along the way, something disastrous happened. Ameesha lost her way, and the rest of us were treated to stink bombs like Suno Sasurjee, Elaan, Mere Jeevan Saathi, and Teesri Aankh: The Hidden Camera. Over the years, her filmography has come to resemble a post-apocalyptic wasteland, with recent films being Shortcut Romeo and Desi Magic. I didn't even know some of these existed – and I am an Ameesha fan.
What happened then, to one of India's most promising movie stars? Was it bad decisions, a producer conspiracy, or a cruel twist of fate? More importantly, what's up with Ameesha now?
Once upon a time in Mumbai, Ameesha Patel mattered to the world, but as the sun continues to rise and set, people moved on to next hottest thing.
To look for clues, I turned to a deep investigation of that most revelatory of all platforms: her Twitter feed. No really; every tweet we put out, every heart we hit, reflects the innermost workings of our minds. British psychotherapist Sandra Scott actually developed an app to understand an individual's personality based on their Twitter feed. "Most of us have some aspect of ourselves which we are not fully aware of, a sort of 'hidden persona,'" Scott said. "It is interesting to see how we can unconsciously reveal this part of ourselves through the use of social media."
Happy bday 2 one of my most charming n fav co stars @IAMSUNNYDEOL .. pic.twitter.com/K94KXlnVkq

— ameesha patel (@ameesha_patel) October 19, 2016
Here is what I learnt about Ameesha:
She suffers from the Glory Days Syndrome
The Glory Days Syndrome explains how some people just can't get over their early success. Ameesha is sadly a prime candidate, stuck in the middle of her reality and her past. What else explains her tweets of pictures with famous folks, some of whom aren't even relevant anymore? People like Tusshar Kapoor and Rajeev Shukla, two dudes who even Google has forgotten about.
Once upon a time in Mumbai, Ameesha Patel mattered to the world, but as the sun continues to rise and set, people moved on to next hottest thing: Priyanka Chopra, Deepika Padukone, Alia Bhatt, and now, maybe, Kriti Sanon. It is a cruel, endless cycle. The problem is, Ameesha never got on the cycle, for she thought she was riding in a Bentley, impervious to this shit-storm that hits every female star. In her head, she is still there: making movies with Hrithik and ruling the world.
Her present though is starkly different, mostly comprising different airport looks, where she once even tweeted about getting the window seat. I hope God sees her tears from those windows and requests her to move on, for this is the saddest movie she has ever been in, sadder even than Race 2.
She believes in "Love Thyself"
Ok, this one is a healthy feeling. On Twitter, where everyone loves themselves in the "Hey, I'm cool. Look at what music I listen to or films I watch or what I think about this social cause" way, Ameesha's self-love verges along the lines of "Look bitch, I'm still hot and having tonnes of fun." Every second or third tweet is an image of her at a photoshoot or just wearing nice clothes to a party, where she's "vibing". (She loves the word vibe.)
In a Twitter culture created around tweeting "thoughts" or being angry about anything, Ameesha is standing on rooftops in bars screaming IDGAF, look how nice I look. A closer inspection reveals that in all her photos, including those taken in the dark, she's the primary source of light, telling us she thinks of herself as a Messianic figure, here to save us from our bad Sundays.
Did this penchant for loving herself, bordering on narcissism lead to the demise of her movie career? Did she upset the producer of Gadar by asking to remove the hand-pump herself? Did she ask Karan Johar for a compliment while speaking to him about a film?
Her Fans are BFFs
Fandom is the grandest ancillary for celebrities, and Ameesha loves whatever is left of hers.
She loves that they still remember her in "Lazy Lamhe", that they care about her kickboxing, that they praise her chemistry with Hrithik. In all of Indian Twitter, Ameesha Patel retweeting @ameesharules is the darkest timeline, a reminder of how bad things can be when they truly go south.
When ur house looks like a beautiful garden before u leave for work on ur bday .. thank u all 4 spoiling me pic.twitter.com/bshHBwZNj2

— ameesha patel (@ameesha_patel) June 9, 2017
Because one moment, you're Ameesha Patel, hitting parties at Shah Rukh's and appearing in fashion magazine cover stories. And the next moment, you're Ameesha Patel, retweeting fan-made Valentine's Day wishes from someone with a victory sign DP and the handle "Ameesha is my life".
Just like Bollywood, though, the paparazzi has moved on – and so have we. Things are so dire that Ameesha had to beef with Miss Malini on Twitter about her Chanel bags for attention. These are the kind of beefs which turn casual spectators into zealots, but Ameesha's got 18 retweets and one reply from a fan: A mere blip in this unending vacuum of despair.
It's her birthday today, and I was reminded of the place she once occupied in our constellation. And how we build our stars up only to pull them down later. Here's hoping she has a better year than the ten gone past.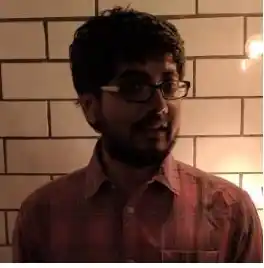 Lover of baby animals, Arsene Wenger, Damien Rice, Peggy Olsen and overly long podcasts. Tweets at @parthsarora.
Confused about most stuff. Writes things.