The last inhabitants of India's last villages along the border, have few choices. Their only option is to maintain an uneasy peace with their shelled seclusion.
The last villages on the border before the Line of Control remind me of territories that were once ravaged by war. The lands of Akhnoor might never have witnessed soldiers in open hand-to-hand combat and it isn't as if the streets are lined by bodies, but there is an overwhelming presence of death. It is indicated by the little memorials to martyred soldiers, marked with vermillion, that line the road to the district. There are reminders everywhere: In the deserted paths, swathes of godforsaken fields with rotting fruit on trees, and miles of silence broken only by the earth-shattering rounds of firing between two armies ranged on either side of a star-crossed border.
Channi is one of the frontier villages of Jammu and Kashmir's Akhnoor district, about 300 km from Srinagar. As we drive to the village, we pass army bunkers and pickets along the way. I see a battle-tank, emblazoned with the words "Aaj Hamla Hoga (today we attack)." Those are powerful words that ring hollow in a village that has been repeatedly attacked for years. The last attack had happened a day prior. Shells had landed in Channi, killing three buffaloes and damaging a house. Most of the brick walls of the village bear bullet marks and signs of mortar shell-strikes.
The sole resident of Channi is a physically challenged woman named Ratna Devi. Skinny and unbelievably fragile, Ratna was disabled in a shell attack in 1999. She was travelling in a bus with her mother, when a shell hit it. Her mother was killed instantly, while Ratna lost her leg. Yet, it is the psychological scars of the day that she continues to bear. "I have experienced the worst and survived," she says, "but I keep wondering what if I meet my mother's fate?"
The other inhabitants of Channi left soon after they were told to evacuate last year on September 29. Many of them now live in a camp pitched inside an ashram, while others have been put up in the Akhnoor Higher Secondary School, the only government-run camp in the entire belt.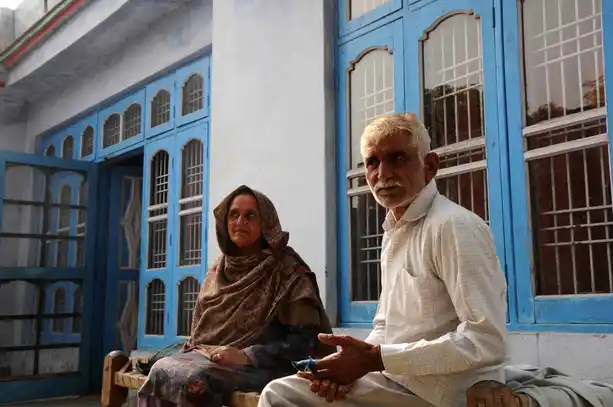 Kamal Nath and his wife sitting on a charpai in the courtyard of their house in Palatan.
Courtesy: Safeena Wani
The history of Akhnoor is written in tears that it continues to shed today. According to a local legend, the emperor Jahangir was in Srinagar when he was told his sons were fighting among themselves in Delhi to succeed him. He immediately set out to return to his capital, but died within days. His entourage decided to bury his body in Lahore across the Chenab. But during the crossing, his body fell off the boat and seeing this, his wife, Noorjehan cried. Thus, the name of the district – Akhnoor.
That was centuries ago. Today, even stray dogs and cats appear to have slunk away from these parts. The only human faces in the village belong to people who don't have the option of leaving. A total of 181 incidents of cross-border firing were reported in a one-year period between January 2015 and 2016, which left 22 people dead and 75 others injured. The constant threat to life and limb hangs like the sword of Damocles over their heads. But the few who choose to stay back, persevere.
A little further from Channi, we come to Pallatan over which a hushed silence has descended. The only inhabitants of Pallatan, Kamal Nath and Rena Devi, live in a single-storey pucca house, the windows of which are shut tight in adherence to a general order to maintain a "blackout". The lights remain switched off, and inside, the fetid air reeks of burnt roti.
Kamal Nath is 73 and refuses to abandon his crops and cattle in Pallatan, one of the 121 villages in the district, that falls within shell-striking distance of the LoC. Except the couple, all inhabitants have fled Pallatan or have been evacuated to safer distances from Pakistani shelling. Earlier this year, they sent their two sons and their families to the camp – but their connection with their ancestral land does not allow them to leave.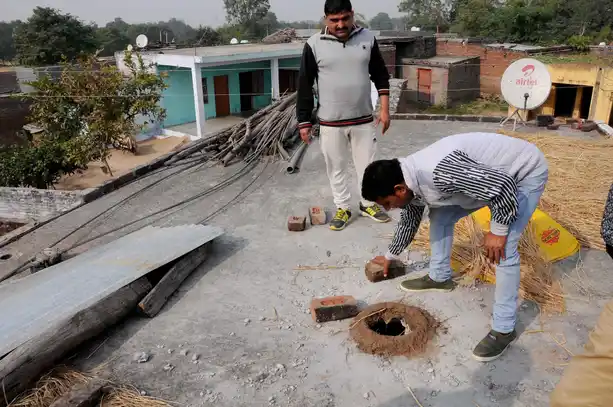 In Palatan, a house is damaged by Pakistani shelling.
Courtesy: Safeena Wani
Sitting in his well-worn shirt and pyjamas on a charpai in the courtyard, close to a sizeable crater, he tells us about everyday life in Akhnoor. "Yesterday was hell," he says in a shaky voice. When the shelling started around 2 pm, Nath's cattle panicked and ran, and he ended up injuring his finger. "For a moment, I thought my wife was going to die. How those shells rained on us!"
Rena Devi peers from behind a cloth curtain until Nath calls her out. She walks slowly, a 55-year-old woman wearing a blue salwar kameez and a terrorised expression. Nath tells me she is so petrified to step out of the house that she has moved the chulha into the house from its place in the courtyard. Devi's fear of death from a killer shell is manifest in her nightmares. "I always have this picture in my head of a shell falling on my house and killing me," she stammers in a low tone. "I don't sleep nights. I keep waiting for the dawn."
But in Akhnoor, the days are no better than the nights. A shell can strike anytime, and put paid to your land, your cattle, and your life. Each moment is fretful, thick with the awareness that the next instant could change everything. And for the last inhabitants of India's last villages, the choices aren't many: Their only option is to maintain an uneasy peace with their shelled seclusion.

Safeena Wani is part of 101 Reporters, based in Kashmir.