Frank and Monika Eggert had been on their bikes for several hours, their hamstrings straining, sweat running down their backs. It was the second day of the gruelling Hero MTB Himalaya mountain biking competition, and they were in the middle of a pine forest somewhere in Himachal Pradesh. Cycling through a downhill section on a single trail track, Frank suddenly turned to Monika, looked into the camera, and yelled with a mix of frustration and amusement, "I'm on a honeymoon! What am I doing here?!"
For this mountain biking German couple, the thought of a honeymoon spent lazing on virgin beaches on a Caribbean island or getting luxury massages in an Alpine retreat, was completely untenable. There was no question that they would spend their post-nuptial romantic getaway shaping their calves and carving their quadriceps on an eight-day mountain bike race in the rugged backcountry of Himachal Pradesh. There was virgin territory to explore, there would be nights spent under the stars, and then there were 650 backbreaking kilometres from Shimla to the finish line in Dharamsala. For the duo that had grown into mountain biking together, what could be a better celebration of love and marriage?
It was a decade ago when Frank, who works with a steel plant, walked into an Irish pub in Peine in the Lower Saxony region. That's where he met Monika, a horse rider who had a side job as a waitress in the pub. The duo hit it off the same evening and soon after, Monika exchanged horses for the steel-and-carbon fibre steed that Frank preferred.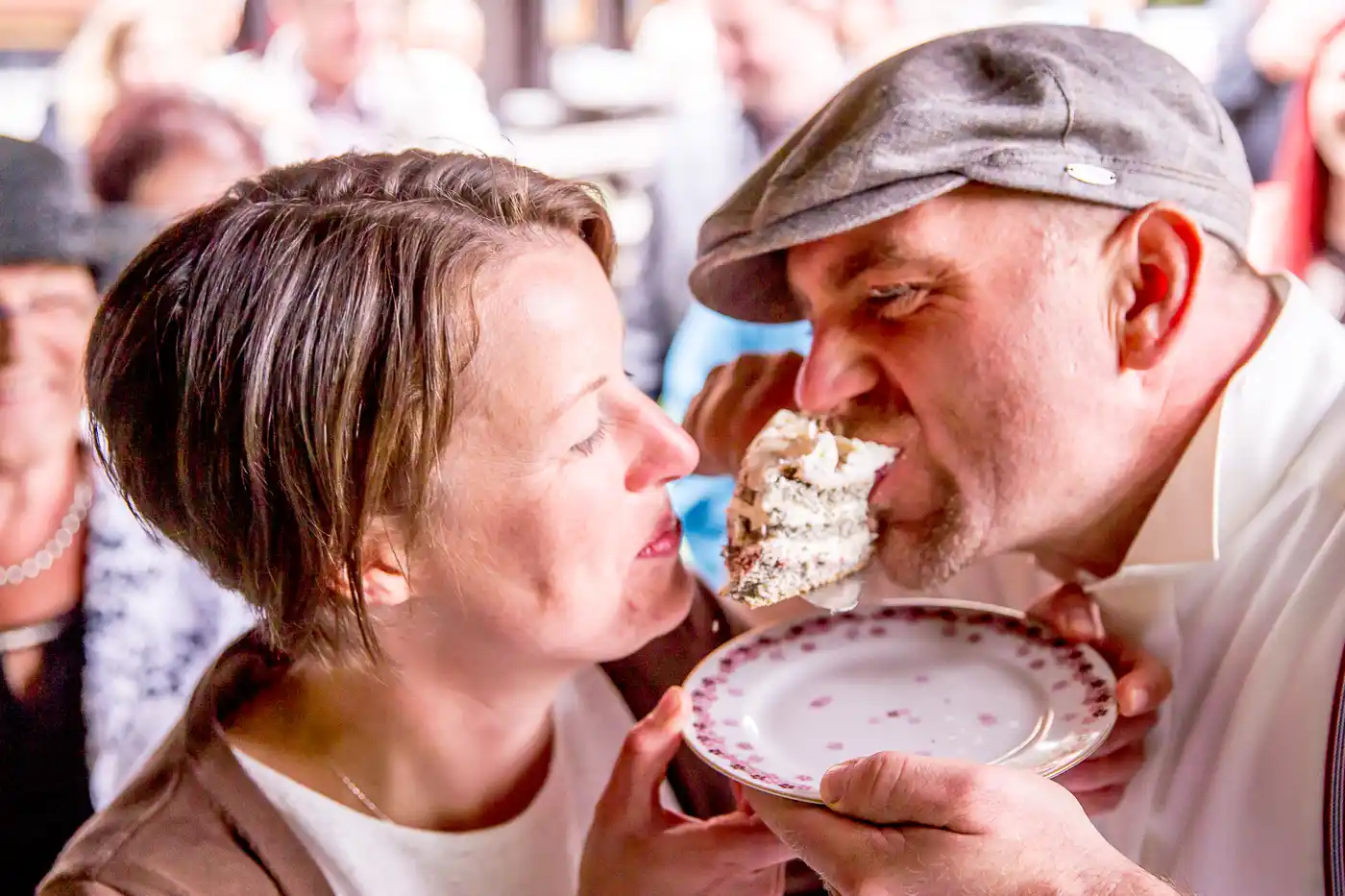 Their first race turned into a lifelong affair.
Courtesy: Frank Eggert
Dating then meant pedalling around town on their bicycles. As their love grew, so did the distances that they took on. Seven years ago, they decided to sign up for a mountain bike race as a team and there was no looking back: Their longest ride took them through Poland, the Czech Republic, Hungary, Austria, and back to Germany.
Their first race turned into a lifelong affair – and just like love, often took a turn for the crazy. One year they competed in Denmark's "Prison Break" race, which begins and ends in a gigantic jail.
Frank moved closer to Monika, and the duo got into the local racing circuit, as a way to spend more time together. The Eggerts usually ride in the mixed-pair category in the stage races that they participate in. Frank leads the way being the more experienced rider, and they swear that they have more fights on the bike than at home. But those get ironed out as the terrain changes: Some days are like an arduous uphill climb in the heat, others like an uncontrolled downhill slide in the rain. "Frank is the funny guy, so if I don't feel too good, he starts his banter and cracks me up. He's the perfect distraction on tough days," Monika says.
The two took the plunge in August this year, at a five-day party at a ski hut in Germany's Harz Mountains. Friends and family had to ride in to the middle of the woods on their bikes. The newlyweds, meanwhile, also customised a tandem bike to ride to the church. When they sat down to figure their honeymoon, the Himalayan race was the perfect draw, as they set out on their first adventure as Mr and Mrs Eggert.
Once in India, they spent two weeks riding in Himachal Pradesh, starting off in Spiti Valley and making their way up to Kunzum La (4590m). At the best of times, this trying climb is a test for most cars. The two powered through somehow, finding quiet time in between, camping by the azure waters of Chandratal. It all paid off eventually because they finished third in the mixed-pair category. The beauty around them helped. "The vistas were so stunning at times that we would forget to pedal, and then it would strike us that we were part of a race," Frank says.
They have left one wish unfulfilled though – to ride a bike over 5,000 meters from Manali to Leh. They'll be back for their second-year anniversary.