On a road trip to Rajasthan, when I heard Bullet Baba's story, I sniggered. I probably shouldn't have.
Once upon a time (yes, this is that kind of story) there lived an average Joe called Om Singh Rathore in Rajasthan's Chotila village. Om Singh, a swashbuckling lad of the land and son of a local leader, was riding his Bullet. There he was chugging along satisfyingly on the Jodhpur highway near the Pali bypass, possibly humming a Rajasthani folk tune, the kind your heart gives into on a nice little bike ride, when he suddenly crashed into a tree. Om Singh's humming came to an abrupt halt, as did his life. Rumour has it that he was riding his bike drunk, but nobody knows what really went down. They only know this – Om Singh Rathore was canonised as the patron saint of NH-65. Now known as Bullet Baba.
If you're a biker and you hear of a shrine dedicated to the very bike you are riding, with the legend of a drunk Bullet Baba at the heart of the story, a pit stop is a given.
I had been riding with the MOB (Men On Bikes) for a good 1,500-odd kilometres from Mumbai in chilly climes one December. Biker tip: It's cool only once you get done with the monotony of the endless highway to Ahmedabad. Until then, it feels like you're living in an ashtray with every passing truck generously spewing smoke at your face.
Anyway, while closing in on the Rajasthan border, we were thrown into the gorgeous, barren expanse of the desert land that sucks travellers right in.
The Bullet Baba temple looked like one of those wayside shrines that dotted the landscape of Rajasthan. If it weren't for the blaring bhajans that snapped me out of my routine noontide snooze at 65 kmph, I would have ridden right past without Bullet Baba's blessings. In hindsight, that would have been an excellent thing.
Adjacent to the bhajan-tripping hotel, were roadside stalls that sold knick-knacks – amulets to framed pictures of Baba and Baba-branded accessories for your Bullet. I didn't know much about Bullet Baba's blessings on human existence, but he definitely seemed to have showered his blessings on the local economy.
I hopped across the highway, more pleased to rest my sore backside than to pay obeisance. I looked around for the spire of the temple but couldn't locate one. Yet it seemed unlike one of those holy places, where you are harassed by holy men and thugs alike on arrival. Nobody seemed to care much about the presence of six macho bikers in their oh-so-cool rider jackets and flashy sunglasses, and their beastly machines.
Right across the entrance, was a tree around which devotees walked with a holy thread until they ran out of it. I walked over to two men, who sat there chomping on the prasad while putting on their shoes. I didn't know it then, but this was the very tree, which our debonair Rajasthani lad had slammed into that fateful night.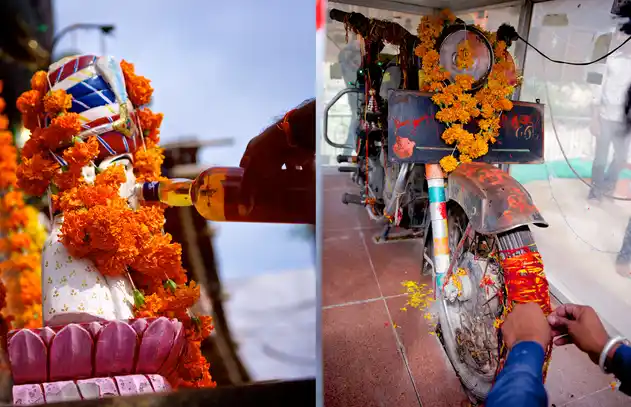 This bike that refused to be chained invoked chants of "miracle, miracle" from the local population and another God on the pious Indian landscape was thus born.

Mint/Contibutor/Getty Images
Rathore's transformation to Bullet Baba happened through a series of curious incidents that I'm going to call "The Curious Case Of the Pig-Headed Bike". Legend has it that the cops towed his bike away to a nearby police station, but the next morning, it made its way back to the spot where he had died. They took it back the following day and drained out all the fuel, but once again, the bike made its way back. So the cops took it away yet again, and this time chained the bike to a pole at the police station. And as you would have guessed, the bike made its way back to the same spot.
This bike that refused to be chained invoked chants of "miracle, miracle" from the local population and another God on the pious Indian landscape was thus born.
As I heard Bullet Baba's story, somewhere not too deep inside me, I also heard a snigger. This was a rider who had done nothing grander than ride inebriated, which in other parts of the world may have got him a DUI, but around here, got him a following of ardent worshippers.
As the men launched into the curse of Bullet Baba (presumably bestowed upon those who don't pay their respects to him), I took their leave and entered the shrine. A sign at the entrance announced, quite unfairly considering the role alcohol had played in the narrative, "Yahan sharaab pina sakt mana hai (Drinking alcohol is strictly prohibited)." But in a way it probably made sense, lest a rival Santro Sadhu crash his car a few metres down the road and steal Bullet Baba's thunder.
Now I'm a worshipper myself and I bow down to my Royal Enfield for the careless joy she's given me on an empty road. At the same time, she demands respect, failing which she unleashes her fury by breaking down, mostly when you least expect it. But the sight of a human being bowing down to a dusty, old bike in a glass casing that resembles those abandoned vehicles that are usually found outside the local Regional Transport Office, really makes you rethink this evolution thing.
As I was standing there, grinning the grin, a voluptuous middle-aged woman arrived with a walker that was crumbling under her weight. She somehow made it down to touch her forehead in front of the bike in reverence. Now this bike she was prostrating in front of, was essentially a mini playground for rats, which had burrowed their way into the enclosure over the years. I imagined the lot of them cackling together every time men prostrated to worship them.
It took three people, along with her husband, to get the lady to stand back up. Not finished, she then did a parikrama to a pedestal in front where a bust of Bullet Baba was installed next to his framed photo and made offerings, while a priest tied a holy thread to her hand. To my eternal credit, I kept a straight face throughout.
Now, I can understand what deities mean to locals, but if people are going to be ready to worship drunk riders, they should worship chain-snatchers, wild hunters, breakdancers, zookeepers, and ghostbusters, and really anyone who can concoct an urban legend of a disappearing act.
I walked out with a smirk on my face. Ridiculous was a word used liberally at the lunch that followed the temple visit and I wrapped up my Bullet Baba trip by picking up as many cheesy souvenirs from the stalls as I could find, thinking of all the people I would narrate this incident to and the many laughs we would have at the idiocy of the devout Indian.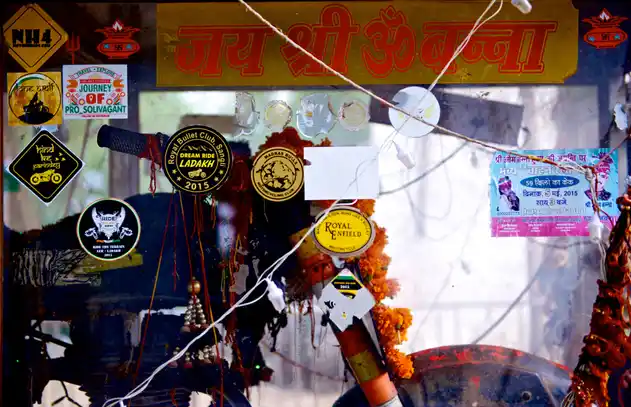 If people are going to be ready to worship drunk riders, they should worship chain-snatchers, wild hunters, breakdancers, zookeepers, and ghostbusters, and really anyone who can concoct an urban legend of a disappearing act.

Mint/Contibutor/Getty Images
We decided to get on with the ride to Sumerpur, having got our fix of Incredible India, even as devotees piled out of yet another loaded bus. The fast boys zoomed ahead, as I resumed my steady canter in their tracks. The sun tempered down as the evening set in.
As I picked up pace, easing past the 60-kmph mark, I suddenly realised a rhythmic thud that was coming from somewhere below me. I craned over to take a peek and further noticed my pants drenched toward the bottom. As I braked, the sound just got more alarming, and it took some effort to switch lanes in order to pull over by the side of the road.
Once I came to a halt, I didn't realise what hit me. But right there, I saw petrol dripping out of my fuel tank. On closer inspection, I realised that there was something jammed in my chain, and the more I towed my bike, the more it seemed to get entangled in it.
A highway patrol van stopped to check on me, and I learnt that my destination was still a good 25 kilometres away. It was also the only place I would possibly find a mechanic for the Royal Enfield, else it was a long march back to Jodhpur. The moment I decided to roll again, the sick sound was back, making all efforts futile.
A few from the MOB came back to look for their slowest rider and after a quick diagnosis, one thing was for certain – there was no way I was riding my bike anymore. A call was made to locate a mechanic at Sumerpur, then another to call for a tempo which cost me a cool Rs 2,500 for the rest of the distance.
The tempo arrived and my heart ached, as we loaded her at the back. For the first time on the ride, I was backing up into the twilight (yes, the bike was put on the tempo the other way round, and I had to sit on the seat to keep her stable), feeling like a chump. The MOB followed me, requesting photographs and videos as they switched formations, while I flashed the finger. But I soon resigned to my fate, as truckers had a good laugh at my misery.
As we entered Sumerpur, more jokes followed as kids chased the tempo in traffic, asking for a lift, while the locals flashed their cell phones to circulate photos of this new circus in town. I was never so happy to reach a destination.
The mechanic carefully looked at the bike from all angles, heard my story, and then asked, "Didn't you visit Bullet Baba and seek his blessings?"
I sheepishly said something and made it sound like a "yes".
"It's strange if you did," he continued. "For this looks like the curse of the Bullet Baba."
I learnt something important in that moment. I learnt that even if temples are constructed in the name of chain-snatchers, wild hunters, breakdancers, zookeepers, or ghostbusters, I will in the future bow down to them unquestioningly.
Right before I rode off after profusely thanking the mechanic, I tied one of the Bullet Baba amulets that I had bought to my bike. And just like that, I was a believer.

Shail Desai is a Mumbai-based journalist. He finds his kicks and his peace when in the mountains, and awaits the next excuse to get there.