"What do you want to do during your time here in the US?"
"Not sure, but I definitely want to visit at least one national park, maybe Yosemite. Other than that, explore the neighbourhood, exercise, eat some local food, and just chill," I said.
"Well, keep 10 days of your schedule free, because we're going to Alaska."
My sister and brother-in-law casually sprung this surprise on me around 30 minutes after I landed in San Francisco after a long flight from Mumbai.
Alaska! I was out of words.
Into The Wild was the first thing that came to my mind when they mentioned Alaska. The story of Christopher McCandless, a disillusioned young man who envisioned a life amid nature, of travel and being free from the trappings of civilisation and human interaction, only to die in the midst of the greatest adventure of his life – in Alaska – due to a series of small but significant missteps, endlessly fascinated me.
I was obsessed with McCandless' story — both Jon Krakauer's painstaking recollection of his life as well as Sean Penn's highly romanticised, eponymous, maiden directorial venture. And, thus the mention of US's 49th state conjured in my mind images of vast landscapes broken only by towering, snow-capped mountains, of whales leaping out of oceans against the backdrop of fast-disappearing glaciers, and, of course, of bears standing in the middle of rivers, catching salmon swimming upstream.
But what I really couldn't wait for was camping at Alaska's Denali National Park. After spending a day in Anchorage, the state's largest and most populous city, which we spent stocking on essential supplies, we drove to spend a night at Denali National Park the next morning.
And it did not disappoint.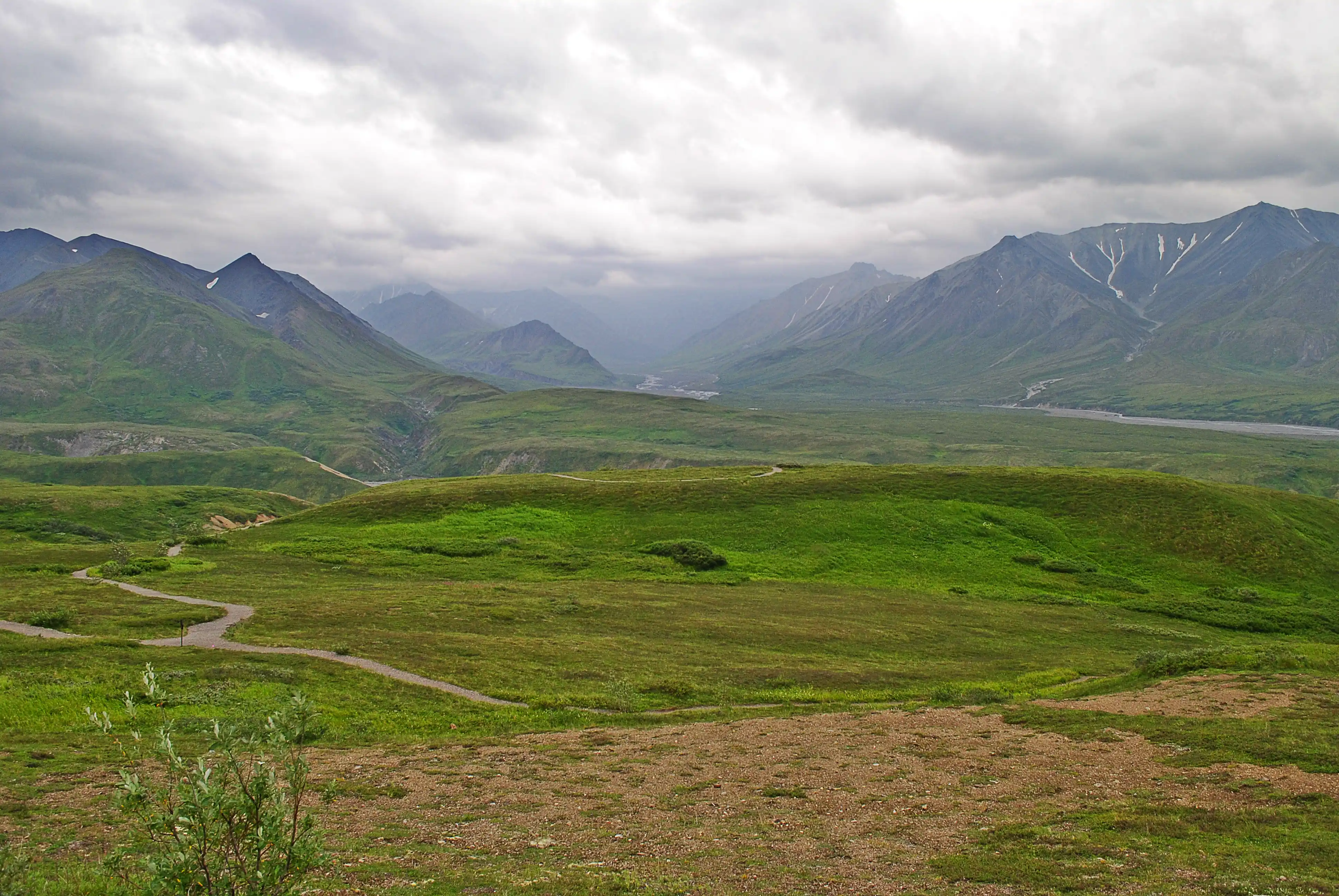 At about six million acres, Denali National Park, after Wrangell-St Elias and Gates of the Arctic, is the third largest National Park in the US. The only access to the park is a 92-mile long road, only the first 15 miles of which are open to private vehicles. The rest of the distance has to be covered on park buses.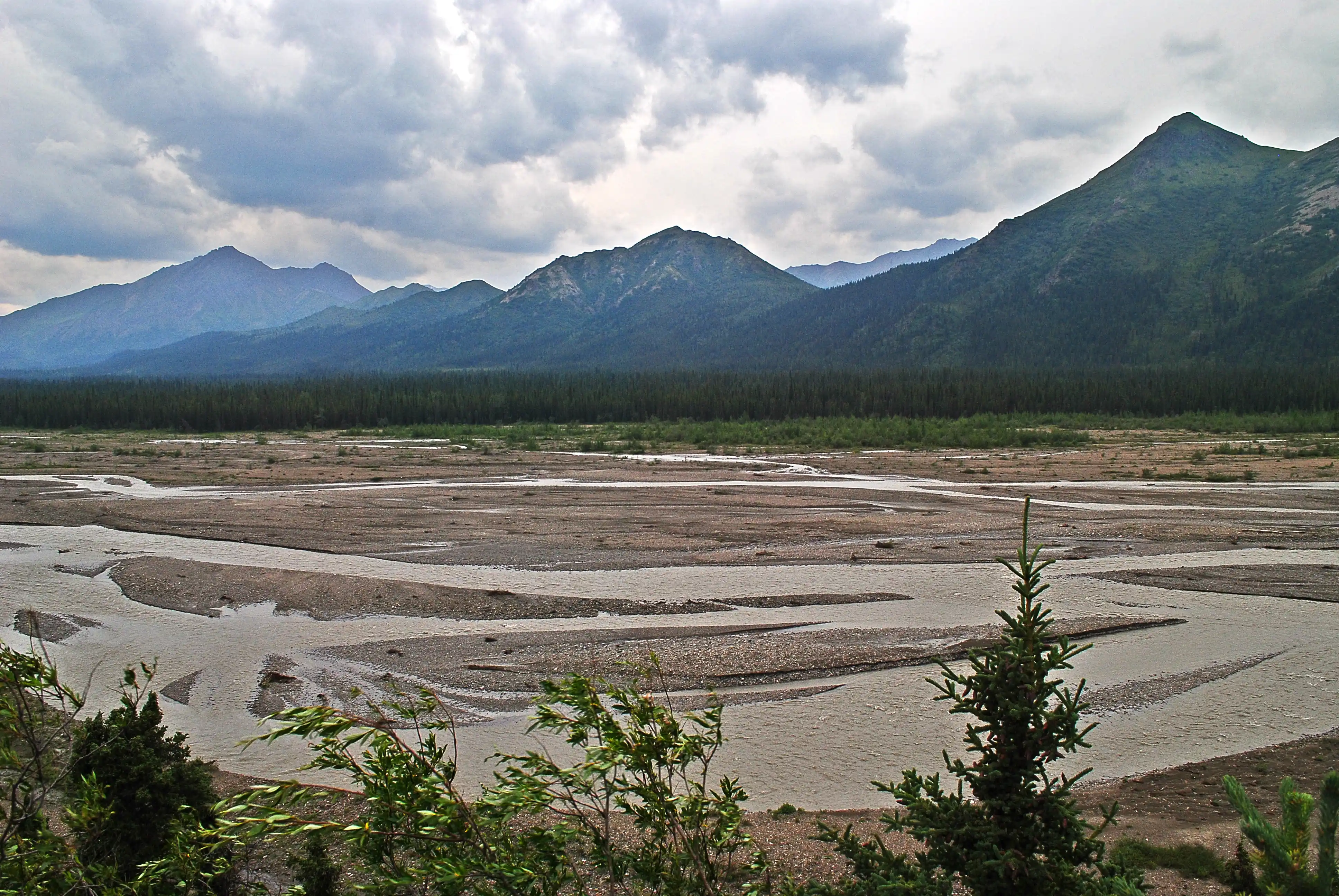 Many glacial rivers crisscross the park. The rivers are flooded during the melt season because of the runoff from the glaciers, and heavily silted during the other months.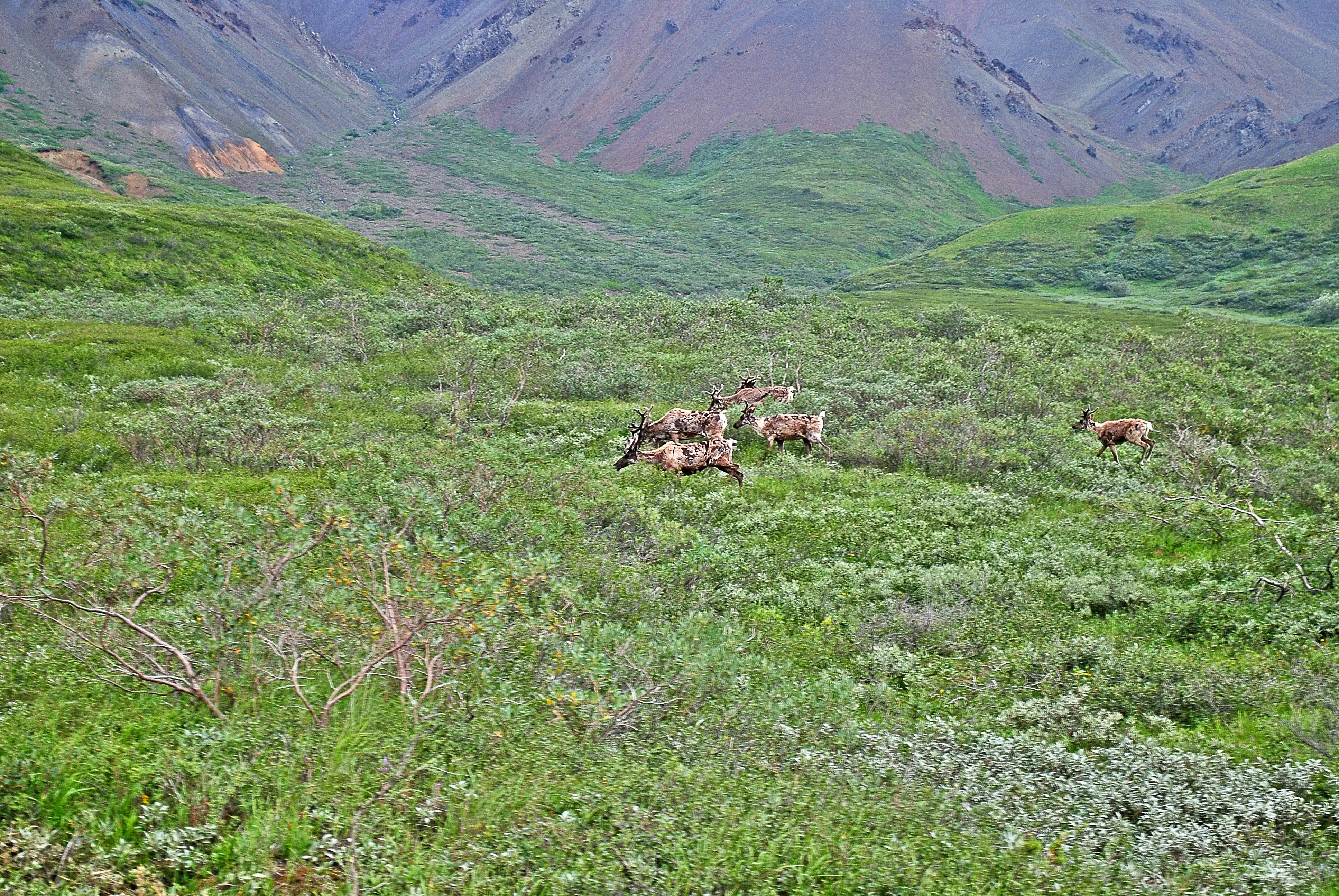 A herd of Caribou graze on a pasture not far from the park road. Narrow, and composed of loose, slippery gravel, the park road is not conducive to fast travel but that was not our priority either. The priority was to keep our eyes open for animals and the rule for that was simple – if you spot one, you call out loud, and the bus driver will stop for as long as you want.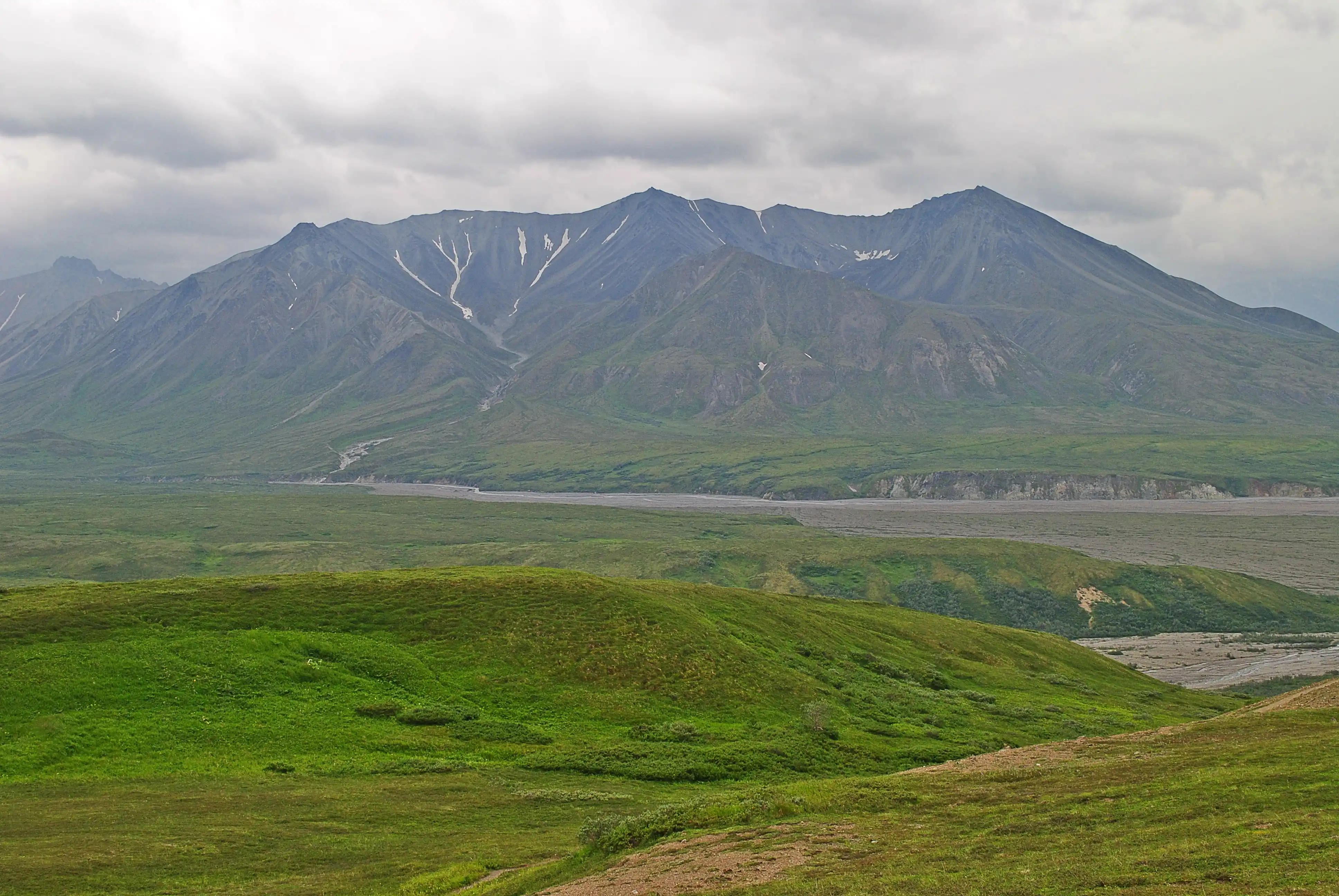 The magnificent Polychrome Mountain, which gets its name from the colourful rocks that shine under the summer sun, stands tall overlooking the national park. The polychrome range is part of the lower reaches of the Alaskan Range, the primary mountain range in the park.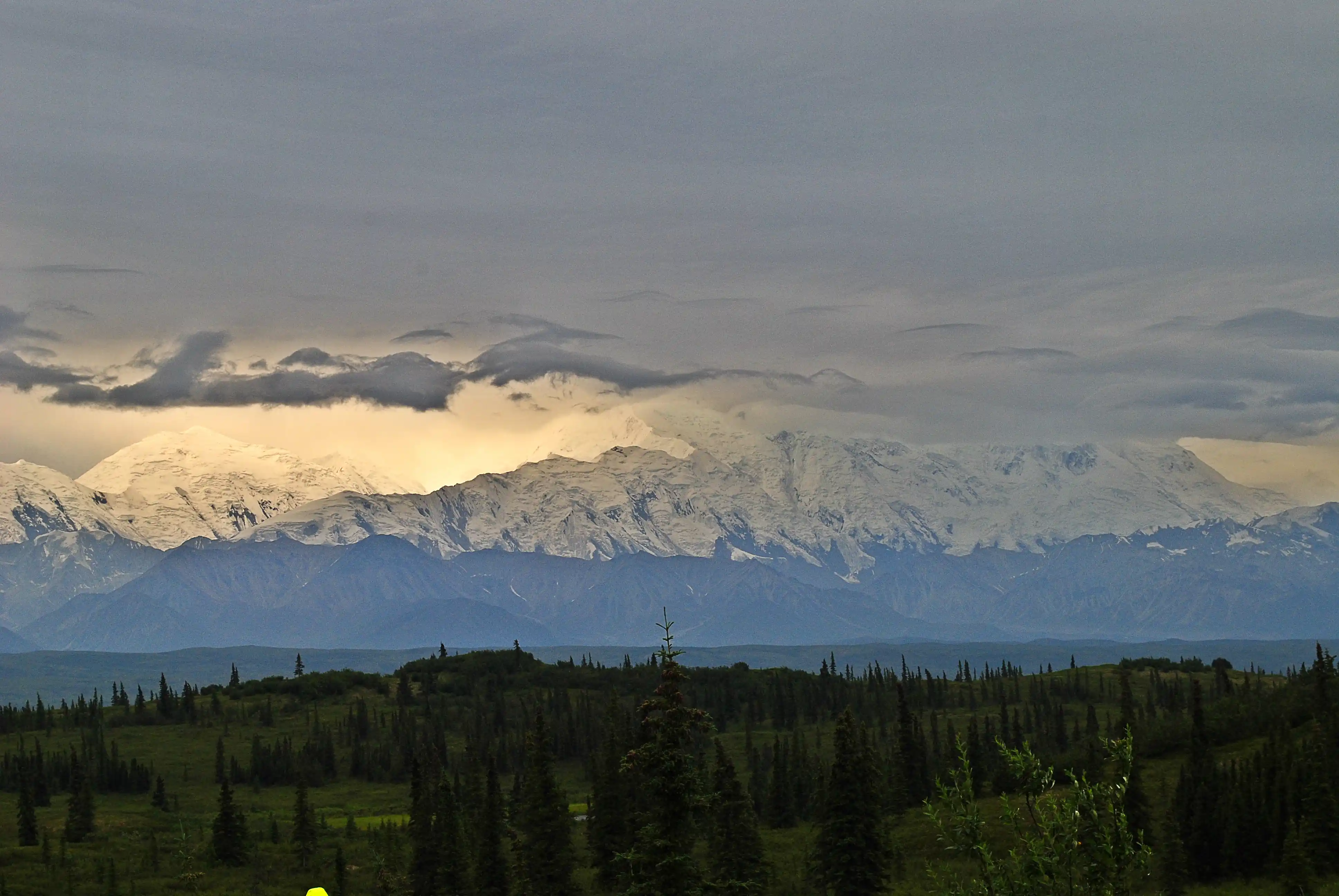 Denali, the park's namesake and the highest mountain (20,310 feet) in North America, is shrouded by clouds. Wonder Lake is the closest campground to Denali, about 26 miles away. No surprises then that we chose to pitch our tents there.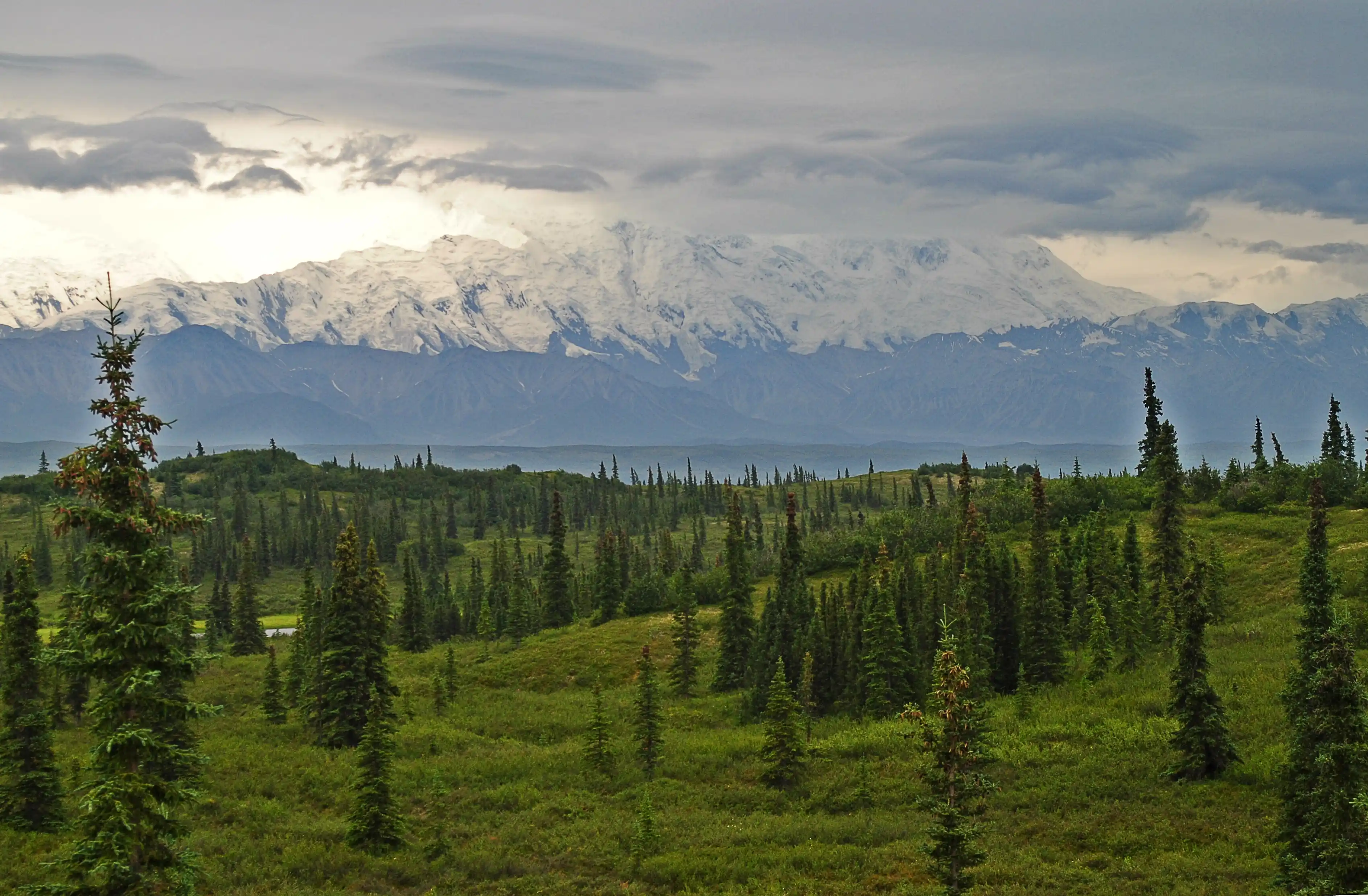 Mount Denali finds a significant mention in Athabaskan history. Denali means "the great one", a name used by the Alaskan natives for generations. The mountain was named Mount McKinley by a gold prospector in 1897, after William McKinley, the 25th American president. In August 2015, Barack Obama renamed Mount McKinley to Mount Denali.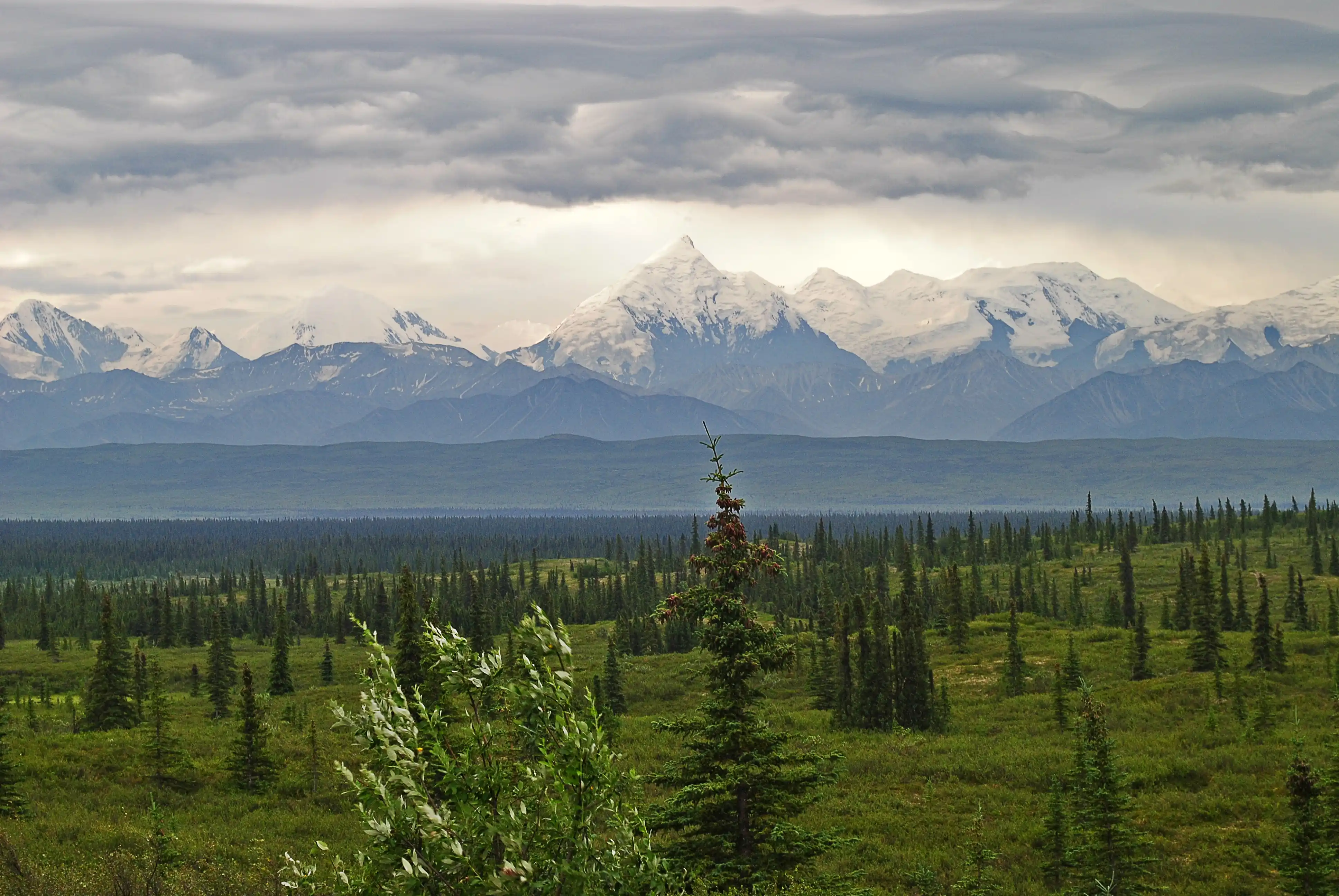 We were hoping to see Mount Denali and the rest of the Arctic Range in all its glory, but unfortunately, the weather began to take a turn for the worse as soon as we reached the campground.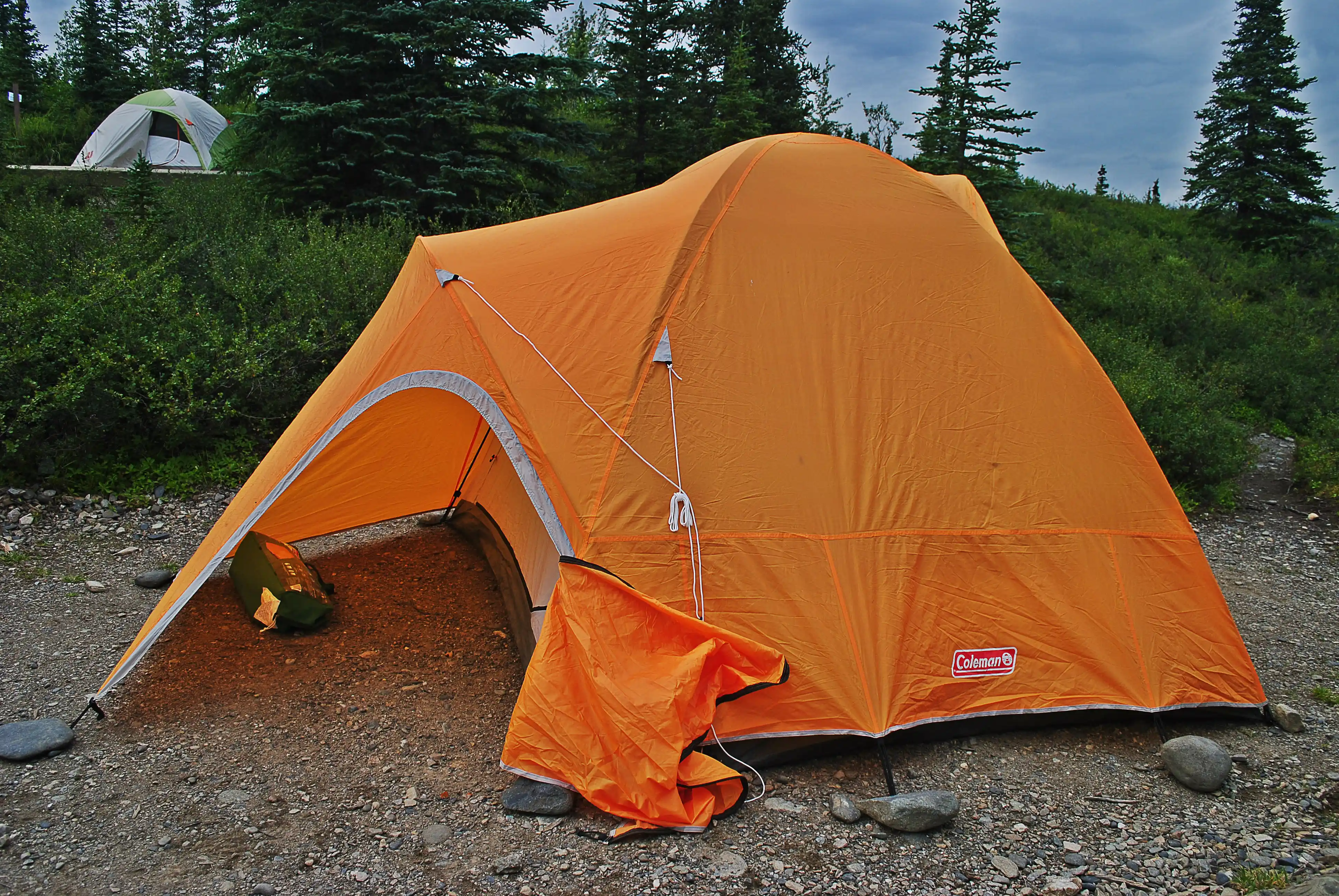 Each campground is equipped with a tent and a bench. But eating is prohibited here. You don't want a bear smelling your thepla and come running for it. The meals are prepared in a sheltered communal area and stored in "bear-proof" boxes that contain the smell; the boxes are then locked safely in a cabin.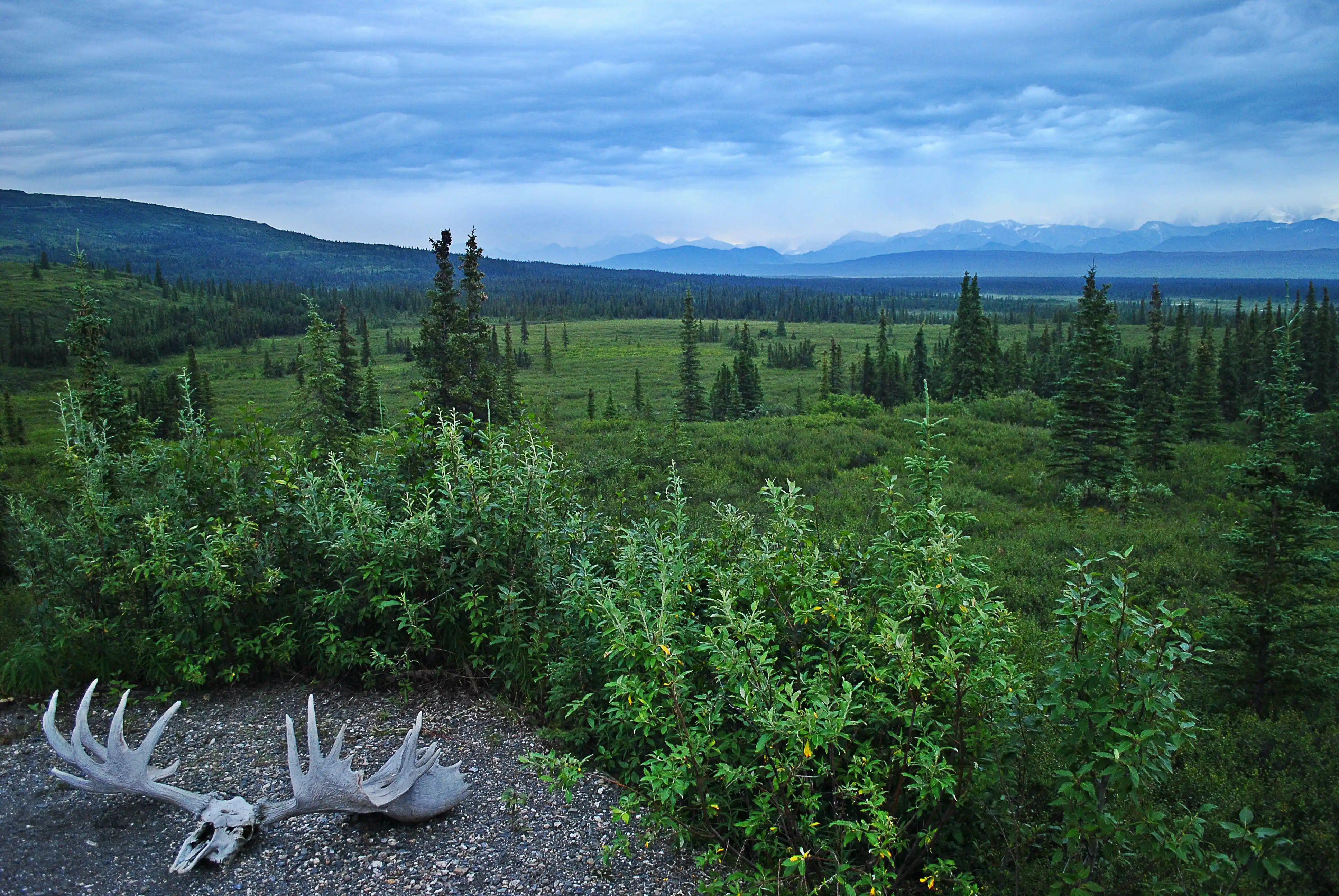 In the bonfire area of the campground lie the remains of an Alaskan Moose. The Moose are often hunted for their trophy-sized antlers.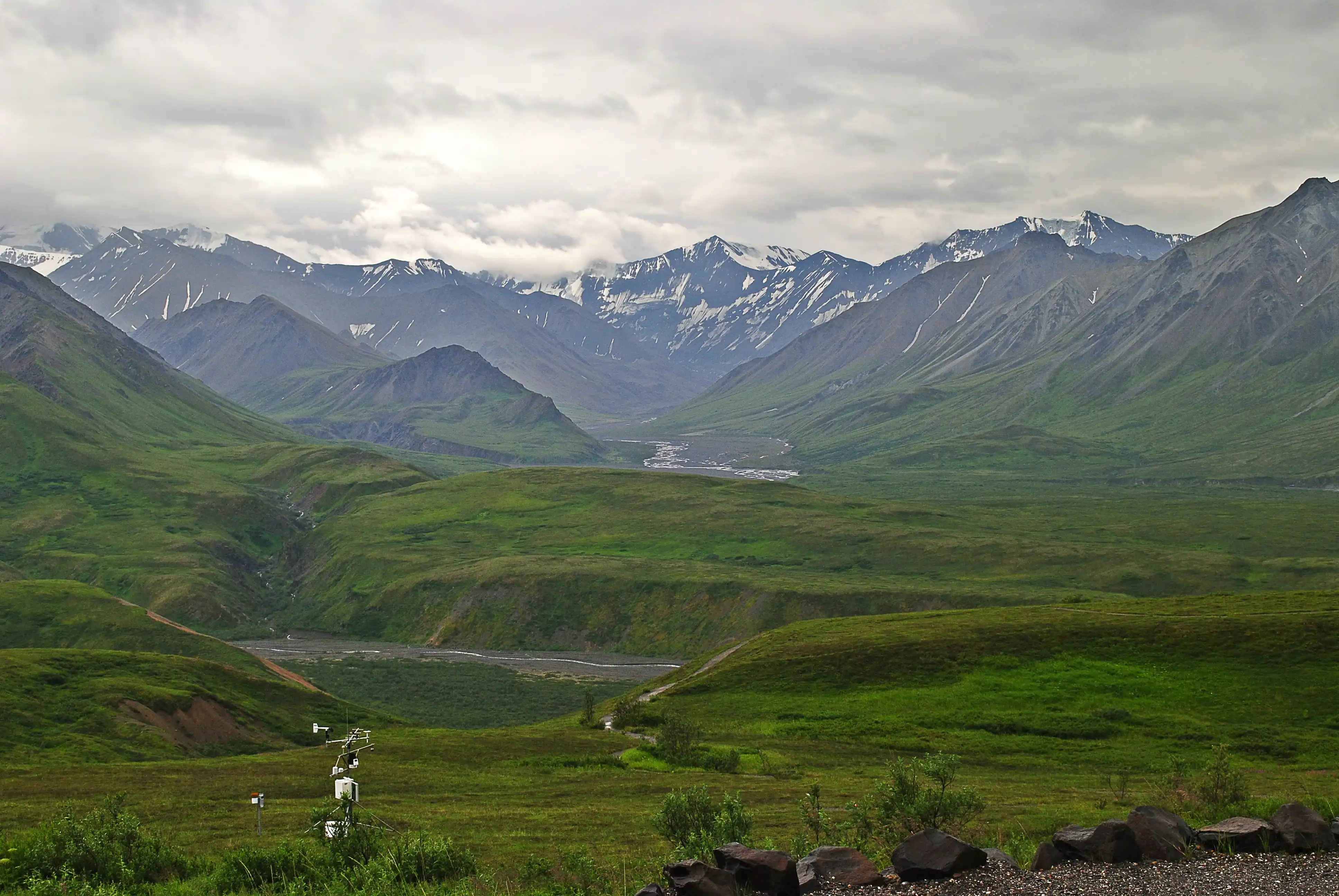 The next morning, we hailed a bus and headed back toward the park's entrance to go on a hike. By the time we got to the Eielson Visitor Centre, where this picture was taken, we were hoping for better weather but luck didn't favour us.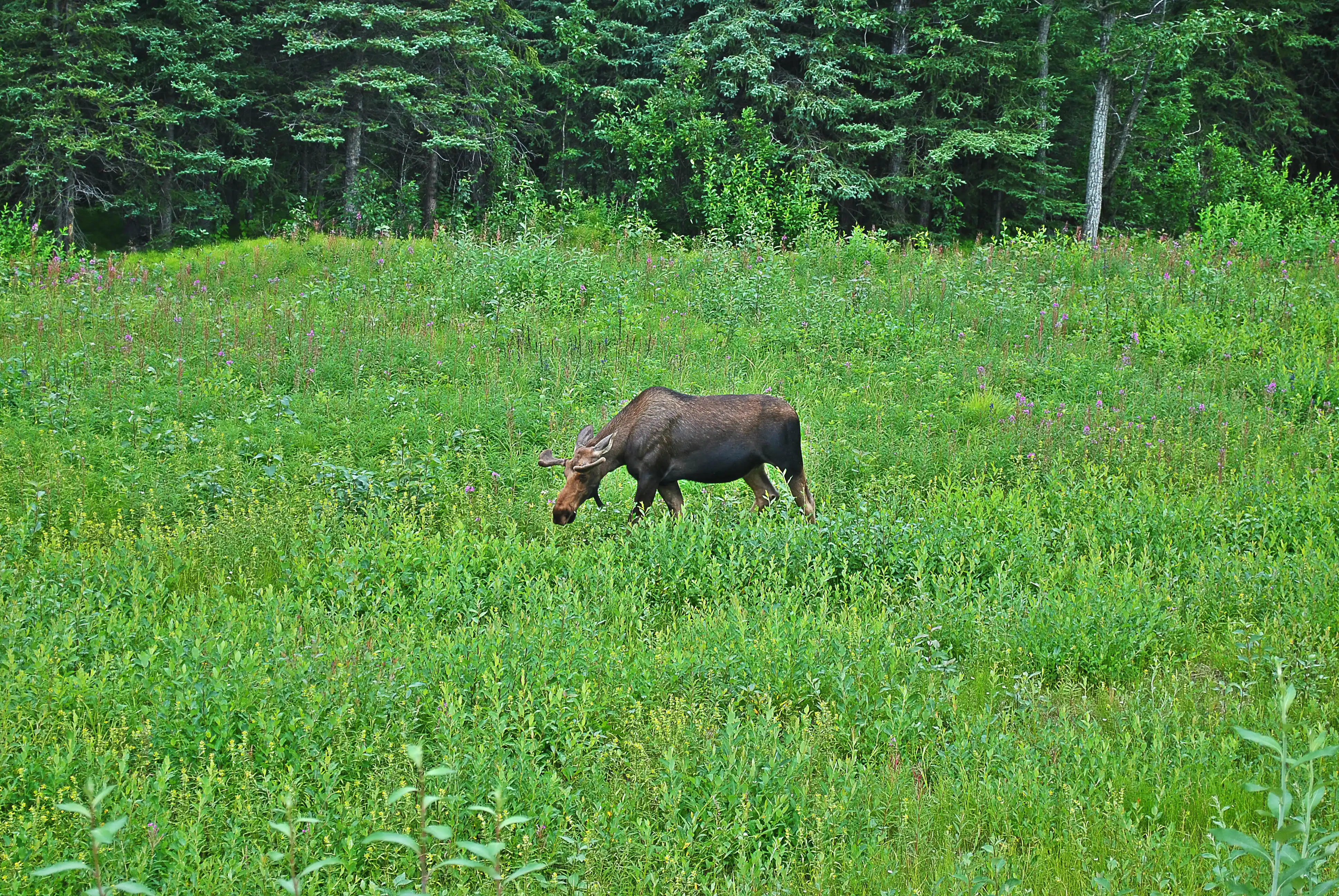 A young Moose, with its antlers not yet developed, wanders near the park's entrance.
While a stray Moose is a pleasant sight, you definitely don't want to come face-to- face with a wandering bear. Talk loudly, make plenty of noise while walking around to keep bears at bay. That's the advice we got.
As we cautiously made our way toward the start of a valley, taking care to keep alongside a little stream to make sure we don't lose our way, we chanted, "Hey bear, hey bear!", a common cry among trekkers.
Our feet were soaked minutes after we started off and we slowed down eventually. To lift the spirits of my fellow trekkers, I came up with my own chat:
"Hey bear, hey bear, we're coming through,
Don't be afraid, we're more scared than you!"
After about a mile and what seemed like two long hours, we decided to head back. We flagged down a bus and returned to Wonder Lake a few hours later, our freezing bodies thawed only after sipping on several cups of piping hot tea. We spent the rest of the evening hunkered down in our tent, playing board games as the pitter-patter of the rain provided a soothing soundtrack.
The next morning, we packed up and caught a bus back. By then, the entire Arctic Range had disappeared under cloud.
Was our time in Denali perfect? Hardly. I didn't see all of Denali, didn't catch the reflection of the mountains in the waters of Wonder Lake, and I didn't hike much. But I will return to strike it all off my wish list while I chant the bear song.