The Nainital of my childhood and that of my daughter's childhood are two very different places. The waters at Naini Lake are already 18 feet below normal. Very soon there may not be a lake left.
It takes roughly 176 years for pristine wilderness to be brought to the verge of ruin. That's about three generations of a family.
I was the last member born to the third generation of our family that has called Nainital our home. I was born on the day of Holi in 1978 and it was snowing. The first person to arrive at the government hospital that morning was my uncle who had braved the chill in his shorts and a shirt –fortified, no doubt, by large doses of rum. On his way he had plucked the few wildflowers that he could find and strung them together. As he laid this rough bouquet on the table next to the cradle he said, "I hereby christen him His Holiness. Happy Holi!"
I went to kindergarten in the parsonage of the Church of St John in the Wilderness. Built in 1844, the Church is one of the oldest structures in Nainital. It had the rather unusual feature of a gun rack by the door because in the early years, members of the congregation regularly encountered wildlife on their way to Sunday service. The Lord not only provided for his flock's daily bread but also their occasional pheasant or deer.
I was student number five at St John's School (the total strength of the school being seven). We sat around a circular dining table where two kindly old ladies, who comprised the staff, conducted our lessons, and when I joined "big school" it meant walking two kilometres. Groups of friends walked together. During the monsoon, everyone walked in Duckback raincoats and gumboots. On special occasions, or when it rained very heavily, my father dropped us to school in the family jeep. This happened maybe three or four times a year and was cause for great excitement.
On our daily walk, there was one particular area called Leopard's Leap, which was so lonely that it was scary walking back in the evening if one got delayed due to games practice. It was among the most thickly wooded areas in Naini. The thought of encountering a leopard here made us quicken our step until we caught sight of our home through the trees.
The waters at Naini Lake are already 18 feet below normal and the lake has reached the zero level at the overflow gates 10 times in the past 15 years.
At night, tucked into bed, we would hear the eerie calls of jackals coming from the direction of Leopard's Leap. We sometimes also heard barking deer calling and, very rarely, a leopard. I remember, I once heard the sound of a Bullet motorcycle and ran to ask my mother what it was. At 4 am, punctual as any alarm clock, the whistling thrush started singing its wild beautiful melody.
Whenever any of us took ill, we were treated by Dr CC Pande. Dr Pande was the most benign presence in Nainital. Sporting a shock of white hair and a long white goatee, his cheerful temperament was half the cure for most people. He thoroughly enjoyed his daily ritual of taking a walk around town, greeting people along the way. He was the most brisk of walkers and would leave people half his age, who were foolhardy enough to accompany him, panting for breath.
Mine was the last generation that witnessed the pristine.
***
The fourth generation of my family began when my daughter was born in 2007. Our trust in the government hospital at Nainital had by that time eroded to the extent that we did not even consider it, and instead chose a private nursing home in a nearby town for the delivery. By the time my daughter enrolled in St John's School it had 250 students. The dining table would no longer suffice as a classroom. Also, walking to school had ceased to be an option. There was too much traffic. The tourism boom and the establishment of the high court of Uttarakhand in Nainital had choked the town for space.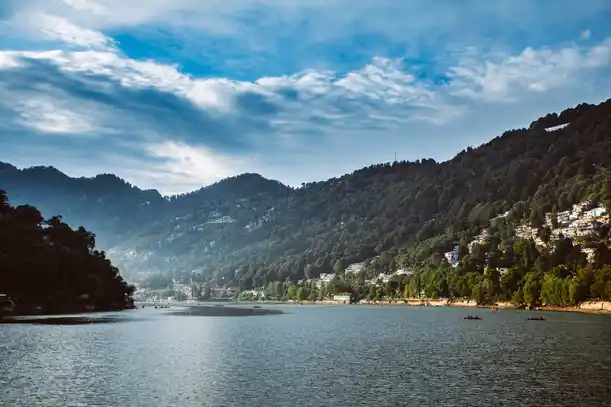 Himanshu Khagta / Getty Images
But perhaps what's changed most is Leopard's Leap, that mysterious patch of wooded darkness that epitomised life in mountains in all its wild, untrammeled beauty. One fine morning, about 15 years ago, a patch of vermillion paint was applied to a rock by the the side of the road. Slowly incense sticks began to be lit around it. Later, a statue was installed. Soon a grill and roof appeared and we had a bonafide temple in the middle of the forest. More temples were added nearby and today Hanuman, Shiv, and Durga Devi are firmly ensconced. The temple complex was serviced by a tea stall that appeared almost simultaneously. The tea stall has now reached restaurant proportions with bamboo huts for its patrons on both sides of the road, where college students smoke and drink. The entire forest floor is littered with garbage and shards of glass from broken beer bottles. Leopard Leap is now dangerous territory for a leopard.
My daughter does not wake up to the song of the thrush. Mornings are dominated by the various houses of worship – temple, church, mosque, gurudwara, and (lately) the monastery – which engage in a fierce battle for audio domination over loudspeakers. They shriek out to their respective faithful who are all apparently hard of hearing. The evening sounds are Bollywood music blaring from hotels. Later at night, the stray dog orchestra takes over. Traffic remains a constant din through the day.
The Nainital of my childhood and that of my daughter's childhood are two very different places. Even Dr CC Pande is no longer with us. He was hit by a speeding two-wheeler while on his beloved daily walk. He succumbed to his injuries and left the town immeasurably poorer for his passing.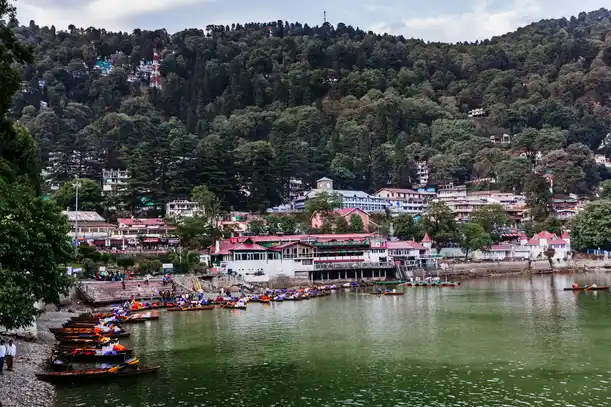 Himanshu Khagta / Getty Images
I often wonder what Nainital will be by the time my daughter has her children. The waters at Naini Lake are already 18 feet below normal and the lake has reached the zero level at the overflow gates 10 times in the past 15 years. Very soon there may not be a lake left, only hot stone and dry lakebed. The people of this enchanted valley, present and prior, are rallying together from far corners of the world to try and save it. Silent marches are being organised, social media is abuzz, and petitions are being signed. The prime minister and the Uttarakhand chief minister have been approached. There has been an unprecedented upswell of support for previously solitary campaigners like environmentalist, historian, and RTI activist Dr Ajay S Rawat. Maybe popular opinion is finally shifting towards preservation rather than exploitation. Who knows? Perhaps, my daughter's children will inherit a land if not pristine then at least preserved.
In July 2004, the 200-year-old town of Old Tehri had to be evacuated due to the rising waters of the reservoir of the Tehri Dam. Let us hope that the 176-year-old town of Nainital doesn't need to be evacuated due to the receding waters of Naini Lake.

Rudy Singh is an independent filmmaker, photographer, poet, and the president of the Film and Arts Guild of Uttarakhand. He is a serial meditator and the founder of Naini Photofest.