A Tinder survey said that most people want to learn something new together on their first date. How adventurous! I only want to dissect the PM's latest tweet with my dates.
This past week, Tinder released the findings of a survey conducted on 15,000 Indian users of the app. It asked a series of generic questions to the respondents, such as what Indian men and women look for in the people they are swiping on Tinder, what their preferences for an ideal first date would be, and what is the probability that you're going to encounter your high-school teacher while swiping.
According to the results, the traits Indian women look for most in men are a sense of humour, similar values and interests, and intelligence. Well done, Indian women, for not abiding by the Poo Gospel – let's leave that to Indian men. About one-third of the male respondents polled said that they preferred good looks over a sense of humour and similar values and interests. But the scrap of information that really blew my mind was that, for their preference for a first date, an astonishing 22 per cent of women and more than 27 per cent of men said that they would like to "learn something new together".
What did this mean? When did we become so adventurous? Was this survey entirely cooked up? This is vital information for a young, Indian, news-junkie male like me, who, on a scale of "naiyyo" to "definitely, maybe" rates about 5 on a good day (certainly a 6 after three shots of tequila, among the sliding-drinks-across-the-bar-while-holding-a-book demographic.) My ideal first – or 27th – date is to talk politics, literature, and Supreme Court rulings with the girl I meet. After that, my wildest fantasy is to keep sending her op-eds on WhatsApp. I know things are really getting hot and heavy when I can dissect Sports Minister Vijay Goel's latest tweet. There's always time for sex and love.
As you can probably tell, it almost always turns out badly for me. My anti-fun, obnoxious, and politically charged opening gambits usually unfold like this.
Me: Do you know what a Panneerselvam is?
Tinder match: Of course. Why? Do you know what heteroscedasticity is?
I might have cried a little, not gonna lie. We then went on to have a wonderful conversation about echo chambers, dick pics, and texting etiquette.
In my books, a well-aimed barb is simultaneously a turn-on and an occasion to melt into a pool of embarrassment. In this case, I quickly went on an apology trip but never really recovered from the opening salvo. Perhaps the technique needed to be refined. Maybe I needed to tone down my obnoxiousness and condescension. I ought to learn more from the Vice girl.
But deep down, I know that while most women will unmatch with me after hurling abuse at me, the realest will truly engage. (Caveat: I do not engage with men because a) I'm unexcitingly straight; and b) There is no hope for young men these days; just look at me. As the great Justin Bieber once said, "Mitron, our generation of men is the human equivalent of the face palm emoji.")
After recovering from the put-down and mugging up the definition of heteroscedasticity, I tried again after a few days.
Me: Hey, so do you think Rahul Gandhi is smart enough to be Prime Minister someday?
Tinder match 2: The stigma attached to him doesn't allow me to look past his present personality.
Me: Would you say acche din are here?
Tinder match 2: On some fronts. Dude why are you taking polls?
This one fizzled out soon afterward. But it was match #3 who got genuinely annoyed with my questions.
"Haha is this an interview? Do you interview all the women you meet on Tinder to check if they are hook-up worthy or not?" Then we got pulled into an interesting side conversation where I had to defend my fairly flaccid honour. She later unmatched with me.
I am nothing if not constant, so I tried my luck with match #4, hoping against hope that my beginner's luck would finally get activated.
Me: Do you think Rahul Gandhi is smart enough to be Prime Minister someday?
Tinder match 4: Haha, look. Trump is prez right now, I don't think you can predict the effects of populism.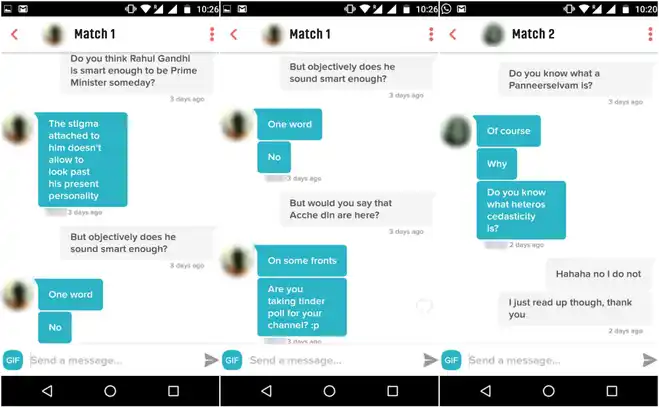 My experiments on Tinder. Match 2, touché.

Courtesy: Arre
Me: Hey, what do you think is a Panneerselvam?
Tinder match 4: Current CM of TN, which is hotly debated but more or less true at this point. Dude you are so pretentious to be doing this on Tinder.
I might have cried a little, not gonna lie. We then went on to have a wonderful conversation about echo chambers, dick pics, and texting etiquette. She made fun of me for hours, but gave me her number. We relocated the conversation to WhatsApp where we've been speaking on and off for three days now. It's going strong. Most of it has pivoted away from politics now. In my initial bout of misplaced fervour, I'd not taken into account the possibility of "pissing off" the demographic.
However, if this whole Tinder thing doesn't work out, I have a glorious Plan B. I am taking a signboard that reads "I want to crack Kejriwal jokes while taking long walks on the beach with you" to the next AAP rally.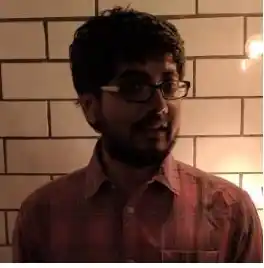 Lover of baby animals, Arsene Wenger, Damien Rice, Peggy Olsen and overly long podcasts. Tweets at @parthsarora.
Confused about most stuff. Writes things.