Every pleb who has read an Immanuel Kant quote can call himself a sapiosexual. But I represent a more complex sub-branch of sapiosexuality. I have a sesquipedalian fetish, which means my dating life is very complicated.
I'm a normal guy; I savagely hate people who typ lyk diz and nothing pisses me off more than seeing the words "hi dear" on a screen. I also don't understand "why people ignore the little red lines under their sentences. Do folks think it's for decoration?" Yes, it's true, my friends frequently shame me for using words like "delectable" to describe a McSpicy Burger. And yes, this obsession with clean language has also spilled over into my love life.
Consider me shallow, but I've always found good vocabulary to be an immensely attractive trait. I mean, if a girl uses words like effervescence in passing conversation, I'm ready to have babies with her. Did you just say that I'm the guy who defines himself as a sapiosexual in my Tinder bio, the one you warned your friends about? Not really; every pleb who has read an Immanuel Kant quote and watched an episode of BoJack Horseman can call himself a sapiosexual. I, on the other hand, represent a more complex sub-branch of sapiosexuality. I have a sesquipedalian fetish.
Naturally, the effect of this on my dating life has been less than satisfactory.
My first tryst on the quest to find my intellectual paramour was with Reena, a curly-haired, doe-eyed fashion blogger who couldn't stop giggling every time I read aloud "Sex on the beach" from the menu. I was clearly one of her 100k Instagram followers, who had been successfully duped into believing that "blogger" meant intellectual. We spent most of our first date yelling over loud music at a Bandra bar. As far as first dates go, this was average at best and there were no immediate sparks. But since everyone's standards drop after 2 am and two Jägerbombs, we ended up making out in the back of an Uber.
Perhaps it was the tipsiness during this cab ride that made me open up about my love for big words being thrown around in conversation. She giggled again and asked if, while growing up, I browsed through the dictionary instead of Playboy to get my jollies. To quote the legendary Phil from Modern Family, "I laughed, but it hurt a little."
Cut to five days of  "making plans" for a second date, we found ourselves dabbling in the national pastime for millennials, aka sexting: Over Snapchat, like regular human beings, as opposed to doing it over WhatsApp like savages. So what if we aren't famous enough to end up on FapGate? There's still creepy amateur sites aplenty and that's enough reason enough to steer clear of WhatsApp. Not to mention, it's strangely empowering to put a flower-crown filter on your junk. Of course, before we got into the thick of things, pun intended, wordplay was our foreplay.
"Talking is only the second best thing I do with my tongue," was a solid opener from Reena and I wasn't as impressed by the verbosity as I was with just the sheer creativity of thought. I was hopeful she'd remember my weird fetish for big words and egged her on with a, "You know what I'd like to hear, right Reena?" Honestly, I was hoping for at least a "Oh yeah! You dirty scoundrel, do you want me to play along with your deepest, deplorable, and depraved sexual inhibitions?"
But since everyone's standards drop after 2 am and two Jägerbombs, we ended up making out in the back of an Uber.
So I should have been warned when she responded with a casual, "Totes!" But nothing — and I mean nothing — could have prepared me for the cringey, "u knw wht I wud lyk 2 c?" This, when we had just started getting into the mood.
It was all downhill from there.
Just thinking about those eight little words gives me the shudders even today. Those deliberate misspellings were like deforestation: completely destroying wood. But I was eager to troop on. Our conversation varied from things we wished to be doing to each other in person to recalling the specifics of our Uber tryst. Then, suddenly, she dropped another bombshell: "I have weird naval fetish." At this point, I was really hoping she meant men in uniform, but she clarified saying she wanted to see my belly button. I replied with a polite, "Reena, you mean *navel? Lol." She changed the topic.
One typo and broken sentence at a time, our conversation limped along, as did my little friend, to be honest. Heading towards its eventual crescendo, we decided to send each other nudes. An unenthusiastic dick pic later, it was her turn. And to her credit, she did return the favor. But somehow, decided it was a good idea to caption it, "PFA my boobies for your perusal, love!" I was naturally aghast. Not at the picture itself, which was quite amazing. But PFA?! I was torn between my need to pleasure myself and bloody PFA, which reminded me of all the office emails that were left unanswered.
Reena and I never met again. It just wasn't meant to be. However, what this entire episode made me realise was that I needed to be more honest about my interests in my online dating profile. So my current bio reads: "Writer. Father to a pupper and kitty. Sesquipedaliaphile." It hasn't done much for me except some women jokingly initiating conversation with texts like "idyllic" or "pulchritudinous" before promptly unmatching with me.
But to quote Shashi Tharoor, I forge ahead in my farrago of sexual and verbal arousal until my inamorata employs the word "effervescence" at me. In the meanwhile, I guess I'll just have to pass through the Reenas that populate this dilapidated dystopia of singlehood. It'll be a worthy pursuit.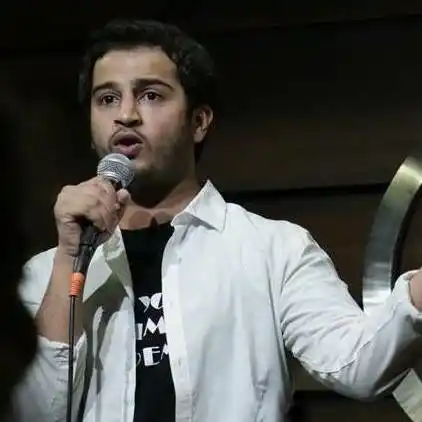 Masking anxiety with humour. Living with his dog, cat, and mediocrity. Creating content aur life se kaafi discontent. Tweeting as @juvenile_jack.