Bondage using nylon sarees, some light spanking using a chappal, and a bit of butt play using the belan might sound like kinky sex acts to some. But in the confines of chawl living, it's life as usual.
"Ye naa, gacchivar game bagayla" (Come to the terrace to watch the game), says the featureless face from my memories. It probably belongs to a friend or acquaintance I cannot somehow place. The "game" here refers to sex. Not soft, slow, sensual, make-your-toes curl bedroom sex, but a hasty, hurried attempt at penetration, over before your pot of Maggi on the stove is ready to eat. Invariably, there is always this exciting game to watch in chawl life.
You already know how the middle class makes love (softly, to put in a word) but there are ancillaries to this particular sexual behaviour study that make chawl sex somewhat… unusual. Some wrongly call these fetishes; some, like my mom, mistakenly describe this as deviancy. Others are simply appalled by the non-vanilla aspect it brings to the bedroom. These "bends" in human sexual tendencies are best described as kinks. And somehow, the chawls are full of them.
Growing up in a chawl is like a crossover episode between The Wonder Years and The Twilight Zone, in that there is a wholesale sense of reality, to put it delicately. Here, kids are home-schooled in sex education. There are no neatly labelled line drawings of male and female genitalia here. You learn the anatomical differences between yourself and your sister through some good old fashioned "khule mein shauch", usually squatting on top of the gutter outside your home, by the time you're barely old enough to understand that Gangadhar hi Shaktimaan hai. Should questions about said observation arise later on, they are promptly hushed up by parents whose sex organs might as well be vestigial.
Before the age of Google, it was always Gopal, the neighbourhood deadbeat/tharki/sex pest/chavat/porn dealer who sorted you out. Gopal's little talks where porn logic and alt-facts combined to bring you TedX Dingy Back Room, presented us with ground-breaking sexual innovations such as using one end of a belan to do butt stuff while using the other end on the front, would draw collective gasps as the gathered listened in rapt attention. I once might have laughed in glee, but I later understood that not all parts were alt-facts.
For women, the belan is the most common tool in the kitchen, and it's oddly phallic-shaped. Throw in a husband whose libido's taken a pad yatra to far, far away and the belan is your best friend.
For women, the belan is the most common tool in the kitchen, and it's oddly phallic-shaped. Throw in a husband whose libido's taken a pad yatra to far, far away and the belan is your best friend. For men, things are a little different; the belan is both a symbol for sustenance, the source of maa ke haath ki roti, and a tool for discipline. This kind of festering symbolism lays the ground for a deeply Oedipal, yet sado-masochistic kink involving the belan as does the vivid daily dialogue which is rife with the word "gaand". Gaand mara, gaand me daal, maa ki gaand, and gandu will ring out merrily from the mouths of little boys and girls, mothers and fathers as they go about their daily chores of fighting over water and lines in the loo. The gaand is our fond obsession and according to Gopal, it's no wonder that OPDs at government hospitals are rife with tales of men and women coming in with cans of deodorant, bottles, candles and, you guessed it, belans, stuck in netherland.
In most middle-class households, the realisation that two pumps in the comfort of the cubbyhole you share with four others, doesn't seem to cut it any more. Like a WhatsApp forward rightly states, "If 50 Shades of Grey were made in India, it would be an episode of Crime Patrol." This is true in parts. Sex, just like light, is something that is swallowed up by black holes (no pun intended) measuring exactly 10 ft X 10 ft. Bondage using nylon sarees, a bit of light spanking using a chappal, choking and domination all sound like sex acts to the more open liberal mind. But in the confines of the cubicles that are the hallmark of lower-income living, it's life as usual.
Physicality marks us in a way that it doesn't mark those living neatly manicured lives. Here gaalis abound, nudity is normal, lust is gritty, and violence marks everything. There is nothing that you can see in a chawl that will shock anyone. We've seen and heard it all. We enjoy our collective Bhabhi fetish and we've grown up listening to hush-hush sordid tales of brothers-in-law consummating marriages where the groom wasn't up to the task. The race to pump out a male heir post-marriage, is often started by husbands and finished by another male member of the family, like some fascinating game of tag.
The prudery that pervades the upper middle-class on all matters sexual, thus evades us. The knowledge of the body and all it's capable of, is casually woven into our everyday lives, making us more open, willing, and experimental on things that would make mere mortals shudder. Here there are no boundaries. Around the edges of the chawl is a no-judgement zone and everything goes. The body is a far more real thing to us than the one imagined by a misplaced sense of morality. It's why the middle-class makes better love than the rest of the world.
And always will.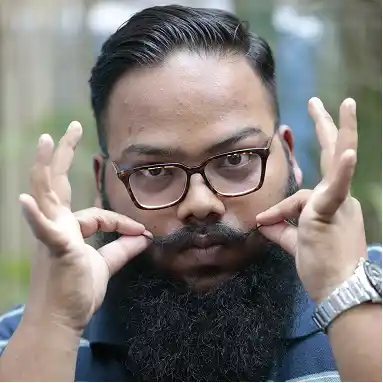 Damian loves playing videogames. If all the bounties he collected slaying zombies were tangible, he wouldn't need to write such bios. Seriously though, Damian used to be a cook who wrote, now he's just a writer who cooks.