In Bombay, it's a class issue to get this far with a carpenter, but some of my friends have kinks – secretly inviting daily wage labourers home for a sex fantasy to be fulfilled. Autorickshaw drivers get lucky all the time, and sometimes even manage to steal valuables and never get reported.
The morning I arrive in Lumbini, I watch a woman feed her naked breast to an infant. It is firm and ripe as a musk melon, coating the dewy morning air with the faint fragrance of the quotidian life. We are sitting at an empty café at the entrance to the garden where the Buddha was born. She can be my queen, Maya. Her husband, Suddhodhana, stretches on a wooden bench, guarding the mother and son. Watching them is a more sumptuous pastoral sight than my meagre breakfast; a muddy cup of tea and stale bread.
***
In the evening, after supper and a quick shower, I step out for some air, dressed in a pair of gingham boxers and an old tee – it's a déshabillé look Indian men have mastered on the streets of Goa. I walk down the dark corridor to the unlit stairwell [of the lodge], which is used as a dump for broken furniture and torn mattresses. I find my way to the terrace. It's a starless sky. Clouds have ambushed the moon. There's a hint of a mild current in the atmosphere, or it must be my freshly washed skin tingling from its exposure to cool air after the heat of the water. The terrace overlooks the main street bazaar.
Across the street is another lodge where two British tourists are talking aloud, probably over a beer. It's too dark to make out their silhouette, especially at a time when the village is experiencing a power outage. I know there's a boy and a girl, with her laughter making its way to me. Her ladylike manners don't seem to exist. Is she struggling with a gelastic seizure, I wonder. In this serene patch of land, the local ladies would deem her indecorous, but would accept her cash for beer without a word of advice. The girl finds the boy incorrigible.
Their hoots keep me busy, entertained, as I attempt to pick up the curly end of their sentences, trying to follow their conversation. They've just met, it seems. The company of strangers to none is preferable in Lumbini where nothing happens when the sun goes down. It's as if the village sinks into a meditative stupor.
As I lead the carpenter down to my room, we creep past his own where his friend is fast asleep.
The boy from the room next to mine, the one I have been seeing throughout the day, finds his way to the terrace. Who has told him about me? He must have found it unbearable to sit in his room without electricity. He's about half my size in the dark. His skin is too dark to register. Night skin? Like the night's elasticity stretched over the sky's blue eyes; his small body upright, his hair thick, blacker than black, and his teeth a brilliant white, he smiles to acknowledge another weary traveller on the terrace. He speaks to me in Nepali, telling me he is a carpenter and that he is stopping by the village to shop for some work tools while on his way to another village. Names are not yet exchanged.
"Please don't mind my saying, but you look like a foreigner, your skin is so white," the carpenter fawns when I tell him that I am an Indian tourist who happens to follow Nepali because I grew up in Darjeeling. Am I not a foreigner around here? A wheatish-skinned Indian foreigner? I feel swell. He has certainly hit the sweet spot with his tongue. We get talking. Soon, he brings up the two people on the other side of the street, discussing foreigners having sex and what it must be like. Gross and pleasurable at the same time, I think, but I try to deflect using laughter.
He won't stop imagining their magical sex lives. That's my first bait. I don't react. I ask him about his girlfriend. He has one. They have done stuff, he says. "If I marry her and bring my black wife to mate with you, will my children be fair?" he laughs.
Second bait. Black humour. I deflect some more.
"You know in our village eunuchs do things for men. Do you know how they do it?" he asks. I walk away, not sure where he is going.
"Can you please show it to me once? I want to learn how to have sex like you, like white people," he stands next to me, looking at the empty street below. The carpenter wants to have sex with me. His smile has reached his eyes and his face is illuminated with a readiness to please. Talk has moistened his lips with a sheen that is suddenly glistening and inviting. Or am I being tempted in the land of the sleeping Buddha?
In the city that I live in, Bombay, it's a class issue to get this far with a carpenter, but some of my friends have kinks – secretly inviting daily wage labourers home for a sex fantasy to be fulfilled. Autorickshaw drivers get lucky all the time, and sometimes even manage to steal valuables and never get reported. Strangely, but not weirdly, the horny carpenter is turning me on.
"What do you mean?" I feign surprise, leaning into the wall, keeling over its low boundary, trying to suppress my erection from his view. My body is responding to his desires, unmindful of the colour of his skin, or his caste, or social skills.
"Only once," I say, leading him to the dark bay of the terrace landing.
He kneels down to bury his face in my crotch. I look up at the ceiling and grab his head in nervous excitement. He bobs like a duck. I can hear sloppy sounds echoing in the silence, the soothing silence that is Lumbini. "We can't do it here – it's not safe," I pick him up. "What if someone comes up and sees us?"
I am suddenly aware of the eyes, the snake eyes in this land of the Buddha. As I lead the carpenter down to my room, we creep past his own where his friend is fast asleep. I had left the lights on; I turn them off. I draw the curtains, switch on the fan, and lie down on my bed as he lays down beside me. I undress him. He is ripped inside the discoloured shirt. Barrel bodied, without a spit of fat, he is a lightweight treasure. I propel him on top of me. Sliding across my nipples, he slurps like a wet puppy; unnerving lip-smacking sounds break through the silence barrier if I may say so. Sucking the air out of my navel, as if performing an ancient ritual, he dives into my crotch, rummaging for a boner, if I may say so again.
My moral compass had to go for a shock in Buddha's arbour – Jesus! If I may say so one last time.
The boy spends close to an hour worshipping my stony recline position. He keeps the door to the bathroom ajar, so that light streaming from another wall, where a couple is making noises, filters in. He wants the light, to see my colour, a marble slab over which he is running his blunt whip tongue. He would like to fuck me, he says.
He turns me on my stomach and asks permission to take a jab, "Haal deun (Shall I slip it in)?" his teeth gleam.
"God, no."
I cannot allow it. We have no rubber. I would have pummelled him if I had. He has a smooth, fuckable body that can be twisted and turned at ease. It is small, fit, and like a toy; a human Rubik's cube. But how the hell did we get to this? Kissing a lowly carpenter? This is refreshingly enlightening. I hold back my ejaculation. My mind has an iron fist. I help him climax. He sneaks back to his room.
In the morning, he is sitting by a window in the corridor into which the left window of my room opens. He has the expression of a monkey searching my eyes for a reward. He watches me foaming, toothbrush in mouth, as I am packing my suitcase. He gestures that he would like to come in and sit. I open the door for him. He sits at the edge of the bed. The room is tiny. There is little space to move around. I bend over his body to pick a banana kept on the dressing table.
"Hmm," I shake my head, a banana to shoo him away. He is a primitive type. I assume dangling a treat will do the trick of getting rid of him instantly. But he's smarter than that. He takes the banana and makes a wish.
"Show me your," he halts, looks at the towel wrapped around my waist, his eyes at my crotch, "one last time." His eyes meet mine. "Dekhai deu na," he pleads, peeling the fruit. Now this is awful timing. I show him the door. I lock myself in the bathroom and turn on the water tap to send out a flushing signal.
I manage a half-smile when I run into him at the bus stop later that morning. He is carrying a sack of tools on his shoulder, walking in line with his friend ahead of him carrying metal rods. He walks past the busy bus stop. He is walking down a narrow road, away from where I stand. I do not want him to turn to look for me. After a while, and with some distance between us, we will both be specks of dust in the periphery of each other's sights. He can then turn towards me and stare: I will be here, but he will not be able to tell me apart from another in the crowd.
My advantage is that I can watch that speck forever, as I try to commit it to memory. I will be shaping our history into a neat little Jataka tale about a dark-skinned carpenter who showed me the light. But first, as I board the bus, moving in the opposite direction, as if through a very dark tunnel, we must be separated by a great enough gulf to be able to disappear from the other's mind. Only then can we look in the distance towards each other and create a fable.
We never happened.
Excerpted with permission from Manish Gaekwad's debut novel, Lean Days, published by HarperCollins.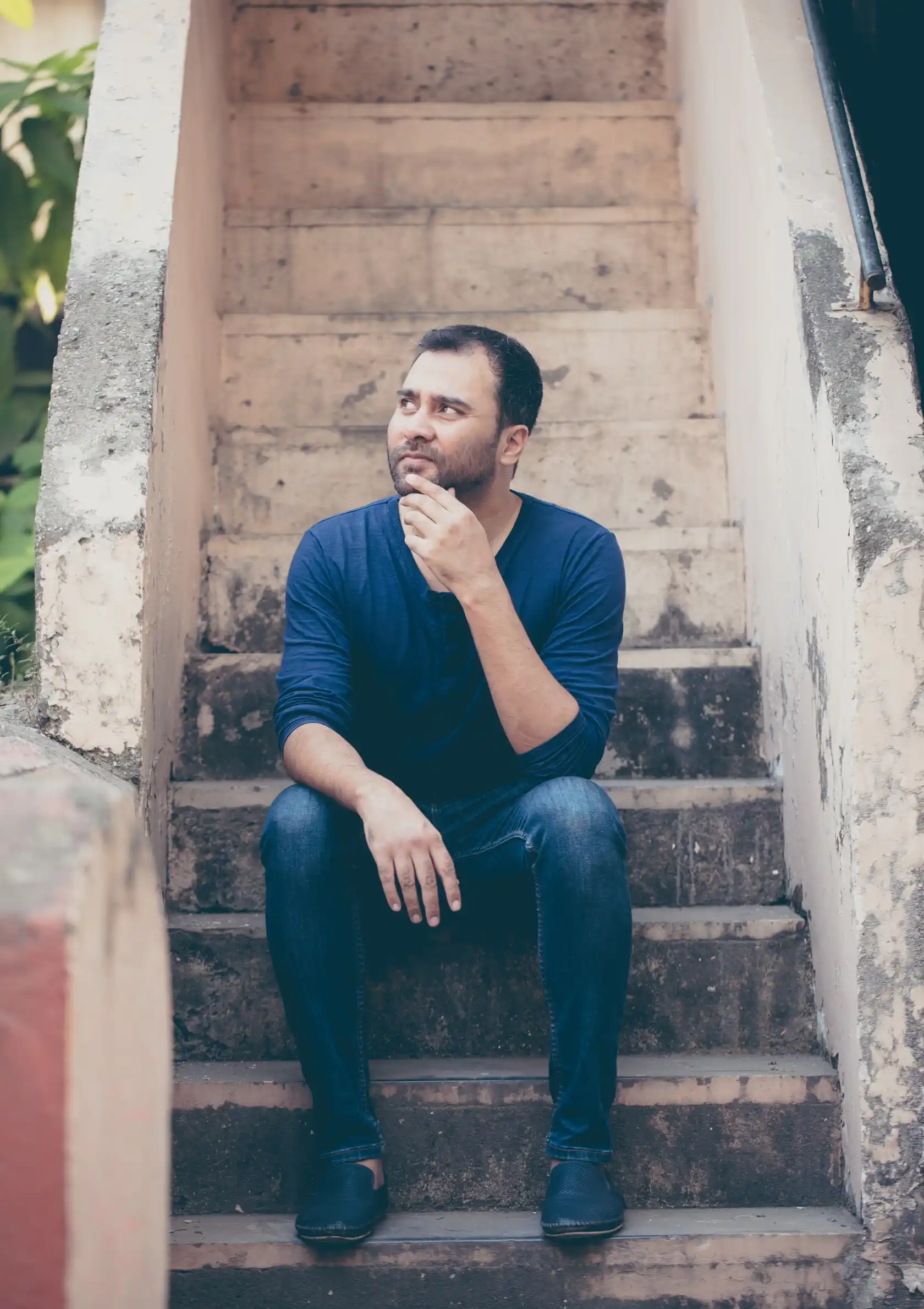 Manish Gaekwad is a Mumbai-based freelance writer and the author of Lean Days, a novel dedicated to his mother, and exploring a gay man's identity in India.