The big bag woman is prepared for any disaster that might strike. A broken heel? She has an extra pair of shoes. A colleague complaining of a headache? She always has a Saridon.The beloved bag is the antidote to every tragedy that may or may not befall upon a woman.
It's yet another morning. She has to step out of her warm cocoon and wade through the treacherous jungles to get to her destination, aka her workday commute. Though not exactly unknown, the wilderness loves throwing up nasty surprises at her with manic dedication. She has to constantly rotate her head clockwise and anti-clockwise to avoid flying spittle and diarrhoeal pigeons waiting to carpet bomb her. And then there are those two-legged animals out there waiting to erode her faith in humanity little by little. Sucking her dry of compassion that was once bountiful. The man on two wheels who wants to catch her attention by trying to run her over. The monster trucks bulldozing their way through the crowd. Sadly she survives only to be devoured by a sea of the faceless and nameless, always in a rush.
She looks into the mirror and draws a deep breath. She paints her face with war paint. It's a battleground out there and she must soldier it alone. Glassy-eyed indifference to imbeciles who've yet to fathom the concept of personal space, check. Rich vocabulary of creative cuss words to recalibrate self-proclaimed god's gift to mankind, check. But it's only when she hauls that massive handbag that doubles up her as a survival kit and utility belt rolled into one, does she feel confident to step into ground zero. 
Did you just say, "Heh, your handbag is so huge! Are you sure you're not hiding a body in there, sweetie?" Good. Now brace for her to swing it like a mace and bring you down like a dehydrated tree. Crrrununchhh… Was that the sound of your bones cracking in Dolby surround?  Don't worry. If you die, she will stuff you inside her bag and dump you in the nearest bin. She hates to leave any trail behind. 
Look, you should have known. You don't mess with a woman with a big handbag. The world is her battleground and she Lara Croft. She has spent sleepless nights conjuring up a million pitfalls that this urban jungle may throw her way. She wants to be prepared for them all and smack them in the face, like a boss. What if she gets stuck in the Metro for over for hours? It will be a terrible tragedy to perish from boredom and worst of all because of a dead phone. That explains the three phone chargers, powerbank, and the headphones shoved inside the bag.
Look, you should have known. You don't mess with a woman with a big handbag.
She remembers shivering in disgust when her co-worker had a Cinderella moment while boarding the bus and had to hobble back home on one leg. Of course, she has to fit in an extra pair of footwear. What if this happened to her?
And imagine going to a movie hall with sub-zero temperatures and no soft wrap in sight to snuggle into! No way. You need a mini blanket handy… at all time. Like her, her tote is pretty accommodating. 
The husband mocked her when he saw her slip in the empty plastic glass from the flight. But now it's been six hours since they are stuck in a traffic jam and he is actually considering peeing in it. 
Her beloved bag is the antidote to every tragedy that may or may not befall her. The big bag woman wants to be prepared for any disaster that might strike – like flash floods on MG Road, her office doors auto-locking themselves for six days, Mishka wanting to do potty, Sameer complaining of headache… The bag doubles up as a disaster management kit. There's an umbrella no matter what season, a packet of diapers and sanitary napkins, and a packet full of Saridon, Combiflam, and Crocin for sardi, zukaam, yaa bukhaar.  
She can clean her hands with hand sanitizer before taking out a box of grapes while waiting for the bus.
Why wait for a saviour when you can be one yourself? 
The inside of her purse is dark, mysterious and hidden in its cavernous folds are little dabbas, bottles, and paper bags with pretty packaging. She can clean her hands with hand sanitizer before taking out a box of grapes while waiting for the bus. A few minutes later, when she gets tired of munching on grapes, she can swap it with mixed seeds. Now she's thirsty. So she takes her giant bottle of Tupperware (you could use it as a javelin) and glugs mint and cucumber infused water. Oh, are you having trouble opening that bottle of Thumbs Up? No worries. Her Swiss knife has a bottle opener.
The only problem? She might take a few days to retrieve it. You see, her roomy bag is like a Thai cave. And you'll require a rescue mission and an eager Elon Musk to retrieve those babies.
The handbag is her armour plate. She uses it as a weapon to hit a pickpocket or as a shield from that creepy guy in the crowded bus, trying to inch closer. Sometimes when he fails to budge, she pokes him with a safety pin from the outside pocket of her purse. And on the days when she just too distressed or lonely, she simply hugs it tight.   
Black Widow has batons. Wonder Woman has bullet-proof bracelets. And the Everywoman, her handbag.   
Now, will you stop staring at it, please? Reserve your judgement and ask her if she's carrying mints. Chances are, she'll have them in at least six different flavours.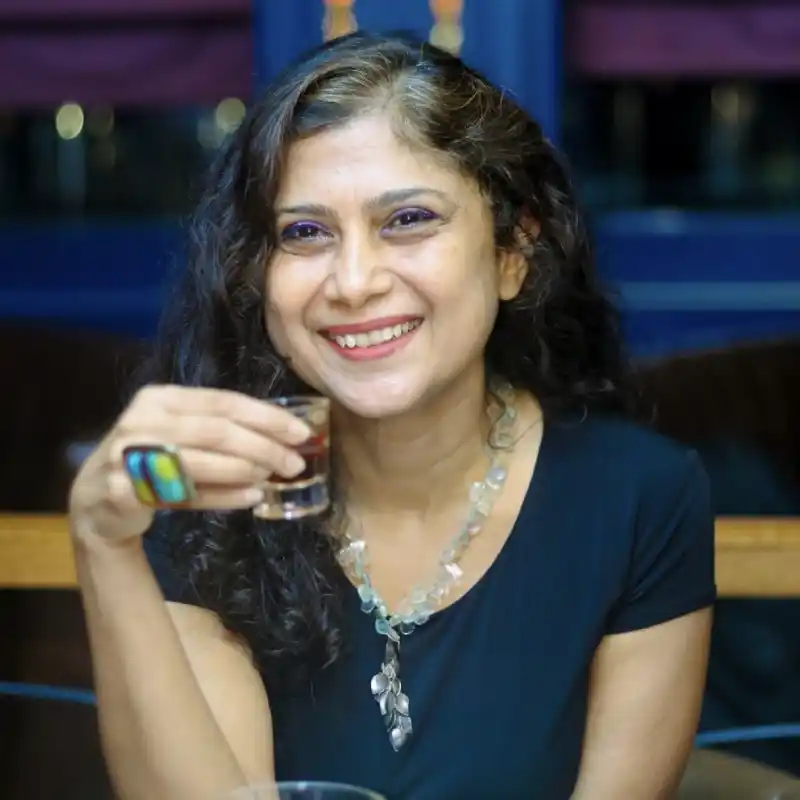 Nearly funny, almost liberal, rarely serious, Purba likes to keep a safe distance from perfection. Unfortunately she has an opinion on everything, fact or fiction, beginnings or ends, light or heavy, long and short.