The only flying creature that gets more hate than the pigeon is the mosquito. But in just a few weeks of the gutter birds taking up residence in my Gurgaon high-rise's balcony, I was ready to put pigeons on top of my shit list.
When we first moved to a Gurgaon high-rise, we were thrilled to be living in a sanitised bubble with manicured lawns, housekeeping, and 24×7 security. Our hearts would erupt into an aria every time we'd spot some exotic bird we couldn't name from our balconies. This was a refreshing change from our Delhi neighbourhood where the simian population would often hop inside our house, open the refrigerator door, take out a couple of eggs, and fix whisky sours for themselves. Sadly, it was not to last.  
I'm not sure if it was the monkey population's glowing reviews on AirBnb about our top-notch hospitality and "super host" qualities, but pretty soon our condominium and its AC compressors became the Tinder playground of the pigeon community. Once the pigeons moved in, all the former flying residents, those enigmatic, mysterious, and exotic birds, were nowhere to be seen. The only flying creature that gets more hate than the pigeon is the mosquito, but in just a few weeks of their arrival, I was ready to put pigeons on top of my shit list.
We saw quite a few lust stories unfold on our balcony. One horny male trying his luck with multiple females. All of them left swipe him. Undeterred, he puffs up his chest, cajoles, pecks, and calls them hotties. But no, the heartless bitches still won't look at him! So he does what every alpha male must do – turns into a desperate asshole and tries to hump them. One of the unfortunate girls becomes his bachhe ki maa, and promptly discards her egg of shame near our potted plants.  
Perhaps the only way we can ever be truly rid of their menace is by stuffing them all on Mangalyaan and sending them to colonise Mars.
Like any responsible woman I'd run after the male pigeon, screaming like a banshee, hoping my scary expression would give him a heart attack. It didn't. Then I tried reasoning with his victims. Looked them in the eye and said, "Honey, if your guy can't use contraception, why don't you make the most of the situation and scramble your eggs for breakfast?" Even gave them a frying pan and some butter.
It worked and how!
I was now the rockstar of the pigeon community. My fans would arrive in flocks and make themselves comfortable on top of my plants, balconies, washstands, and railings. Some of them, eager to peek into their goddess' life, would saunter into my house, hide themselves behind the curtains, and wait for me to make an appearance before lunging toward my face.
I swear I have heard them ask, "Is she dead yet?" as I lay on the floor clutching my heart.
Since their love for me knows no limits, my feathered devotees ensure every day is like Diwali for me. If I leave even the tiniest gaps between windows, one of them will squeeze itself between the gap and make beautiful rangoli patterns all over the house, furniture, and sometimes even on my bed with their potty and discarded feathers. And just when I am drowning in gratitude, the creature will start banging its head against the window.
My husband is not exactly happy with my fan following. I think he's a bit jealous. The other day he hollered at them to fuck off, and they flew away in panic.
"Damn, our pigeons can actually comprehend English," I thought. Unfortunately, they keep coming back for more lessons. We now have a love-hate relationship with the pigeon population – they love us, we hate them. And despite our decidedly hostile behaviour, they simply refuse to leave.
If this were the Middle Ages, I could have used my new feathered friends to send messages to distant relatives, but now that we have WhatsApp, the pigeons are completely useless. It seems I am stuck with them, seeing as I can't even make lunch out of them and their eggs for fear of catching tuberculosis, or some other bird-borne disease.
In my search for a silver lining, I read somewhere that bird poo makes an excellent exfoliant and gives your skin a dewy glow. So I went around gifting my friends nice little jars filled with pigeon poo. Now I am stuck with pots of poo and friends who won't talk to me.  
With no one to talk to, I have taken to reading tonnes of articles on pigeons and their psychology. And guess what I found? From New York to Navi Mumbai, Guatemala to Gurgaon, and Slovakia to Srinagar, everyone except Simran's babujee from DDLJ detests these creatures. The mayor of London even imposed a ban on feeding these "disease-ridden sources of myriad droppings" in the city centre in 2007.
Known by many scornful names as "rats with wings", "gutter birds", and "flying ashtrays", I discovered more than 13 ways to kill them on the internet. My extreme hate is such a global phenomenon, it even has a name. I now know I suffer from peristerophobia.
It's such a relief to suffer from a condition that I can't even spell.
I have also arrived at the conclusion that the poor things think it is us who are encroaching on their property. They are simply tolerating us because we keep it well-decorated for them. Perhaps the only way we can ever be truly rid of their menace is by stuffing them all on Mangalyaan and sending them to colonise Mars.
When mankind finally moves to Mars they'll have millions of English understanding pigeons waiting to shit on their heads. Thank god, I'll be dead by then.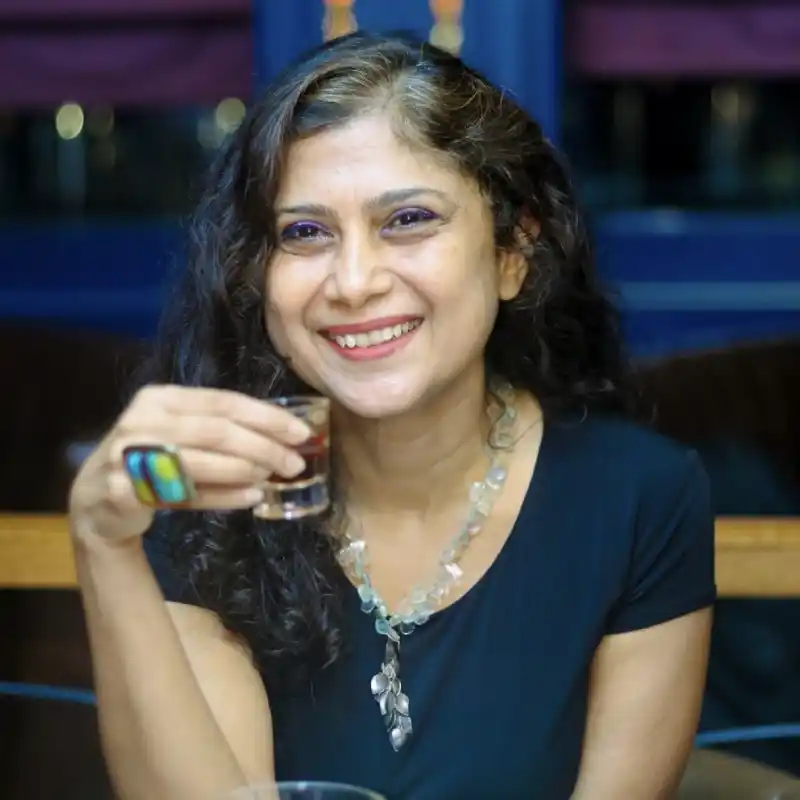 Nearly funny, almost liberal, rarely serious, Purba likes to keep a safe distance from perfection. Unfortunately she has an opinion on everything, fact or fiction, beginnings or ends, light or heavy, long and short.