The 106th Indian Science Congress, held at Punjab's Lovely Professional University, lived up to the reputation of previous editions, by honouring some of the finest WhatsApp Uncles in the country.
While Elon Musk-types are busy sending cars into space, their Indian counterparts over the last year have been organising an event that would upstage both the Golden Globes and the Ambani wedding in one swift motion. Featuring theories from books that might not be real, a poorly phrased Albert Einstein diss-rap, and as much actual science as a Swami Nithyananda video, the 106th Indian Science Congress was held over the last week in Punjab, and lived up to the reputation of previous editions – by honouring some of the finest WhatsApp Uncles the country has to offer.
Held at the sprawling Lovely Professional University campus, the night began with the rolling out of the red carpet – a colour attendees will no doubt confirm was first discovered in Hastinapur when the world's first human bled. The WhatsApp Uncles, who looked dashing in their Make-in-India outfits, posed for the paparazzi at the entrance. One was heard telling a reporter that Arjuna invented the first selfie when he looked at his reflection in the water to fire the arrow that won him Draupadi. If an episode of The Big Bang Theory was shot in India, it would be called the "Big Balls Theory" because that's how much these scientists care about their "peers".
Once everyone had settled in at the venue – and the free Sanskrit-to-Hindi translator apps were opened – the award ceremony began. The biggest accolades of the night went to G Nageshwara Rao, a man best known for playing the role of a professor of inorganic chemistry. During his acceptance speech, Rao told a room full of young scientists and teachers that the Kauravas – from the cult classic Mahabharata – spoke of the same stem cell research that scientists are working on today. Unfortunately, they didn't use this research to do any cancer-related things, but to give birth to 100 children who would help further the bloodline. Spectacular claims, although we can't help but wonder why they didn't have the technology to create a few hundred toilets while they were at it.
"One scientist even went as far as disproving the theory of gravity, presumably before he floated up into space and was never seen again."
Not content with dropping just one truth bomb on the masses, Rao went on to describe how totally real person Ravana had 24 types of aircraft, and that Sri Lanka of the time had airports. Kinda makes you wonder why Ram took so long to reach Lanka, and once again, why we're arguing about those damn Rafale jets, but hey, it's not our place to question the all-knowing Science Congress!
Meanwhile, K J Krishnan, a scientist from Tamil Nadu, had recently seen Kanye West's Grammy meltdown from a few years ago, when the rapper tried to physically pry the award from Taylor Swift's hand, and thought, "What a great idea!" So when it was his time to hand out lifetime achievement awards, he decided to get up on stage and prove that Albert Einstein, Isaac Newton, and Stephen Hawking were as important to science as a group of Bigg Boss contestants are to a Bollywood casting director.
Countering their years of research with the wholly scientific method of declaring your idea "better", Krishnan's speech was effectively a roast of the three most well-known names in science. The "scientist" even went as far as disproving the theory of gravity, presumably before he floated up into space and was never seen again.
But before he went on to become the second Indian in space, Krishnan also announced the two musical acts of the night. The first was an electrifying performance by the surf-rock band "Narendra Modi Waves" (formerly "gravitational waves") who paid homage to their two favourite things – Narendra Modi and slightly dubious theories that spread quickly online. Following up, was the indie-art-house-rock band, "Harsh Vardhan Effect" (formerly "gravitational lensing effect") named for the famous Indian science and technology minister who is known to hate science and technology, and also come up with cool stories in his spare time.
All-in-all, it was a great night to be a WhatsApp Uncle, who are usually asked to keep their views to themselves when out in public. During this one week, however, they got a chance to let their hair down, and pretend to be authorities on any subject of their choice without question. The event was such a success that maybe the next time the government should plan something for actual scientists of this country. The same ones who stood outside and protested.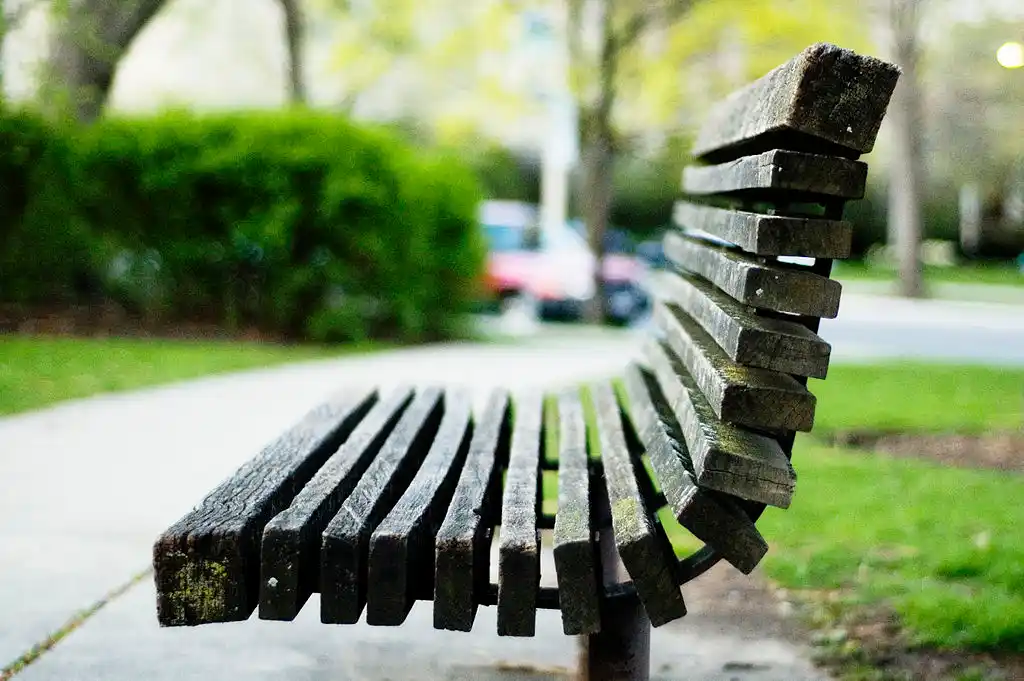 The Arré bench delivers stories that mattress. It hasn't achieved much sofar. But it's getting bedder.