As any Bong will tell you, our Durga Puja wardrobe is sacred, as big a deal as gulping down telebhajas without being punished by indigestion. We deliberate on our outfits as seriously as world leaders discuss pressing issues at the G20 Summit.
My favourite part of Durga Puja comes a month before the festivities begin. Although for a lot of people, Mahalaya officially heralds Pujo season, in my head, it would start from the weekend Baba would take us out and start off the long-drawn out exercise of shopping.
In the middle-class neighbourhood that I grew up in, new clothes were never a priority – just a necessity. And back then, splurging on your wardrobe was neither a round-the-year-affair nor was it a convenient click away. Instead, we shopped only on two occasions in a year: Poila Baisakh and Pujo. Even as a 12-year-old kid, I only cared for the latter. After all, it entailed five sets of new clothes for five days of Pujo, heading out in a taxi (which was the epitome of luxury for my tiny brain at that time), and the chance to eat dinner in a restaurant.
Usually, these shopping expeditions would be spread out over four weekend evenings – a period when my sister and I would magically transform into two well-behaved, obedient daughters. We'd wake up from our afternoon nap and hurriedly sit down to study, and wordlessly down the Complan handed to us. To guarantee that our parents would be more inclined to take us out, we'd even go out of our way to not rub Maa – who had the last word – the wrong way by fighting with each other. On most days, our calculated trickery would pay off and give way to the search of our Pujo wardrobe across Esplanade. For ethnic wear, we'd go to Treasure Island, for dresses, a popular shop inside New Market, and tops and jeans would be bought at an export surplus store and a local arcade in Dharmatala. Those were simpler times – brands and labels had not blinded us yet.
In the most middle-class display of strict parenting, my sister and I were barely allowed any say in our Pujo wear. No outfit was bought unless it had the approval of both our parents, irrespective of how much we fell in love with it. And my parents cared little about our personal style. It didn't matter that I wanted a skirt that Rani Mukherji wore in Kuch Kuch Hota Hai or that my sister carried a picture of a dress from a magazine for reference.
But that didn't bother my sister and me then – we didn't take ourselves as seriously as we do today. Instead, we would just be delirious at the idea of owning new clothes
In fact, Maa and Baba's shopping decisions were basic to a fault: Anything that fit was good enough. My father had an inexplicable aversion to colours, so our shopping bags would have a generous helping of white outfits. My mother on the other hand, harboured a fetish for dressing both of us in the same outfit year after year, lest people forget we are related. (She continues an update of this practice till today. The only difference is that we get different colours of the same outfit.) If that wasn't all, she also heralded a tradition that involved both of us wearing the same coloured outfit on the same day. If you'd happened to go through our family photo albums – which stores enough saddening evidence – you'd realise that trolls like my mother have no idea how to be subtle.
But that didn't bother my sister and me then – we didn't take ourselves as seriously as we do today. Instead, we would just be delirious at the idea of owning new clothes. The fact that they comprised a neon divider skirt that spelled circus attendant more than chic Bong girl, hardly mattered. Both of us loved dressing up and we'd easily forget our grievances in the confines of our room while we dolled each other up and promptly try out some new styles until we perfected our Pujo look.
And as any Bong will tell you, the Durga Pujo wardrobe is sacred, as big a deal as gulping down telebhajas without being punished by indigestion. Our blatant disregard for fashion trends didn't stop us from expecting our Nobomi outfit to be ahead of the fashion curve by half a century and blow everyone's minds. Not only would we keep aside one whole day to zero in on the item of clothing we'd wear on that day, but we'd also deliberate on its pros and cons as intensely as world leaders at a G20 Summit decide on pressing issues.
But the real contest of "Who wore it better?" would happen amid pandal-hopping, when my cousin and I would go out of our way to keep our Nobomi outfits a secret from each other. We'd be great friends through the year, discussing everything from the mean Math teacher to Shah Rukh Khan's dimples. But come Pujo, we'd turn into rivals.
On D-day, I'd wake up my mother at an ungodly hour to help me dress up just so I could have an advantage over my cousin. An hour before she got ready, I'd start parading my look in front of relatives and friends in the hope of being complimented more than the other. You see, whoever won the Nobomi OOTD, won Durga Pujo.
It sounds ridiculous now, but back then, the Durga Pujo wardrobe was the only annual test I sincerely prepared for. Now that I look back, I realise why it's still my favourite part of the festival. I suppose, for someone who was always trying hard to fit in, these clothes invariably afforded me a distinct personality. But more than anything, it was a time for togetherness — for my parents, for my sister and I. That emotion needs no dressing up.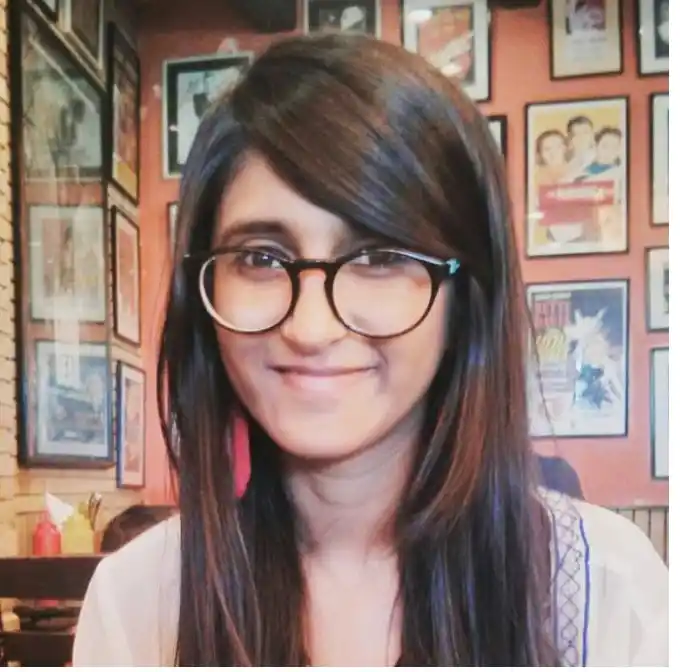 When not obsessing over TV shows, planning unaffordable vacations, or stuffing her face with french fries, Poulomi likes believing that some day her sense of humour will be darker than her under-eye circles.