Every year as the end of November rolls around, the "Hi, how are yous" collectively transform into the relentlessly cheery "Shaadi mein zaroor aanas". Ready or not, Wedding Season has arrived.
My Saturday evenings are sacrosanct. I've cracked the perfect work-life balance of ensuring there are zero interruptions to my weekend ritual of Netflix and wallowing in self-pity. But this Saturday, I was compelled to answer the phone in the middle of a Narcos episode. It isn't every day that your ninth-grade bestie's name flashes on your screen. That, plus a deep sense of foreboding you feel right before someone is about to give you terrible news.
Like most former BFFs who have drifted apart, Jigar and my communication had been limited to sharing our Facebook Friendversary video with a "Time Flies" caption. Secretly, I was hopeful that he was calling to act upon a beer pong plan we'd made ages ago. But that feeling in the pit of your stomach never lies. After a few pleasantries and jabs at each other over women we masturbated to in ninth grade, he said, "Bro! I'm WhatsApping you my wedding invite. You gotta come!"
I felt like Samuel Tarly when he first spots a white-walker. Like winter, Wedding Season had arrived. Whether I liked it or not.
Every year as the end of November rolls around, as sure as the heady scent of the saptaparni suffuses the air, I helplessly watch the "Hi, how are yous" collectively transform into the relentlessly cheery "Shaadi mein zaroor aanas". Just the way muscle memory kicks in, I begin my annual ritual of begging my bosses for leave, only to get an earful. This is mildly preferable to my quest of booking an economy-class ticket where I hope the ground staff doesn't take the term slap-happy too seriously. Not to mention, after shelling out 25K for ethnic wear, the kanyadaan of my financial security marks the first ceremony of the season.
It doesn't help that over the past few years, Indian weddings have become more tech-savvy than your annoying Silicon Valley cousin. If you needed any proof that weddings in India are at the forefront of the Digital India movement, look no further. For starters, a fucking WhatsApp forward seems to have become the preferred medium of vending wedding invites today — about as personal as a handjob from a masked person in the back of a Maruti van. Then, there is the rampant practice of replacing the traditional "Ganesh weds Rhea" with the more Instagram-friendly, #GannuRhea (accompanied by a written request that guests use only the official hashtag while uploading pictures). In fact, we are one #SalmaWedsBalma away from having the Supreme Court declare that marriages will be considered annulled without a hashtag. Pesky landlords can then begin asking for wedding hashtags instead of marriage certificates as proof of coupledom.
As one of the few sorry saps in their mid 20s still attending weddings as a bachelor, I've encountered every horrendous scenario imaginable. I've learnt to swallow the garden-variety embarrassment of bumping into the ex and her hot partner near the chocolate fountain. I've also figured how to artfully duck nosy aunties and their dreadful volleys of "You're next!" But every other year, I am stumped by an absurd scenario.
The "Sangeet-cum-Cocktail" party – That one glorious event where the bachelors can all stand in a corner and coyly discuss the other hot, single girls at the party.
Two years ago, I was left feeling old AF when my teenybopper NRI cousins asked me to participate in their "Mannequin Challenge," the hottest wedding fad of 2016. It entailed holding a statue pose as creepy videographers hovered around you. I had to obviously decline with a polite, "Sorry, kids. Jackie bhai is doing enough statue poses in his career and love life."
Speaking of stagnation, the saving grace of the season for most depressed bachelors is almost always the "sangeet-cum-cocktail" party. That one glorious event where they can all stand in a corner and coyly discuss the other hot, single girls at the party. Girls, whom they won't have the courage to make eye contact with until after their eighth peg of Antiquity Blue. Post which, they transform into some mutation of Barney Stinson and Ravi Kishen, drunkenly gyrating in the vicinity of their targets. The slyest members of the group secretly record this pathetic display of why the #MeToo movement exists, for the sole purpose of updating their Snapchat stories captioned #SherwaniShenanigans.
All of this builds up to the most anticipated ceremony that pairs your worst hangover with deafening drums with a side of curses from thousands of motorists: the baraat. Thankfully, over the years, baraats have become shorter and less physically demanding because of paucity of space in Mumbai and air in Delhi.
Once you survive it without being run over by a speeding OLA share, you make it to the least interesting phase of the Indian wedding: the actual wedding. The event where uncles mouth off heavy words like "Hasta-Milaap" and "Madhupak" and some group of degenerates begin initiating flower-petal wars. By the time the poor dulha and dulhan get up for their pheras, the bachelors have exhausted most of the genda phools in the grown-up game of "Who can hit the pandit ji's crotch". This is also the time the oldies get their most raging sanskar-boners, and gang up to find all the youngsters who've conveniently gone for a smoke to run their errands.
For all my crotchetiness, I do believe weddings have a bright side. My Bollywood playlist gets an update and there's the hilarious possibility, tinged with pity, of watching the drunk uncle stumble around the dancefloor to Sukhbir's "Ishq Tera Tadpaave". There are so many opportunities to take profile pictures, that it makes me wish I had two Tinder accounts.
But then, you let it all sink in. You look over at the happy couple. Two souls that either survived bullshit from family for having a love marriage or survived bullshit from friends for having an arranged one. Yet there they are, against all odds, going around in circles around the funeral pyre of their loneliness. And that's when your singlehood hits you with all its force. You've snarked at the decor and the meticulously choreographed dance steps, because two people have found each other, and you have not. You'll continue to roll your eyes at them, but with a secret longing to be on the other side, one day.
So after much deliberation, I've decided to attend Jigar's wedding. Not only because I knew him at a time when he jerked off to Jennifer Aniston, but because I also look forward to meeting my old friend and his beautiful bride, Jigisha. It'll help me believe that there is some old-fashioned sweetness left in the world. Besides, can't miss an opportunity to hashtag all the pictures with #GettinJiggyWithIt.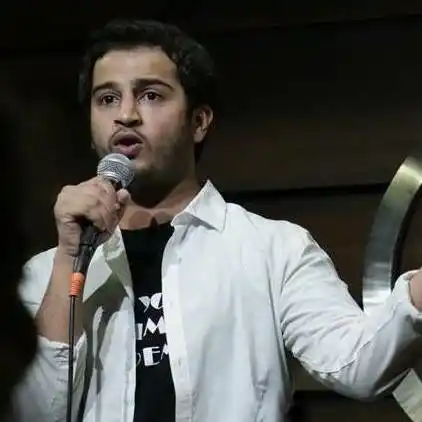 Masking anxiety with humour. Living with his dog, cat, and mediocrity. Creating content aur life se kaafi discontent. Tweeting as @juvenile_jack.