The Mumbaikar has the strangest kinks that involve a bhutta, a fast train, and Lonavala's Tiger Point.
Congratulations, fellow Mumbaikar. We've braved the monsoon and hopefully next year, we won't have to live with the fear of dying on our commute to work. Everywhere we look, the city is dug up for the metro project. Today we are taking in more dust than oxygen, but it's all for the larger purpose: Part of the much-maligned "spirit of Mumbai" is sacrificing your lungs so that you don't succumb to a pothole. Hopefully, once the metro becomes our new lifeline, we won't waste three hours from Lower Parel to Andheri and the average Mumbaikar can finally make time to make love.
While Mumbaikars love a roll in the hay, living in a bustling global city has obviously affected the way we view sex and some of us have developed some very localized sexual fantasies. Below are testimonials from a few longtime Mumbai locals who were kind enough to share their deepest, darkest, realest sexual desires with us. The answers vary from tame to downright perverse.
*** 
When I've almost given up on my pursuit of finding "the one", he'll look at me from across the road. He'll see me drenched in the rain and give me a comforting nod before driving toward me in his luxe chariot. His eyes fixed on me. I tremble as he gingerly sticks his head out of the window and says, "Baith jaao, madam, Andheri chhod deta hoon." Suddenly, my clothes aren't the only thing soaking wet. "Meter se double pay kar dena," he says, as if he knew I have a thing for bad boys.
– Poonam, Wadala
My dirtiest fantasy involves going missionary in our apartment but in this fantasy, my wife and I aren't constantly worried that we wake up the 10 family members that live in our 10×10 kholi.
– Suhas, Sewri
There are few things that excite Mumbaikars the way Uber not charging us 3X at 9.30 am or paying rent that leaves more than 10,000 for other expenses.
I'm old fashioned so I value the little perks of long-standing relationships. I just want to meet someone who, without hesitation, always says the three magic words after he's done spicing up my day: "Madam, sukha puri?"
– Ruchita, Juhu
We are cruising toward Grant Road. Fast, just like we both like it. The sweat on our brows indicates we could both use a little bump and grind. Suddenly, he gets up, his salt and pepper hair blowing in the wind. Our eyes meet as he puts his hand on my shoulder, uttering the words I was dying to hear, "Baith ja, gandu. Mereko Dadar utarne ka hai."
– Mangesh, Malad
A little boy pees and floods Milan Subway. The Indian Meteorological Department declares a red alert for storms the next day. Schools and colleges in Mumbai issue a holiday. Even the boss messages, "Hmm, kal sab work from home le lo." My better half bites her lip as I show her the WhatsApp chat. It's a Thursday evening and that sinful look in her eyes conveys more than words ever could. We spend our Friday first half engaging in the most sensual thing we've done in years: Soaking wet, eating bhutta at Lonavala's Tiger Point. 
– Tanuj, Vile Parle
My phone buzzes while I'm in the middle of making my PowerPoint presentation. It's Sudhir, our friend who lives in Dombivli. "Hey! Might have to cancel dinner at my place tonight." I pray that Mr Mishra, my boss, can't see the ecstasy I feel at the idea of not driving from Bandra to Dombivli. Sudhir follows his text with, "Might not be able to reschedule either since I'll be moving to Andheri next month. Kya yaar! You guys never got to see my place in Dombivli." I moan so hard, Mr Mishra asks if I need a moment.
– Sheetal, Bandra
Clearly, there are few things that excite Mumbaikars the way Uber not charging us 3X at 9.30 am or paying rent that leaves more than 10,000 for other expenses. What else do you expect from a city where property prices are reminiscent of downtown Manhattan and infrastructure resembles rural Ghana? But all in all, we're all sure of one thing. No matter how sexually active we get, no amount of raunchy sex comes close to how good our taxes fuck us every year.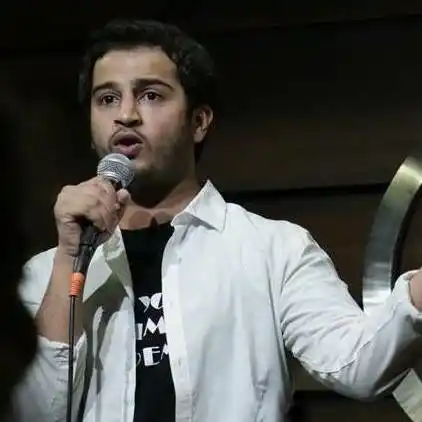 Masking anxiety with humour. Living with his dog, cat, and mediocrity. Creating content aur life se kaafi discontent. Tweeting as @juvenile_jack.