India wants a budget that has something for the rich, the poor, and the pesky middle-class. But it's like getting Arnab Goswami and Kunal Kamra on the same flight – no one's going to be happy at the end of the day.
Oh lord, it is that time of the year when I will become a meme again! I am grateful to Amit Shah ji for the CAA-NRC fiasco and my colleagues in the party who have consistently trained their vision on the Delhi elections over the past few months, but who can stop Budget 2020? January has ended and the attention will be back on our flailing economy. And me. Ugh, not again!
It might be hard to believe but growth has fallen lower than the political discourse in Delhi, and I have to somehow get the economy back on track. The only person who has a more difficult job than me in the country right now is the photographer who has to capture Taimur Ali Khan's "gym look" every morning. If being the first full-time woman finance minister of the country wasn't already challenging enough, I also happen to be JNU alumni – inviting the label "anti-national" on odd days, and "hyper-nationalist" on even days for being a part of the BJP. It doesn't help that our newspapers (only if Godi media took over!) keep reminding me of the slipping GDP and hunger report and whatnot. For me, there is no #MondayMotivation or #FridayFeeling, it's simply #SlowdownBlues.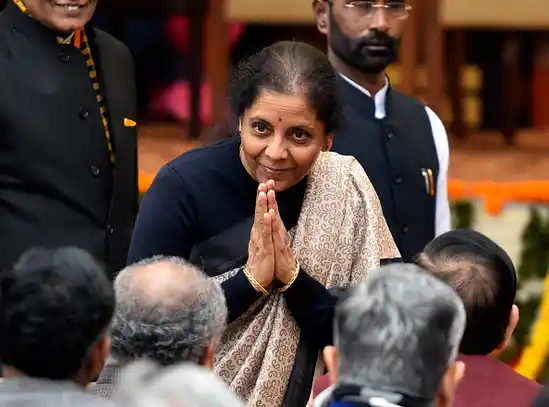 Union finance minister Nirmala Sitharaman gestures during a program to felicitate newly elected president of BJP JP Nadda, at BJP headquarters on January 20, 2020 in New Delhi, India.

Sanjeev Verma/Hindustan Times
Every indicator from consumption to exports, investment, tax collection, lending and employment has sharply fallen. But if there's something I've learnt by being in government, it is that we must focus on the positives. The number of anti-nationals, tukde tukde gang members and gaddars in the country has increased 800 per cent over the past one month. Sale of cars, chaddis, and biscuits may be down, but turnover of rods, lathis, and country-made guns has multiplied tenfold, as the youth go around attacking university campuses. Do I get no credit for these bright spots in the economy? Or will we just talk about gloom and doom? 
We need to stop. As the PM said in Houston, "Sab changa si." I held multiple press conferences over the past few months, announcing the merger of nationalised banks, a package for the automobile industry, corporate tax cuts, an infra bonanza, and even a ban on e-cigarettes. But Twitter found some way or the other to troll me. Personally, I believe these hipsters who are into vaping are against Indian culture. Why can't they, like the rest of us the country, continue chewing tobacco and spitting it on the streets the good old sanskari way? 
Every few days Urban Naxals on social media make #SayItLikeNirmalaTai trend. These millennials have ruined everything from the economy to… I don't know… everything.
First they came after me with the whole "blame millennials" jokes and just when I thought I was in the clear, I was under attack again. For what? Saying that I don't eat onions. How will I know about onion price rise if I don't eat onions? The same way Modiji has no idea about the pan-India NRC? 
Every few days Urban Naxals on social media make #SayItLikeNirmalaTai trend. These millennials have ruined everything from the economy to… I don't know… everything. The automobile sector is down because they use Ola Uber, tourism is down because they circulate Taj Mahal videos on WhatsApp, and the food industry is down since they don't eat anything but only click pictures for Instagram. Arré, tell me, how will the economy grow when millennials don't want to take up real jobs but lead the #FreelanceLife? Then they have the audacity to blame the government for fewer jobs created.
Everyone has huge expectations from the budget and I feel like Jasprit Bumrah during a super over. I have to ensure that there's something in the budget for the poor, rich as well as the pesky middle class. Is that even possible? Maybe in my next venture, I should make a Bollywood film that has action, comedy, and drama.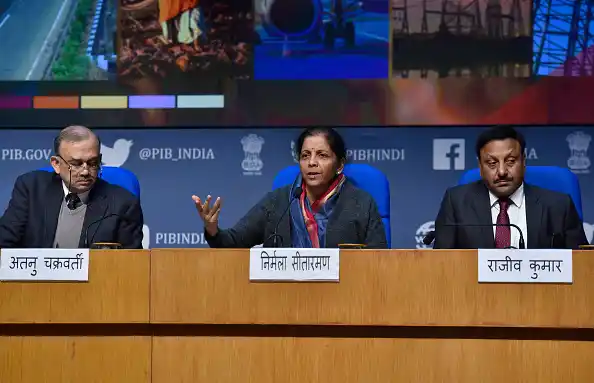 Union Finance Minister Nirmala Sitharaman and Economic Affairs Secretary Atanu Chakraborty with others during a press conference regarding the launch of the National Infrastructure Pipeline coordination mechanism with an investment plan worth 102 trillion in the next five years, at National Media Centre, on December 31, 2019 in New Delhi, India.

Sanjeev Verma/Hindustan Times
On my morning walk, people keep giving me advice, from reducing personal income tax rates to announcing relief for investors. But not one has recommended a good mask to deal with this Delhi weather. Some people complain about how GST and demonetisation hurt them, and then I have to remind the poor chaps about our jawans fighting in Siachen. They are singing the national anthem in -10 degrees and we can't stand in line and risk cardiac arrest? 
I'm doing everything in my power to change things around. During the last budget, I ditched the classic briefcase for the bag. This year, keeping the spirit of protests in mind, I'm planning to deliver the budget in slogans and placards. I'm nervous, yet confident as all eyes are on me to revive the economy. But what truly gives me confidence is the fact that if something goes wrong and the budget doesn't meet expectations, I have the ultimate brahmastra in my bag.
I will blame it on millennials.

Hardik is a Mumbaikar in his 20s. That could be his age, weight or waist size. Life is miserable, he likes to look at the lighter side of it.