Robert Vadra already has all the necessary qualifications to run for office – he boasts of several well-endowed and disproportionate assets, and has bought so much illegal land in Gurgaon, they should rename it Jamaika. Just give him a ticket already!
Priyanka Gandhi is like a leap year – she appears once every four years. It has been reaffirmed with her appointment as general secretary in charge of UP East, where she will be taking on Prime Minister Narendra Modi on his turf, Varanasi.
Most will agree that Priyanka is the more charismatic of the Gandhi siblings and deserved to have joined active politics much earlier. She has a commanding presence and is rumoured to be intelligent. Her hair reminds us of Indira Gandhi, and there haven't been any PiGa jokes in circulation. Not yet, at least.
Still, I can't help but feel that Robert Vadra – Priyanka's stud of a husband, who flaunts his muscles and ill-gotten wealth with equal élan – makes for a better choice for a politician.
Did you just choke on your chai? Let me just assure that you I am as aware of his lack of accomplishment as his wife is.
Over 20 years ago, Priyanka shocked the nation when she picked this unremarkable, Freddie Mercury-lite as her groom. He was the toad that the princess kissed, only instead of Prince Charming, he transformed into a pompous brat with the fashion sense of a Delhi tapori. Today he spends his time prowling around his own city with a waxed chest, pissing everyone off with his insufferable attitude.
Remember the Delhi motorist who was served a challan at Vadra's insistence, because he dared to overtake Vadra's car? It's okay, the voters won't either!
As the biggest beneficiary of the Rajiv Gandhi Berozgar Yojana, Vadra also amassed millions through dubious land-deals supposedly using his mother-in-law's political influence. According to the Dhingra Commission, Robert Vadra made profits of ₹50.5 crore from a land deal in Haryana without spending a single penny. But if, as a responsible representative of the fourth estate, you dare question him, he will look at you incredulously and repeat, "Are you serious? Are you serious?" until you combust in self-remorse. Then, as you slink away in shame, and get threatened by guards, you hear him scream, "What is wrong with you?" with your undamaged ear. A man capable of making you responsible for his misdeeds surely deserves his chance in politics.
Furthermore, Vadra already has all the necessary qualifications – he boasts of several well-endowed, and disproportionate assets. He has bought so much land in Gurgaon, they should rename it Jamaika. Even though he is the last person who would need security, Vadra would rather step out of his house with no underwear on than without his posse of security men.
The man is effortlessly corrupt and obnoxious, but that somehow hasn't stopped him from prosecuting others who dare to break the law. Remember the Delhi motorist who was served a challan at Vadra's insistence, because he dared to overtake Vadra's car? It's okay, the voters won't either!
To cap it all, the chap has an army of devout Congressmen falling over each other to scrub his dirty chits clean. He is the jamai raja that no one wants to displease, especially since he had the remains of IAS officer Ashok Khemka's career laid reverentially at his feet. Khemka's only fault? He dared question Vadra's dubious deals. Five years into the Modi govt, with all its big talk, Vadra still hasn't been convicted of anything.
Despite such a rich repository of misdemeanours, Vadra feels unfairly targeted by BJP leaders and the media. We totally understand his dard – upright citizens like him do not deserve the dogged devotion of CBI and the Enforcement Directorate, who often land up at his home for a quick chai pe charcha. Frankly, I can't think of anyone else who deserves to step into the world of toxic politics more than him. Maybe it is his sinister past, or his "pataa hai main kaun hoon" sneer he wears with aplomb. Anyone who cherishes their own life maintains a safe distance from him.
I am already getting a whiff of Amit Shah from Robert Vadra. He may lack the political acumen, but I can imagine Rahul Gandhi looking in Vadra's direction and drawling, "Raabert, isse duster se maar do. Marr bhi jayega, mitt bhi jayega."
In fact, maybe it isn't Priyanka Gandhi but Robert Vadra, who'll be the brahmastra Congress badly needs to finish off the BJP. "Raabert, isse thodi champagne pila do, paheley shame se, phir pain se mar jayegaa…"
Robert knows it. The man has been nursing political ambitions since the Dandi March, making all the right noises to become his biwi and Rahul Gandhi's helping hand. He also claims to be a firm believer of transparency, made further apparent by his see-through chest-hugging tees.
Like your average shudh desi politician, he has even deluded himself into believing that the nation needs him more than clean air, even if the nation doesn't know it yet. Like the PM, he harnesses the power of social media, even if it is just to wish his family members a happy birthday on Facebook. To appear human, Vadra is also increasingly seen feeding the poor outside AIIMS hospital and Hanuman Mandir in Delhi.
Hypocrisy and a thick skin are the greatest virtues a politician needs to fool his electorate. And Vadra has shown ample promise with both. Besides, unlike his wife, he probably also actually knows who Smriti Irani is.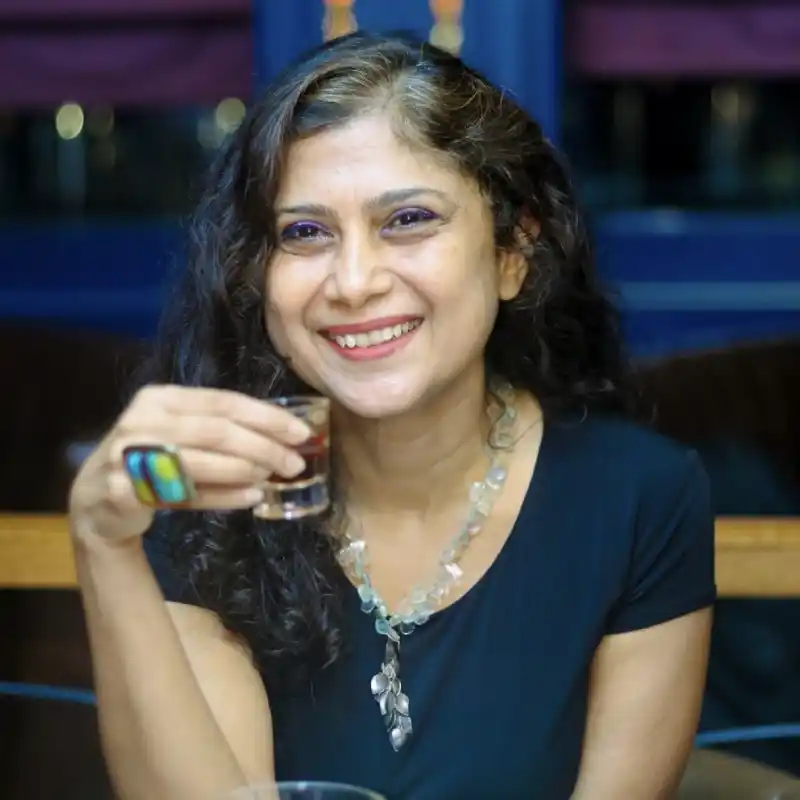 Nearly funny, almost liberal, rarely serious, Purba likes to keep a safe distance from perfection. Unfortunately she has an opinion on everything, fact or fiction, beginnings or ends, light or heavy, long and short.