Babas, our purveyors of punya, have adopted a more media-savvy approach to garnering followers, leaking videos of themselves dancing online. What if Asaram, Radhe Maa, and Gurmeet Ram Rahim had a prime-time reality dance show where they could shake that jadi buti?
We're extremely proud of our nation's guru-shishya tradition where a spiritual guide, almost always an older man in varying states of undress, gives you life advice while seated in the shade of a banyan tree.
But even the gurus realise that they are in desperate need of a makeover, especially considering their wholesale fall from grace in the last couple of years. Godmen need to keep it fresh, to attract a new breed of shishyas that sashay to the beats of Bollywood. They need to drop bhajans that are less Anup Jalota and more Avicii, because nothing says bhakti like the bass on your trap cover of "Aisi Lagi Lagan Meera Ho Gayi Magan". These purveyors of punya know that they need a gimmick to connect with a younger audience, who isn't necessarily wowed by their abilities to sit still for years or perform miracles. So they've adopted a more media-savvy approach, "leaking" videos of themselves like the time Asaram Bapu uploaded a video of himself in a state of "mauj", channeling his inner drunk uncle at a wedding. Then there's Red Radhe-ing Hood doing her characteristic slo-mo hula while surrounded by South Delhi's finest denizens. (Simply Googling the words "Radhe Maa dance" throws up dozens of videos of the godwoman doing the jig not just at jagratas but even at weddings and, believe it or not, in casinos.)
Our sources tell us these were the prelims for a dance show on a new devotional channel. On today's episode, our participants are about to break a leg to Bollywood-inspired bhajans. Our judges this evening are Anu Malik, Farah Khan, and Devdutt Pattanaik, because religion and spirituality aren't really Chetan Bhagat's cup of amrit.
This episode starts off with a performance by the judges to "Neela Chashma", the Krishna remix of "Kaala Chashma", which sends the audience of yogis, babas, sadhus into a rapture. Meanwhile, backstage the participants sweat bullets while awaiting their turn to go up on stage.
Today's theme is Bollywood Bhajans and first up is our sanskaari naari in red. Radhe Maa, along with her shishya and biggest benefactor from Karol Bagh, Mrs Arora, shakes her jadi buti to the sanskaari remix of "Tinku Jiya", Jammu Ki Ticket Kata Le Piya. Let's see what the judges have to say. Anu Malik, who's busy writing the lyrics to "Lift Teri Band Hai 2.0" and hasn't seen much of the performance, awards Radhe and Mrs Arora 7/10. With an 8/10, Farah Khan goes on to applaud Radhe Maa for encouraging more women to dance in the name of spirituality, as the hashtag #FarahSupportsDevdasis begins to trend. Pattanaik compares them to gopis and goes on to tell everyone a story about how Krishna actually instructed the gopis in ballet before it became a thing in France. Yet, all he throws them is a 6/10.
Dressed in his trademark whites, with the inclusion of black stripes, Asaram and his shishya, cellmate, and partner groove to "Tu Cheez Badi Hai Bhakt Bhakt".
After a few ads, it's time for (insert titles here) Gurmeet Ram Rahim Singh Ji (insert more titles here) and his "daughter" Honeypreet to show off their talent. Fresh out of jail on furlough, Gurmeet and Honeypreet get down to "Ram Ram" from MSG: The Messenger. It's not so much dancing as Gurmeet walking across the stage in a sequinned jacket, jeans, and hat, with the words "Rhinestone gauboy" emblazoned on the back, yelling the lyrics into a microphone, while Honeypreet gazes seductively at the judges. The audience goes insane for this insaan, shouting for an encore. Anu Malik awards them 4/10 because there was minimal dancing, but quickly changes it to an 8 because of Ram Rahim's followers in the background with AKs. Same with Farah, who also congratulates the choreographer – none other than Gurmeet Ram Rahim Singh himself, who in turn gives a shout-out to Gurmeet Ram Rahim Singh for the excellent costumes. Pattanaik  gives them a 7/10 and talks about multiplicity in spirituality and how we must all embrace our inner Gurmeets.
Our next contestant is the freshly sentenced Asaram Bapu, who chose to dance via video feed from jail. Dressed in his trademark whites, with the inclusion of black stripes, Asaram and his shishya, cellmate, and partner groove to "Tu Cheez Badi Hai Bhakt Bhakt". The geriatric guru does his best to break a leg while trying to avoid breaking his hip. However, his handcuffs and restraints make it difficult for him to dance and the video feed goes dark midway through a thumka, as the lights go out quicker than his political patronage. The judges refuse to pass judgement, either positive or negative, for fear of the online backlash and resulting PR nightmare, opting instead to call it a special performance.
This episode ends with a maha yagna involving all present, officiated by Baba Ramdev using Patanjali's new Godly Ghee, formulated especially for religious purposes. Before the ceremony begins, the judges request Ramdev to show the other participants a couple of dance moves from his latest movie, Step Up 4 Sanskaar, starring Ranveer Singh as a younger version of himself.
We can't talk about dancing babas without at least an honourable side mention of Bigg Boss contestant Swami Om. In the video, Swami ji appears to be deep in a meditative state while his sidekick attempts to emulate a celestial apsara à la Mahabharat. He decides to join in the latter half of the video because we are in India: The land of Nataraja and Tandav, where our bhakti is best displayed on the dance floor.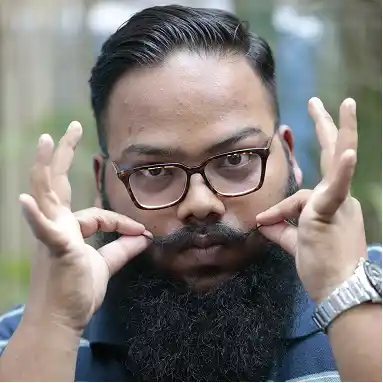 Damian loves playing videogames. If all the bounties he collected slaying zombies were tangible, he wouldn't need to write such bios. Seriously though, Damian used to be a cook who wrote, now he's just a writer who cooks.