While I welcome the government's initiative to subsidise the (frankly exorbitant) rates of food and beverages in multiplexes in Maharashtra, we should brace ourselves for impact.
Unpopular opinion: As Indians, our eating habits are a little messy. And I don't mean eating daal-rice "with our hands". But now that the Maharashtra government has made outside food permissible in multiplexes, I wonder if we're going to make the same racist complaints that people on international flights do: That the entire cabin smells of curries and achaar.
The government's initiative to subsidise the (frankly exorbitant) rates of food and beverages in multiplexes is welcome, but it's best to be prepared. Here's what may unfold in our cinema halls post August 1.
1."Thoda garam paani milega cup noodles ke liye?"
We all know that one guy who blazes a fat doob a couple of hours before a movie and gets a serious case of the munchies just before interval. He then ends up broke for the rest of the month because he blew up his entire internship stipend on two samosas, two plates of momos, and whatever the fuck a chicken frank roll is. Well, now he doesn't have to spend half the month borrowing money from his coworkers and friends. Like most broke interns, he can now carry his own staple diet of cup noods into the theatre. All he'll be running after, in the corridors of the cinema hall, is a mug of garam paani.  
2."Hi, Please microwave my bag of popcorn?"
Finally! We get to give the pretentious concessionaire a taste of its own medicine. We've been shelling out 400 bucks for a fistful of corn kernels marinated in cheese-flavoured powder for years now, trying to convince ourselves, "Chalo koi nahi. This isn't a canteen, it's a concessionaire. Thodi ameer feels aani chahiye." But not anymore. I imagine our mothers using this new rule to not just save money but also electricity. The look of utter dismay on the server's face when Mrs Sharma walks up to the counter and hands him an unpopped bag of microwaveable popcorn, telling him to not let it heat for more than two minutes and thirty seconds because that's exactly how she likes it, will be priceless. Just like a tub of caramel popcorn used to be.
3."Asli Masale Search Search"
You can expect someone in your row to helplessly point to his neatly diced kaakdi salad and ask if anyone is carrying a chaat masale ka dibba with them. A staple of any Indian household along with mummy's belan, this dabba will also be responsible for your local theatre smelling less like a posh multiplex and more like a dhaaba on Friday night. Be kind and carry some sachets of Domino's oregano that your mom stores and tell the poor chap it's kaali mirch. Do peg ke baad kise kya samajh aayega? Speaking of which…
4."Chill, bro. It's just Apple Juice."
Sneaking in a 500ml Thumbs Up laced with a quarter of Royal Stag into shady single-screen theatres is a teenage rite of passage. No longer relegated to the Gaietys and Chandans of the world, this pocket-friendly concoction can now also be enjoyed at elegant multiplexes where 1,200 bucks will finally feel like money well-spent.
When the usher walks up to the gaggle of baby-faced junior college kids in the back row, you may hear an enthusiastic, "It's just apple juice, uncle, God promise!" #PaisaVasool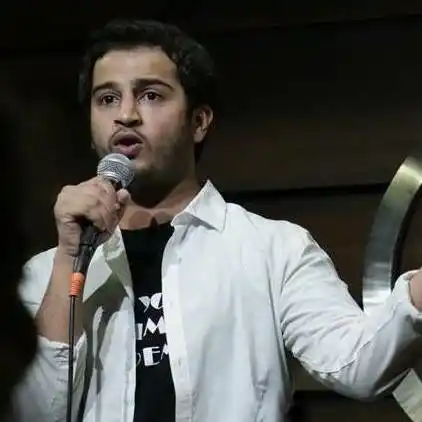 Masking anxiety with humour. Living with his dog, cat, and mediocrity. Creating content aur life se kaafi discontent. Tweeting as @juvenile_jack.