Every October, an arsenal of wide-eyed, mostly broke, fully sleep-deprived film buffs flocks to the MAMI Film Festival. For them, A is for Akira Kurosawa, B is for Bela Tarr, C is for the Coen Brothers.
Every year at the end of the monsoon, an arsenal of wide-eyed, mostly broke, fully sleep-deprived guided missiles is aimed at Mumbai. They home in on an event with a pseudo-intellectual rating far higher than even the Kolkata Book Fair. This event is the annual MAMI Film Festival, and the mayhem lasts a week.
It's the only time of the year when this otherwise overworked and often neglected nocturnal species, who go by the moniker "film buffs" get the opportunity to shine. One way to identify whether it is October in Mumbai is to train your ears: If you catch alien words like, "Hong Sang-soo", "Abbas Kiarostami", or "I wish Golshifteh Farahani were attending this year" randomly floating around in the air, you can be sure that the march of the monsoon is over.
This species goes into overdrive the moment the line-up of films is revealed, and invokes the powers of the ancient proverb: "Why stay quiet when you can tweet?" The first step is to broadcast to the online world your unsolicited opinion on what films the organisers should have included in the line-up instead of the existing schedule. The next is to complain loudly about being unable to book the opening/closing film within five minutes of registrations opening.
That said, it's a wonderful time of the year. It's the only time the Filmetariat manages to respectfully stand in queue, thunderously rejecting their inherent Indian instinct to break it. Friendships spring in the crowded restrooms, are forged while rushing up secret shortcuts. If you are a curious outsider, slip into your wrinkliest shirt, put on your judgy glasses, ensure your hair is carefully dishevelled, and get ready to meet the Humans of MAMI.
1. The Film Festival Circuit Snob:

For these connoisseurs, A is for Akira Kurosawa, B is for Bela Tarr, C is for the Coen Brothers. These chaps can recite the alphabet faster than a Bollywood film can finish its production. Not one to take the basic route of forming an opinion on a film by its trailer, director, cast, plot, or box-office numbers, these warriors judge it by the number of film festivals it has played at. Their version of "ASL?" is "Age, Nationality, Number of Standing Ovations at Film Festivals?"
You'll hear them say: "No wonder they didn't play this at Toronto Film Festival!", "Anurag Kashyap didn't have the Asia Premiere of his new film at Busan? What a shame!" ,"If I miss it here, I'll catch it at the Dharamsala festival."
MAMI is the only time of the year when the overworked and often neglected nocturnal species, who go by the moniker "film buffs" get the opportunity to shine.
2. The Anti-Nationals:

These patrons are determined to vent their frustration at being denied beef chilly, and being asked to "Go to Pakistan" for being #TeamFawadKhan by removing Bollywood films from their watch list. For the duration of this one week, these folks will look down upon any Hindi film, the way Indian cricket selectors look down on Ishant Sharma. Because, in their dictionary, revenge is best served with subtitles. Next week, it's back to the dal roti of Bollywood.
You'll hear them say: "Watching Bollywood during MAMI is like having chaat at JW Marriott's buffet spread ya", "Yaar, if people want to discuss Hindi films in the queue, why can't they go to Gaiety Galaxy?"
3. The Live Film-Reviewer:

One of the most dedicated, selfless humans at MAMI, this set of people ensure that the dudes who review films for a living can take a break, and they take it upon themselves to pass their commentary on the film. Loudly. While watching the film. Expect to hear frequent gasps in various durations, loud claps, and the headline they think every publication will use while writing about the film. They're like the peas in a pulao: Can't do with them, can't do without them.
You'll hear them say: "What a shot!" *standing ovation in the middle of the film* "Dekh dekh, JimmyJib!"
4. The Unpleasables:

These folks might as well be wearing a nameplate that says, "You can't please us!" No matter how varied, and brilliant a festival line-up, they will swiftly, and certainly find a flaw in it, and counter it with the list of all the films that didn't find a place. They're the filmy equivalent of neighbourhood aunties, who will takedown a movie even if it has swept all the Oscar categories, won two Pulitzer Prizes, and three Nobels.
You'll hear them say: "What is the point of this festival if Shape of Water is not playing?" "Seriously, who decided the line-up? Karan Johar?"
5. The Leave-Fakers:

These are the most frightened, and alert set of people who have at last gathered the courage to transform from obedient Ved to rebellious Don, and bunked work to see what the fuss is about. Unfortunately for them, great attendance comes with greater paranoia of being spotted. They are the ones with their heads low, nervously scanning the crowd for any sign of colleagues, and the ones who will remember to breathe only in the cover of the darkened theatre.
You'll hear them say: "Hey, is that my boss?" *ducks behind a random stranger* "OMG! That is my boss!" *ducks behind two strangers* "My boss just texted me 'Good morning.' He definitely knows."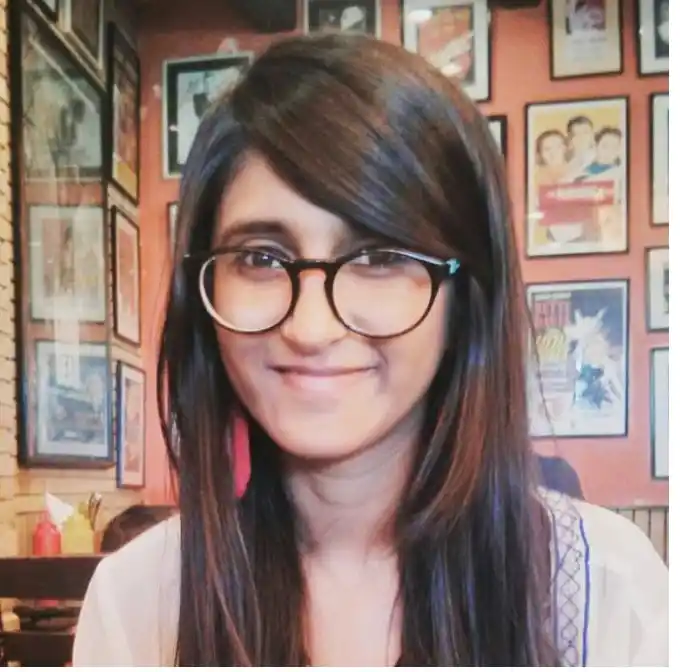 When not obsessing over TV shows, planning unaffordable vacations, or stuffing her face with french fries, Poulomi likes believing that some day her sense of humour will be darker than her under-eye circles.