Dearest Bed, after one year of living, loving, and hating the pandemic together, I think it's time we broke up. I am tired of using you as my workspace, coffee shop, and play station. As another lockdown looms large, I've decided to move on.
Dear bed, I can't believe it's already been a year of us being together. Happy anniversary! Please accept my gratitude and don't worry, I will soon be singing paeans to our wondrous union on Facebook. I have often been plagued with the thought, now that we've spent so much time together, should we exchange bedding vows? Will be a good excuse to finally get out of my pyjamas. Though I'll admit my love, after six neat pegs of single malt, I often ask myself if our union was borne more out of desperation.
Look, I'd be lying if I said there was no chemistry at first. In fact, you and I have a long history of tossing and turning in each other's embrace. Like any relationship, we started off as just friends. Actually more like chaddi buddies who'd run to each other at the slightest hint of distress, boredom, or gnawing neediness. What I loved about you the most was that you were always game for roleplay, and readily became whatever I wanted you to be – an easy chair, a couch, a coffee table, a study table or an oasis I needed to revive my out-of-charge soul.
Like any good friend who you take for granted, you were there for me. During my growing up years, you would turn into a bat cave on hot summer afternoons. All I had to do was crawl under you and into my world of make-believe. Behind the spider-web curtain was my kingdom that no one could invade. When I would get bored of conjuring up my own fantasies, I would turn into a dead log on the bed. The book in my hand would transport me to a world where a kind old man helped kids in trouble, but not before he served them lemonade and cakes.
When my cousins would visit us during the summer break, you would turn into our adda. All of us stuck to each other like glue, talking about god-knows-what until the voices of our mamas calling out for us would break our non-stop chatter.
Like any good friend who you take for granted, you were there for me.
Sleepless nights, silent cries, dreamy sighs – my dearest, you have seen it all. It's only you who has been an audience to the theatre of life and have witnessed me as a coy bride, a sulking wife, an exhausted mom, as a fierce woman reclaiming her life. It is with you, I found and lost myself again and again. It felt like true love. Almost.
I had bouts of longingness when I spent extraordinary times away from you. At the end of a long day, as I would be slouched on the table at my workplace with equal parts of exhaustion and irritation, the vision of you on four legs would float around me like a chiffon sari in a Yash Chopra movie. Beckoning me, teasing me with the promise of a satisfying union at the end of a long day…
Long before Tom Cruise said "You complete me" to Renee Zellwegger, I was whispering my undying devotion to you. Dearest, you were my cocoon, where I could reveal my true dishevelled self in shapeless smocks that had spent too many summers soaked in my sweat. Oh, how low you'd sink as I would plonk myself on you with piles of books I had no intention of reading. Smile knowingly when I would throw my leg towards the ceiling pretending I was Black Swan.
Alas, all good things come to an end. The last year has put a strain on many a couple.
Our cosy relationship too witnessed a tectonic shift during the "work from home" pandemic. Suddenly, I was getting to see too much of my family and it was really upsetting. They are a nice lot, but it was distressing to see them occupy every nook and corner of the house and converting it into their office and conference rooms. I had become a refugee in my own home and I had no place to come to but you.
Thank you for being there when I needed you the most but I feel it's time to move on.
It's not you honey, but me. I think you and I have lost the connection. Look, you're still awesome. But seriously, with zero social life, I'm tired of parking my ass on you all the time. My butt is as sore as I'm bored.
You were great as a forbidden pleasure but not as an unholy union.
Your ability to role-play that was so alluring during the pre-pandemic era, now feels like a prison sentence. Fuck, I am so tired of using you as my workspace, coffee shop,  play station, and fine-dine, I often fantasise sleeping with the hard floor. Things are so bad, even our naps don't excite me anymore. I am so done with doing things that I couldn't do when I didn't have enough time.
You were great as a forbidden pleasure but not as an unholy union.
I think it's the "too much familiarity" problem that couples face and it's been keeping me up all night, wondering if we are meant to be together as the possibility of another lockdown looms large. I have noticed your accusing glances when you saw me spending too much time with the couch. But what to do? The dude is strong, dark, mysterious and makes me feel so cosy. Look, I'm not accusing you of being dull. But I feel our relationship has run its course.
So if you really love me, my darlingest bed, I humbly request you to set me free. If I come back I was always yours, and if not, we were never meant to be.
And don't you worry, you will have company. I have often noticed my husband looking at you lustfully before he plunges himself into your embrace.
I am not jealous at all. Just make sure he doesn't come anywhere near my couch.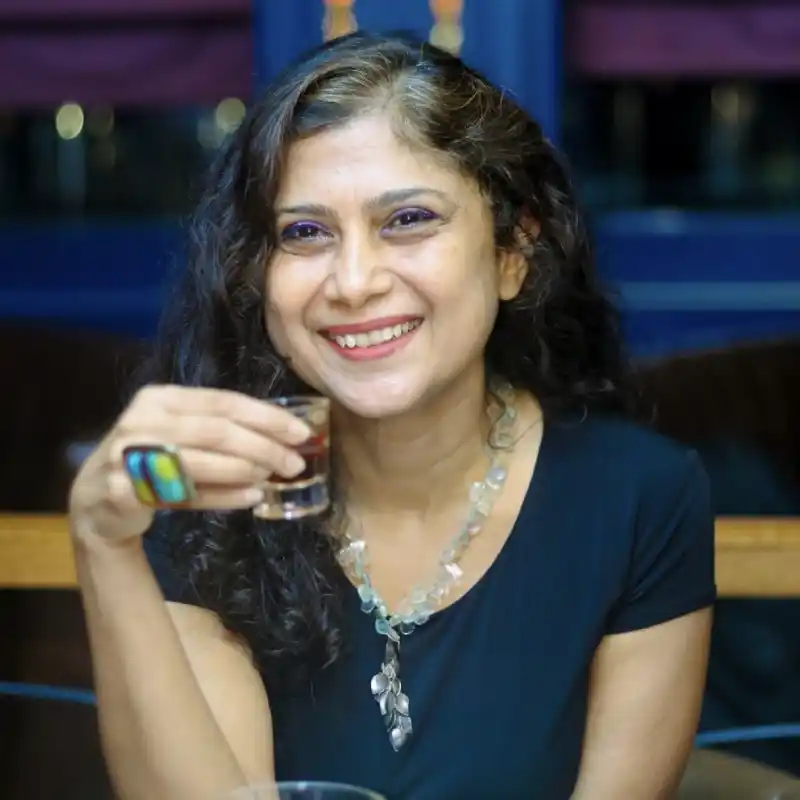 Nearly funny, almost liberal, rarely serious, Purba likes to keep a safe distance from perfection. Unfortunately she has an opinion on everything, fact or fiction, beginnings or ends, light or heavy, long and short.