If you weren't at Justin Bieber's concert yesterday, you should be dying of FOMO. You missed out on some bad lip-synching, a low-energy performance, and these human specimens.
Justin Bieber's the Purpose Movement Tour hit India like the first storm hit Bhuvan's village in Lagaan. Mumbai – and some from far-flung places like Kanpur, Nepal, and Navi Mumbai – breathlessly sang, danced, and celebrated like peasants as the storm thundered in the distance. The storm may have demanded vinegar chips and a dozen white T-shirts, but when it finally came it had all the charisma of a soggy Diwali rocket. And unlike those lucky cricket prodigies in the film, we had to pay teen guna lagaan to get in on it.
It could've been his one chance to prove all the haters wrong. Instead, living up to his persona of Spaceman Spliff, Justin started the concert by half-heartedly lip-synching "Where Are You Now". Justin broke neither his voice nor his character, as he continued to own the cerebral narcissist he is by saying, "What a lovely night it is for me…" It left Beliebers, who had paid upwards of a month's rent in Bandra or had travelled in from another country, feeling like they were at least entitled to a lovely-ish night themselves.
Sadly, sources confirm that this was not to be. Bieber walked on stage looking like the guy who hopes to make it to the basketball team because he's wearing the right shorts. He then proceeded to perform as if we were guests in his house and his amma was making him do it. He ended the performance by putting his most humble foot forward and explaining the meaning of purpose to the audience as if we were idiots without data packs who cannot Google it for ourselves.
He even threatened to come back soon, at which point the Navi Mumbai Police arrived on scene to say, "Thamba, that will not be necessary."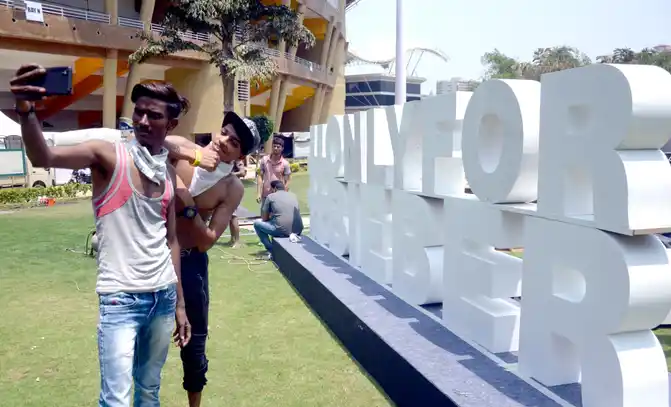 Hindustan Times/ Getty Images
But it is the five kinds of disoriented fans that our correspondents got in touch with, who shed light on how awful the situation truly was.
The Lost-on-the-Way-to-Coachella Girl
She couldn't believe that this is what she wore a choker AND a bralette for. At the concert when we found her, she was updating her selfies on Instagram with a slew of dejected hashtags. The depth of her plight was revealed when she confessed that her game plan was to be the girl Justin vomits on, and join the hallowed ranks of all the fans Justin has thrown up on.
The Seventy-Five-Thousand-Rupee Person
Truly a picture of how money can't buy you happiness, the 75,000-rupee person was found hunched in their S-class, snorting cocaine out of a golden Justin Bieber bust and crying. They were at wit's end with the concert they had been dealt. With no idea of how to resolve their unfulfilled sense of entitlement, they were left with no choice but to slash the tires of everyone who came in a vehicle priced under 10 lakh.
Justin performed as if we were guests in his house and his amma was making him do it.
The Fainter
Upset and alone, the Fainter was found kicking a can of Red Bull, among the many that lined the garbage-can-less venue, muttering to himself. A die-hard Belieber with a "Never Say Never" neck tattoo, the Fainter wanted to be the first screamer, hype-man, and Justin's chief pass-out guy at the concert. He was found ruing the hours of studying the antics of Televangelists on the Sanskaar channel, because he said that even for his exceptionally low standard, there was literally nothing to pass out about.
The Age-Inappropriate Belieber
Aunty first encountered Bieber when she found her daughter mimicking the choreography of the popular garbage titled "Sorry". While she gave her daughter a stern talking-to about her priorities, auntie's attention was riveted by the beautiful, feminine ululations of Justin's voice. And when she found out that the voice belonged to a grown-ass man, she swallowed her disappointment and continued to like him because of her inherent preference for males over females. But even her commitment to misogyny couldn't help her protect the failings of Bieber's Purpose-less extravaganza and she left the venue with her kitty party group to grab some tea and put her feet up.
The Wanna-Belieber
The leader of the #RefundOurTickets movement, the Wanna-Belieber showed up to the concert hoping to see the popstar their girlfriends won't shut up about. As fate would have it, the concert left them scarred and destitute. When our correspondents quizzed them about their favourite Justin song, they simply said "Starboy" before hurrying away to call their fathers to ask them for a little more pocket money.

Nimisha likes ditching plans, drinking coffee and talking about Maynard James Keenan. She spends her free time silently judging everything and brushing her bitch face off as PMS.