Most employees might look forward to HR activities to distract themselves from their boring routines, except introverts. In the office ecosystem, HR employees are their natural predators.
Without the HR department, most offices would quickly begin to resemble the Thunderdome from Mad Max. Employees would forget each other's birthday, spend less time socialising and more time working, and everybody would eat lunch at their desk. Actually, that sounds less like the Thunderdome and more like Paradise, but that might just be because I'm an introvert, and in the office ecosystem, HR employees are my natural predators.
Most employees look forward to HR activities to get away from Excel Sheets and concalls, but I'd pick balance sheets over birthday celebrations at the workplace any day. The nice folks in the HR department are always striving to make office fun and give us a break from boring routines, but looks like they did not get an important memo: Introverts are never bored. Our brains are overflowing with thoughts very much like a Mumbai local overflowing with people. In such a scenario, emails from HR are like those annoying vendors who insist on squeezing through the crowd and asking you if you want to buy a 15-rupee comb or that bling keychain. Like the vendors' repeated calls for your attention – Dus ka do, Dus ka do – HR folks normally send two emails back-to-back. The first one always lacks clarity and has at least one spelling mistake. The second one has some vital information missing. And by the time the third email (with FINAL written in the subject line), the introvert's train of thought is busy making an announcement: "Next station, brain aneurysm."
In most Indian companies, an HR executive's (aka party planner) top five KRAs are arranging for a sarvajanik birthday cake on a monthly basis, reminding employees to wear traditional clothes for I-Day celebrations, organising the Diwali rangoli competition and Secret Santa, and planning the annual off-site trip (just planning, never executing it).
My fellow introverts, here's a pro-tip. If you want to sail through an event organised by HR, just get a DSLR to the event.
While everyone has Monday morning blues, HR has Friday blues because #FunFriday is the day they have the least fun. Last Thursday, I received an email that read, "Tomorrow is #FuntesticalFriday! Do you have the balls to erect a team?" But before I could fully appreciate this glorious, accidental entendre, HR quickly rectified the typo and sent another email, which read "#FuntasticalFriday, an interactive session about learning leadership from sports." Interactive, that's the problem area for us introverts. How about a #MaunVratMonday instead?
Another occasion to catch HR at work, is in the period right after a new employee joins. This is when they obsessively stalk the joinee to ensure they don't reveal their CTC to other employees. But the bigger problem begins when newcomers are paired up with introverts for the dreaded Buddy Programme. The old employee has to be the new guy's buddy for a day, which is way too much time to just show him where the washroom and the sutta point are.
The worst part about HR's draconian Buddy Programme is lunch time. Introverts usually have a small lunch group (of just one other introvert) or they eat alone. Three's a crowd, but nobody told HR that.
The Buddy Programme is still tolerable, because you have to deal with one new person. And most wise people talk the least on their Day 1. But who the hell came up with the idea of potluck? I dread the mail with the subject line: "Time To Try Your Luck With Potluck!" I don't want to share my food, what I like to share with others is silence.
But that seems like an unlikely dream. After all, HR is fascinated by ice-breakers. Little do they know that frustrated office-goers only like ice when it is broken into cubes and filled in a glass with something to numb the pain of having to talk to people. My fellow introverts, here's a pro-tip. If you want to sail through an event organised by HR, just get a DSLR to the event. Stay behind the scenes, eat the cold hara bhara kabab, upload the photos on Google Drive, and everyone's happy. Extroverts like to be clicked at high-profile events with industry leaders. Ask Modi ji. #AbKiBaarDSLR
I truly believe this HR-induced stress at my workplace might be the death of me one day. Maybe I'll convert to Christianity, so that at least my body gets to enjoy the ample space in a coffin (compared to my cubicle), and some much-needed privacy as well. My only fear of death at this point is that heaven also has an HR department.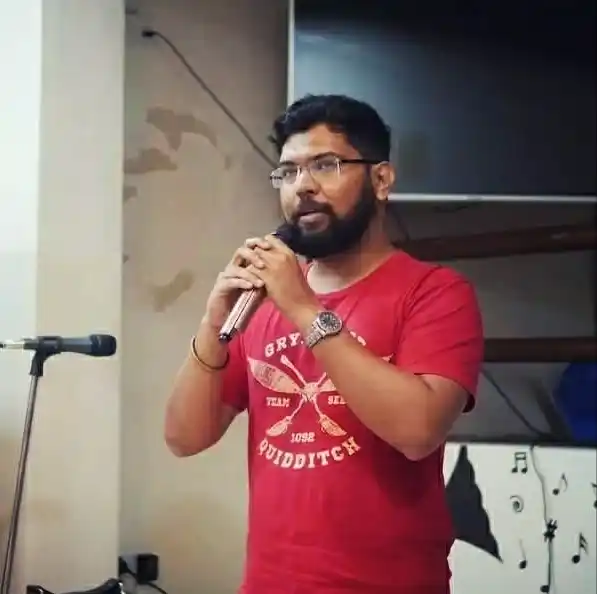 Yash Pawaskar is your friendly neighbourhood novelist. He writes fictional articles for Arré when he is not pretending to be Batman. You can find him on Instagram @yash_pawaskar_writer.