Person of the Week is no easy position to fill. It isn't merely about making waves, but also about making us laugh. And for showing us that Krishna needed Google maps on the battlefield and Sanjay's narration of the battle was probably interrupted by buffering issues, CM Deb snatches the victory.
There's an oft-repeated joke that makes frequent rounds of the internet. Ancient Egyptian hieroglyphs, it seems, aren't a cohesive script, but the world's oldest memes, due to their excessive use of cats. After this week however, I'm starting to think that throwaway joke might actually be true, and the folks setting up the internet connections for Egyptians were none other than the ancient Indians. Or at least that's what Tripura CM Biplab Kumar Deb would have you believe, with his claims that the internet has existed in India since the days of the Mahabharata.
For managing to do the unthinkable – which is lowering the bar for statements made by clueless politicians with a loose grasp on history, science, and common sense – the BJP leader is our Person of the Week. Bring your own 4G, because at this party, the Wi-Fi is a bit sketchy.  
It's been a week of big news. Many contenders announced their candidacy for the post of PoW, with notable entries being our globetrotting but increasingly silent PM, and the embattled Chief Justice of India, Dipak Misra, who might have come close to the dubious distinction of being the first Chief Justice to be impeached in independent India's history. But being PoW is not just about making waves – it's also about making us laugh, and for giving us the mental image of Sanjay's narration of the battle of Kurukshetra to blind Dhritarashtra being interrupted due to buffering issues, Deb snatches the victory.
In fact, Deb's comments on the original AI (ancient internet) turned out to be the comedy writing prompt of the week, leading to an explosion of jokes, memes, and the hashtag #InternetMahabharata trending on Twitter. Even American historian and author Audrey Truschke couldn't resist the bait, composing a hilarious tweet thread of "what if?" scenarios to rival any stand-up comic's best set. Of course, this also led to her getting a swift taste of IT Cell justice when the troll army descended on her inbox, firing off misogynistic insults like Arjun used to shoot arrows on the battlefield. For giving our nation's most toxic "patriots" the opportunity to embarrass the country on an international stage, the value of Deb's original comment cannot be underestimated.
What distinguishes CM Deb from his fellow evangelists of India's Back to the Future-inspired brand of alt-history is his dropping of all pretence.
Patriotism, or perhaps unwarranted jingoism, was always the moral of the story Deb wanted to tell us. When the floodgates of ridicule opened, rather than retracting his statements, Deb doubled down. According to him, those who criticised his theory "lacked nationalism". He accused doubters of attempting to "belittle Bharat's culture, civilisation and traditions, to prove Europeans were ahead of us." Because that sounds better than saying he failed history in school, I guess.
What distinguishes CM Deb from his fellow evangelists of India's Back to the Future-inspired brand of alt-history is his dropping of all pretence. Earlier attempts to rewrite universally accepted truths came from amateur (read: unqualified) scientist and vaastu proponent Satyapal Singh, who refuted the theory of evolution and said ancient Hindu mantras were what codified Newton's Laws of Motion. This is alongside other tall claims like the chairman of the Indian Council of Historical Research Y Sudershan Rao claiming we conducted stem cell research, invented flying vehicles, and used cosmic weapons 5,000 years ago, which would also make India the most forgetful nation in world history.
However, where these luminaries went wrong was in trying to cite texts and trying to establish a tenuous connection to the truth. Deb's solution of "It's all about loving your country" was elegant in contrast to their heavy-handed attempts at legitimising the snake oil they were selling. He then went for the patriotism mega-combo, invoking Modi after Bharat. Deb stated that the Modi government's achievement of launching 104 satellites into space in a single year was proof that ancient Indians were masters of advanced technology.
Dear CM Deb, a man can sell tea without having planted the whole estate, and that's something the entire neta complex needs to understand. At this point, our leaders are looking like that annoying co-worker who's always trying to hog the team's credit for themselves. It's impressive enough that our ancestors could compose epics that have lasted for an eternity at a time when most other civilisations were discovering that this new wheel thing is pretty neat. Let's not get carried away, shall we?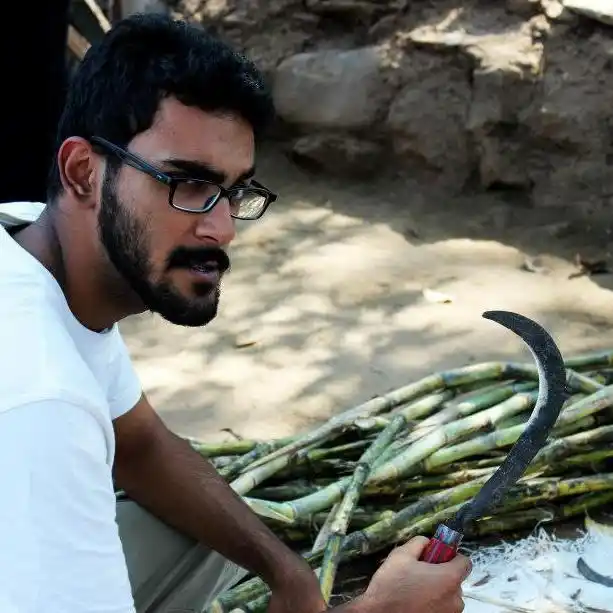 Dushyant Shekhawat really likes his mustache. He grew it himself. You can find him on Twitter at @SeriousDushyant.