In honour of the white dude who wore a T-shirt saying "BHENCHOD" and made our gag global, let's celebrate the myriad ways in which we troll tourists in India
There are many many things that divide Indians, but there's one that unites us all: a horrible sense of humour. We laugh at anything; after all, we've kept Sajid Khan, Omprakash Mishra, and Navjot Singh Sidhu in business for a long time. We laugh at those who don't speak English, and those who can't speak Hindi. In fact, our longest-running shared gag involves pranking unsuspecting goras. That gag recently went global, when a white dude wearing a T-shirt that screamed out the Indian gaali "BHENCHOD" was spotted walking around Las Vegas.
Making the White Guy say Bhenchod has been our top national gag for years now.  There's no greater joy than priming an unsuspecting white person with foul gaalis under the guise of teaching them Hindi. Hindi might not be the official national language, but it is definitely the lingua franca of making white people look foolish.
Once we're done with the gaalis, the wide-eyed traveller on a quest to experience authentic Indian culture is a perfect mark for our next favourite prank: gastronomical torture. Most goras visit India prepared for spicy food, leaving an opening for us to serve them dishes that would make a dragon ask for ice water. For evidence, walk into a shaadi or a Holi party and spot the token angrez, weeping by the buffet counter. This person made the mistake of declaring they loved spicy food and got served nothing but naan and mirchi ka achaar.
Our famous Indian hospitality gets an airing when a tourist gets around the city. A journey worth ₹20 climbs to ₹200. Most of these expensive, protracted rides also involve a historical tour of the city featuring a wealth of information that the driver/tour guide feels free to make up as he goes along.  
For evidence, walk into a shaadi or a Holi party and spot the token angrez, weeping by the buffet counter
The poor white guy with the Bhenchod T-shirt was probably told by his ex that the gaali was the Sanskrit form of saying "I Love You", and wearing it would open his kundalini shakti out to the vibrations from universe if he wore it for three days. The poor white guy must have thanked her profusely before returning to to his Google search quest for the most transcendental yoga ashram in the Himalayas.
Yes, we're mean but you can't always blame us. It's hard not to mess around with a bunch of people who show up in your country with their copy of Shantaram, ready to buy salvation on every street. A healthy sprinkling of distrust is essential for survival in a Third World country.
I hope someone teaches the tee-shirt guy that.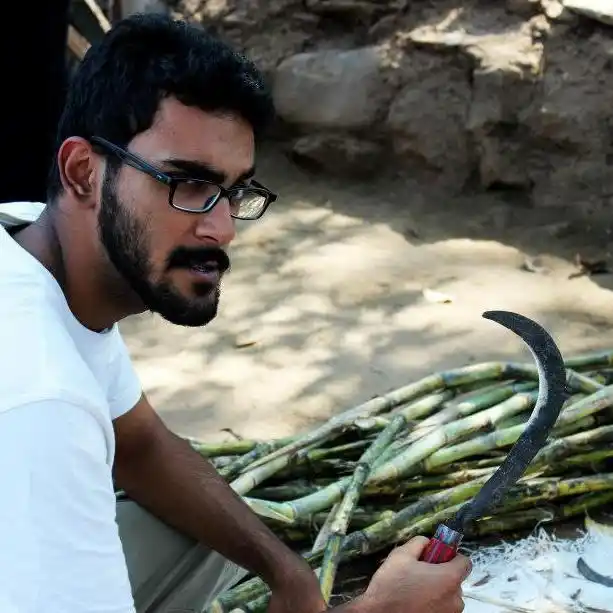 Dushyant Shekhawat really likes his mustache. He grew it himself. You can find him on Twitter at @SeriousDushyant.