Before GPS, we relied on directions from our friends like, "Pass the seven cows at the circle and take a u-turn from the chaiwalla," no matter how unreliable those landmarks were. But now, with spoken-word directions from the GPS lady, life is much easier. If only she could work on her Tamil pronunciations.
We Indians have always had our own brilliant method for giving directions. It's called the Gesticulating and Pointing System, which uses hand-waving and head-nodding to great effect. So how did this very desi, tried-and-trusted GPS  suddenly get replaced by another?
In fact, I'm astonished how a certain person known as "the GPS lady" has smoothly taken command over our Indian roads.  Just the other day this helpful disembodied voice in my cell phone was telling me the way to an unfamiliar area in Chennai. I drove following her clearly spoken instructions, when midway, much to my shock, she said, "Go straight for another 200 metres till you reach Nanga Panga High Road".
When did a nudist colony come up right in the middle of my city? I drove on nervously, wondering if the Chennai weather and load-shedding had anything to do with some clothes-shedding — and then I saw the street sign: "Nungambakkam High Road". Whew!
Well I can't blame the internationally famous "GPS Girl" Karen Jacobsen, (or was it an algo-generated AI voice?) for muffing the right pronunciation of our tongue-twisty southie names, when even our North Indian compatriots pronounce Chennai as Chin-aye, and Kannimozhi as Canny Mozzi. That's why I am in awe of all the Uber and Ola drivers who so easily understand instructions through a confusing maze of Chennai's by-lanes and temple-turns — all of it delivered with aplomb in a foreign English accent. Even though some of the words sound distinctly French to me, like "Salle Vive Niagara Terre Rue". My Uber driver Ponnuswamy somehow seems to know at once that she means "Selva Vinayagar Teru", and nonchalantly drives on.
Before the GPS lady dramatically transformed our lives, we mostly relied on detailed phone instructions from our friends to get to their place, such as "Pass the huge overturned garbage dump, get past the seven cows sitting at the circle, look for London Bro & Panty Store on your right, take the next left at Gandhi Pickle & Appalam Mart, and then look for a gate marked No 46, even though our actual number is 12."
Gender experts have repeatedly told us that men have it in their DNA to never ask for directions.
However, sitting cows sometimes wander off en masse to have a roadside snack, and leave us confused, going around in circles at the circle. That's why Google Maps smartly took over, though many interpreted the term "GPS" to mean gaalis-per-second, uttered by drivers unused to following arrows on their smartphones. So, the GPS lady decided to make life even easier with clear spoken instructions to accompany the arrows. And suddenly, the ominous-sounding Global Positioning System became a driver-friendly way to get to a meeting in a posh new office building, or even to a tiny tailor shop in a gully. And if the beginners' French you once learnt, compels you to interpret "Ma Gateau Vera Coup Aime Quaile", it merely means Mugathuvarakuppam Koil, the fourth temple on the street where you must make a turn, to reach that tailor shop.
In the early days of voiced instructions, in Delhi apparently each Marg turned into Marge (as in Simpson), and in Bengaluru, every Halli turned into Halle (as in Berry). But in Chennai a fondness for French remains. The other day I heard a street named after yet another famous Tamil poet, or "Kavignar", simply served up to us as "Caviar".
But Google's voice artistes must've been happy that the East India Company began their forays into India in Madras, so Chennai still has many streets still named after Englishmen. Undoubtedly, our dear GPS lady may herself enjoy a chuckle at the way we good old Tamilians pronounce our colonially inherited names — like "Uds Road" (not Woods) and "Vytes Road" (not Whites).
And despite the news of Google Maps' plans to have speaking instructions in several Indian languages, my friend Annie is the only one I know so far who's actually heard this, in Malayalam, where every other word is in fact English. ("Straight-a poyi, ivvede U-turn edukkuka.") But with all our cities turning cosmopolitan, and our eternal bias for "Englis-spikking", our Dashboard Diva (as I like to sometimes call the GPS lady) will continue to thrive in India.
Gender experts have repeatedly told us that men have it in their DNA to never ask for directions. History itself gives us enough evidence of this trait. Consider the Three Wise Men, who were content to follow a star. And what about Mr Columbus, who refused to ask for directions to India, and therefore landed up in America? Some men I know feel that taking driving instructions from a lady is somewhat like taking steering instructions from the captain of the Titanic. That's why it  makes me very happy indeed that gentlemen drivers everywhere have set aside gender biases and basic male instincts, to willingly ask how to get from here to there — and happily follow the path directed by a lady.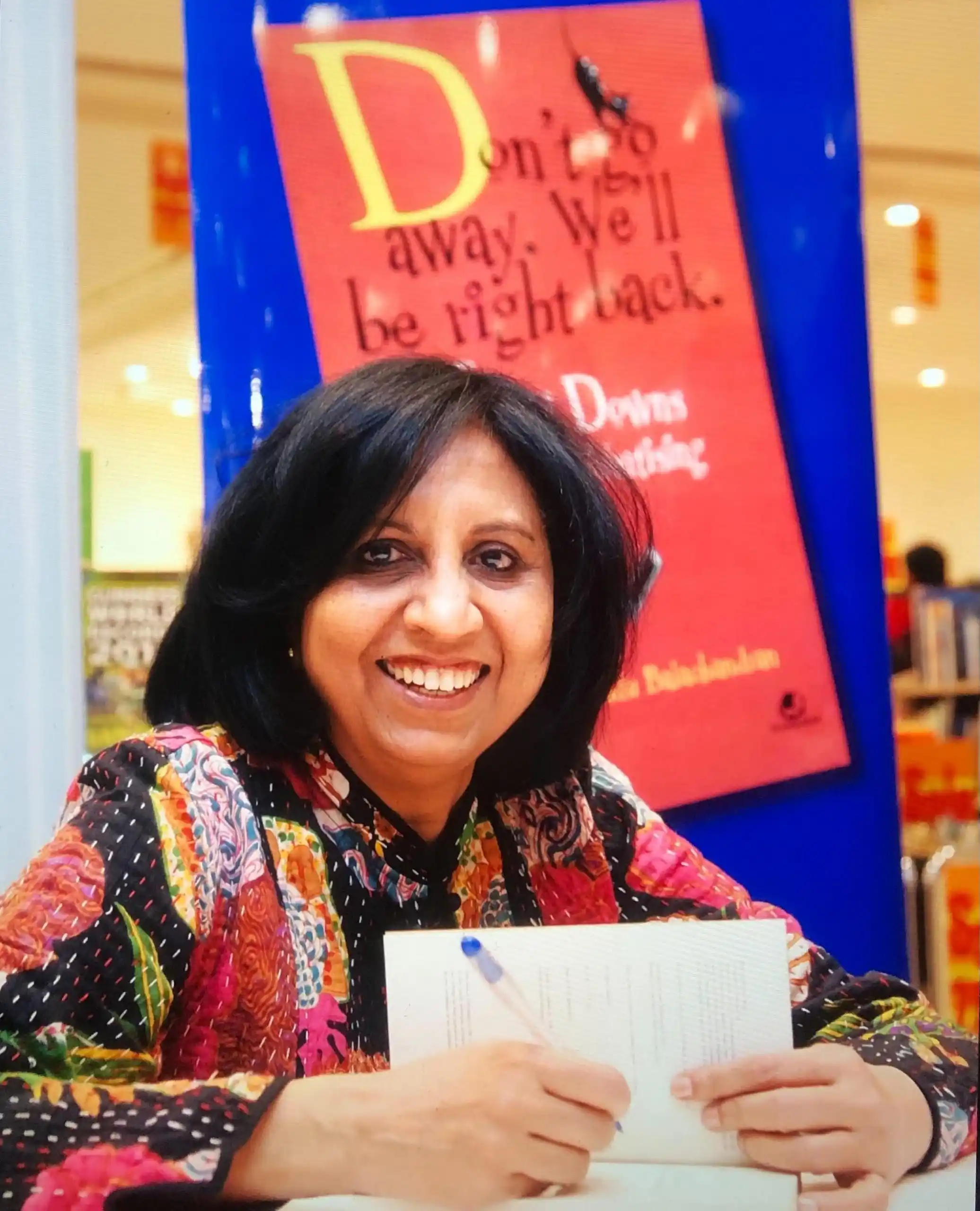 Indu's book, The Oops and Downs of Advertising, sold mostly because half of it was filled with cartoons by the famous Paul Fernandes. Her second book Runaway Writers is selling now, as Indu's large extended family gets easily bullied into attending book events and buying ten books each. Her next is probably an Alphabet Book for babies, as 26 letters takes little time to write.