If you are taking off into that beautiful booze-and-vomit soaked land called Goa, you are likely to encounter the Neo-hippies, Tharki Bros, and the Hum Saath Saath Hain Suhaag-rat Squad.
This is the Friday you may be taking off into that beautiful booze-and-vomit soaked land called Goa.There will be a curious hodgepodge of humanity contained within the pressurised, cramped confines of the budget airlines that you will fly: senior citizens with their grown-up children, college students, dude bros, honeymooners, neo-hippies, Instagram models, sleazy uncles, and a couple of out-of-place-looking men with briefcases, who look like side actors from the '80s about to acquire Malhotra Industries.  In the coming week, these are the humans who will occupy Goa.
Humans of Goa is a species known for its abnormal behaviour change on arriving in its new territory. Apart from millennials, who've come here to to party like they've never partied before and to take Snapchats of themselves with John Lennon glasses and flowers in their hair, there are a host of interesting characters to be met.
Solo Female Traveller aka SFT: Commonly heard telling the bartender, "Bhaiya, cosmo jyaada meetha banao, please," the solo traveller has recently been through a break up of magnificent proportions. She has realised that wanderlust is bae. Taking a page out of Queen Kangana Ranaut's book, she has decided to travel the world alone. After listening to "London Thumakda" for 10 hours on loop, SFT is hyped.
From the moment she has landed in Goa, she has tried really hard to make contact with the solo firang female traveller, hoping she will find a uber-cool BFF. A Lisa Haydon to her Kangana. She's also looking to get in on with some dashing stranger. A fleeting romance that she'll reminisce once she is back in the city. Unfortunately, she only encounters Tharki Bros aka Tharkos.
The only companionship she finds is the Airtel girl telling her she needs to pay her phone bill to avoid discontinuation.
Tharki Bros aka Tharkos: This is a bawdy bunch of bewadas that roams the beaches of Goa in packs. Tharkos are easy to spot. Dressed in chequered cargo shorts and knee-high socks that hide the hair on their legs, they carry half-empty beer cans in their hand all day, erryday. Their leader, the one who initiated this insidious incursion into the land of bikinis and belles, is called Taadlo Eksaubaar, famous for his legendary creeping skills. His offer of "Plata o Plomo" means, "Either come back to my room at Silver Sands Beach resort, or get shot."
Tharkos can be found cruising around the narrow roads of Calangute, blaring "Despacito" out of scratchy speakers, staring at SFTs, cursing their lack of X-Ray vision, and wondering how they can slip them some roofies.
Most likely to say: "Come on bebey, light my fire."
Humans of Goa is a species known for its abnormal behaviour change on arriving in its new territory.
Uncle Chills: Just behind the Tharkos in a luxury-rented SUV is a bunch of middle-aged men, who've temporarily left behind their wives, mistresses, children, and the stock market to come to sunny, idyllic Goa. They want to show the youngsters how they partied during the Emergency. It's all luxury for these travellers, only the best hotels, finest wine, and the hottest white women with expired visas. They walk in like they own the place and may actually walk out owning it. Property is the name of the game and these men are playas. You can spot them asking for Black Dog at local tavernas, or doing a tunak-tunak-tun style step to the psy trance playing at Hilltop.
Most likely to say: "Kuch weed-sheed ka bandobast karein." This is the trademark dialogue of Uncle Chills, as they try desperately to fit in with the millennial party-goers.
Sunte Ho Sharma: Staring at Uncle Chills with insane jealousy is Sunte Ho Sharma aka Chikoo Ke Papa. Sunte Ho Sharma is here with his wife Sunti Ho Sharma for his second honeymoon. Theirs was an arranged match and they tied the knot more than a decade ago when they were in their early 20s. Their first honeymoon was a sham to convince the parents that their junk worked, and now they've decided to rekindle the romance. But there's a hitch, and its four years old, and needs its food cut into tiny, bite-sized pieces. It's most probably called Chikoo.  
As they speed down the dark roads of Goa on a rented Activa with Chickoo sandwiched between them, Sharmaji wonders how different his life would've been if he would have turned the rishta down. Would he be hooking up on the beach with a solo female traveller? Would he be smoking up with Uncle Chills? Are two hot rotis and 10 seconds of missionary really worth all of this?
He's most commonly heard asking his wife, "Chikoo ko pool ke paas bhej de thodi der ke liye?"
Broody Bro: Broody Bro works in advertising and makes a living out of peddling bullshit in wholesale quantities at retail prices. If sapiosexuality was a tangible asset, this dude would run out of space to store it.
He is found hanging out at cafes in white linen pants, reading on his Kindle or tapping away on his MacBook, slyly smoking a rollie like it's a joint, until he catches the eye of some beautiful stranger. He'll woo her with tales of  a carefree life in Goa and a promise to show her the "real" Goa — some waterfall in the jungle that's remote only because the local Goan drunk bros who haunt the spot haven't woken up yet.
As he looks into the FST's eyes, muttering some poetry he read on Instagram, Broody Bro wonders whether he'll ever find someone to settle down with. But then again, this is Goa, where love, like tourism, is seasonal.
Most likely to say: "Tourists have ruined Goa."
The Hum Saath Saath Hain Suhaag-rat Squad: Standing behind the Sharmas at the insipid, wallowing breakfast buffet is the Suhaag-rat Squad, all nine of them: Mummy, papa, bua, and a couple of her children. "Yeh veg hai ki non veg," they cackle in unison.
They are here to celebrate the suhaag raat of their son Jignesh with Sejal. Hopefully, once this ordeal is done and all those weird couple selfies for Instagram are out of the way, Jignesh may just be able to rock her socks off. Unfortunately for her, Jignesh has the charm of an pubescent teen and will probably be done before she can even scream, "Jiggy".
Amid the sea of family name T-shirts and family itineraries, Sejal spots her old college friend FST zipping around on a scooty with Broody Bro. Bitch, she thinks.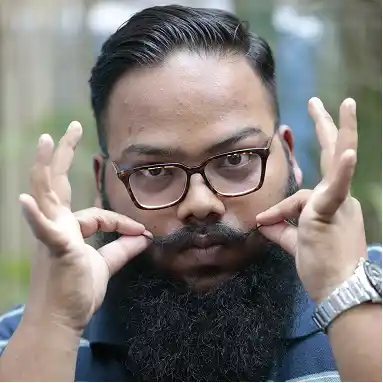 Damian loves playing videogames. If all the bounties he collected slaying zombies were tangible, he wouldn't need to write such bios. Seriously though, Damian used to be a cook who wrote, now he's just a writer who cooks.