Historically, reactions to my singing have varied from, "Kitna besura gaate ho!" and "We should start seeing other people." But I found true companionship among the Besura Bevdas and Tully Gang at karaoke nights.
The first time I sang on a mic was a decade ago. Before that day, the only reactions my singing evoked were, "Kitna besura gaate ho, beta" and "We should start seeing other people." So when the emcee at Calangute's Shamrock karaoke Bar called out my name to sing Billy Joel's "Honesty", three-drink-down me had tepid expectations.
But to my surprise, the next 3 minutes and 52 seconds saw the patrons of Shamrock woot, applaud, and cheer me on for every out-of-tune verse I crooned. My walk back to the table included high-fives and fist bumps with drunk uncles. Since that night, the sheer underserved validation of karaoke nights have gotten me through many a low point in my life.
Ten years and a few hundred nights of drunken bellowing in bars later, I've learnt that the ecosystem of most karaoke nights mostly comprises some usual suspects. Here's a rundown.
Besura Bevdas
Hello fraands, kaan faad lo. These creatures of the night are every tone-deaf karaoke lovers' spirit animal. When Besura Bevdas shriek the chorus of "Zombie", it boosts the confidence of other bathroom singers. "Main inn logo se toh behtar hi gaa lunga," they believe. Besura Bevdas are not the heroes we deserve, and they're definitely not the ones we will admit to knowing in public.
Commonly heard saying:
"Why is everyone staring at me? Was I that good? Hehe"
"Arré what do you mean my chance is skipped?"
Yaar Tera Superstar
This person lives for karaoke. Possibly trained in classical music or formerly in a college band, they are now stuck in a nine-to-five job because life. Well aware of his/her above-average singing skills, he/she is either singing to get a quick ego boost or worse, hoping he/she will get discovered by a drunk Ismail Darbar or Anu Malik. Regulars at neighbourhood bars, Yaar Tera Superstars are often given nicknames like "Saki Naka ka Sonu Nigam" or "Andheri ki Alka Yagnik." They've already prepared their acceptance speech for Filmfare's Best Playback Singer Award. In 2029.  
Commonly heard saying:
"Oh! Stop it. Frank Sinatra's 'My Way' is such an easy song to pull off."
"Main toh aise hi kabhi kabhi shauk ke liye gaa leti hoon. You know, ad jingle vagerah, kuch khaas nahin."
Teenu Uncle
Similar to their Samosa-Over-Mimosa counterparts, Teenu Uncle is usually four pegs and four kilos of chicken tikka down by 10 pm. He will then decide to go up to the emcee and request classics like U2's "With Or Without You" and go on to destroy every listener's memory of the song forever. Drunkenly bellowing into the mic, Teenu Uncle will refuse to get off stage unless you applaud. That mic signifies much more to him than a mere instrument to transfer sound: Teenu Uncle has a crotchety wife, a drinking problem, and two college-going kids that don't acknowledge him in front of their friends. That karaoke mic is the only way for Teenu Uncle to be heard.
Commonly heard saying:
"Beta, does your mom know you drinks beer? *has a big swig of whiskey*
"Yeh Mozito ke andar wali Tulsi khaane se sperm count kam ho jata hai, WhatsApp pe padha tha maine."
Tully Gang
Deep within the clouds of smoke emitting from the smoking room, you'll see a couple of beanie-clad badasses from Bandra. Their oversized tees are no match for their oversized egos. Watch them spit some mad verses of Eminem's "Lose Yourself" and act more entitled than Kanye at the VMAs. The most emo one in their gang does spoken word on the side and the most hipster one of them will use the instrumental break to show-off his beatboxing skills.
Commonly heard saying:
"Bantai, bachi, bamai, LIIT mangaaye?"
"I ain't got time for bitches, gotta keep my mind on my mofuckin riches." *asks friend to spot him for the bill*
Kabhi Bappi, Kabhi Nigam
Yodelling with equal enthusiasm to Atif's "Pehli Nazar Mein" as well as Himesh Reshammiya's "Kitne Armaan", this bunch of happy drunks are here for a good time, not a long time. They don't care for your pretentious renditions of Abba or Shania Twain. They are happy to rock out to old school Alisha Chinai and Euphoria. Some may dismiss them as uncouth or rowdy but everyone secretly wishes they knew how to have fun the way these folks can.
Commonly heard saying:
"Bc. Office mein kra-okay machine kyun nahi lagvaate?"
"Haan papa, bass Lokhandwala circle pe hoon. Be home in 10."
"Sing Men, Bugger"
The jolly Catholic emcee is a staple at any karaoke night. A talented singer and showman, he usually starts off the night by goading the drunkest uncle in the room to sing his favourite song. As the night (and drunkenness) progresses, he regrets this and bemoans the fact that he has lost all control of the mic to Teenu Uncle. Occasionally getting the mic to announce the next performer on stage, he uses this time to crack mildly offensive jokes, playing on sexist stereotypes and regional cliches.
Commonly heard saying:
"Next up we have Vicky singing 'I'm a slave 4 u'… which is also what he tells his wife."
"Hahaha Gujaratis, amirite?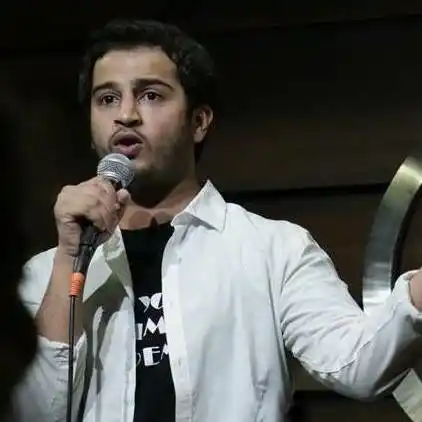 Masking anxiety with humour. Living with his dog, cat, and mediocrity. Creating content aur life se kaafi discontent. Tweeting as @juvenile_jack.