Don't shed your sanskar this Halloween. Here are some special Indian themes to have yourself a desi spook fest.
Halloween, the festival that began as a pagan feast in honour of the winter solstice before devolving into an all-American celebration of Type II Diabetes, is now also part of India's seemingly endless firmament of festivities. It has reached a point where invites fly, creatives are shared, and everyone frantically Googles "Halloween Costume Ideas" while on the pot or in a meeting. But as you're figuring out how to pull off a worthy imitation of American tomfoolery dressed as a vampire or werewolf, how about you stop for a moment and think of all the uniquely original, Indian costume ideas ripe for the picking? And we mustn't forget about our top-notch sanskar. Here are some special Indian themes to have yourself a desi Halloween.
Zor Se Bolo BKMJ
There's no denying it, patriotism is the flavour du jour. So why not exploit public sentiment to craft a costume people won't soon forget? You could consider going dressed as Bharat Mata: Simply put on a white sari, rent an inflatable lion, and go out and rock that Halloween bash. Don't forget to sign up for Durga Vahini training in order to get a free trishul to complete the look. If the party runs late, don't worry; you can be quite sure you'll be the safest woman in town.
If you'd rather go as someone more macho, go dressed as a soldier (no, not Bobby Deol). The jawan, today, is the epitome of Indian masculinity. As a bonus, "Is your name Seema? Because I'd lay down my life to defend you," is a tailor-made pick-up line just for you on Halloween.
Bhagwan Ki Liye…
If patriotism is on the table, so is sanskar. After all, they are two sides of the same coin. Display proper deference toward our ancient culture by choosing to go dressed as your favourite deity. Just make sure your costume is 100 per cent on point. Pick the right shade of indigo if you go dressed as Krishna, otherwise this might be misconstrued as trying to hurt religious sentiments, a crime punishable by lynching. There are 33 crore deities to choose from so don't worry about someone else copying the costume you pick. Just reach out to Devdutt Pattanaik for suggestions, and find the most obscure deity possible. Nandi, anyone?
As a bonus, "Is your name Seema? Because I'd lay down my life to defend you," is a tailor-made pick-up line just for you on Halloween.
Be the Climate Change You Wish Not to See
Now, some of us may have declared ourselves "atheist" on social media, and Kanhaiya doesn't float our naiya, so we need to look for inspiration from outside the holy books. Fortunately for us, there's a lot more scary stuff than rakshasas and asuras in the real world. Just pick up a newspaper. How about the glut of natural disasters that are wreaking havoc across the country as we speak? Go as a flood. Carrying bucketful of murky water and submerge people when they least expect it. Watch out for the guy dressed as drought though; he wants your water and will fight you for it. Global warming's coming to this party later and he's bringing a lot more people dressed like the two of you.
Acche Din for Halloween 2019 
But the best "news headline" costumes are a little more abstract. For example, if you go dressed as demonetisation, you can hand out monopoly money to everyone, and enjoy the fun and games until someone passes out while waiting for their turn to grab money. My personal favourite though, is the Acche Din costume. You need to be really popular to pull this off, because making people wait for you is part of the act. Simply dress in your flashiest, most expensive clothes, put on some fly shoes, and don't show up to the party. Wait until Halloween 2019, before you let the coin drop though.
The Unfriendly Indian Ghost
For those who prefer their Halloweens with a serving of traditional spookiness, why not draw from a wealth of desi bhoots, instead of vampires. We don't have them here; we have chudails instead. All you need to do is throw a white sheet over yourself. Going dressed as a bhoot is the easiest thing to do. Just make sure you can see thorough the sheet, because someone who might be dressed as Salman Khan may run you over. FYI, the guy dressed as Salman isn't celebrating Halloween, he's just there because "Bhai gaadi nahin chala rahe the."
Hopefully, this guide has served the purpose of enabling you to celebrate America's spookiest night with a dash of desi horror. Have fun trick or treating your way through your costume parties, but remember this: No matter what you dress as, the scariest thing you and your friends will see all night will be the GST added to your bill.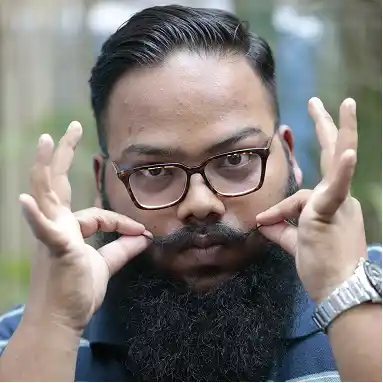 Damian loves playing videogames. If all the bounties he collected slaying zombies were tangible, he wouldn't need to write such bios. Seriously though, Damian used to be a cook who wrote, now he's just a writer who cooks.