Dear former NRI, if you have to work in an Indian office here are a few things to learn. Our workplaces come with watery coffee and wet toilet seats. Also have fun deciphering what "ASAP as possible" means while awaiting a "kind revertal" to emails on an "urgency basis".
It's been a tense few days for Indian professionals living in the US. They are living in dread, awaiting the moment that Donald Trump will burst out at them with his favourite phrase, "You're fired!" and decide against renewing their H-1B visas. Once the US administration approves the decision, over five lakh Indians working there will have to leave the country and seek employment elsewhere. Like we saw in Karan-Arjun, Indians always return to their mother… in this case Bharat mata.
This also means that in the near future, a lot of former NRIs are going be looking forward to joining letters from offices in their home country.
Poor bastards, you have no idea what you're getting into.
Life in an Indian office is a far cry from Silicon Valley and Madison Avenue. For starters, the coffee is watery and the toilet seat wet. This is probably worse than the dramatic loss of credibility on Bharat Matrimony after your address changed from Manhattan to Mumbai. As you slip down the rabbit hole toward the wonderland that is the Indian office, let this serve as a warning: "We're all mad here."
You might think that your time in the US has made you fluent in English, but that's going to be of no use. Your accents are going to get you nowhere, except if you enjoy being the butt of grade-school jokes. In fact, the Indian office lingo will leave you speechless. Have fun deciphering what "ASAP as possible" means while awaiting a "kind revertal" to emails on an "urgency basis". Oh you poor sods, who thought they'd cracked the GRE. When you play the game of emails, you PFA the attachment or you die.
Luckily for you, you're going to have plenty of time to figure out what these exotic terms mean when you show up to office at the appointed hour of 9 am, only to find that you're the only person there.
It's at this early time of the day that the H-1B job orphans will first encounter the quantum physics-defying concept that is Indian Standard Time. IST is based on the show Whose Line Is It Anyway? where the hours are made up and the deadlines don't matter. The amount of time dilation a person subscribing to IST is capable of, is determined by the type of excuse they're using.
You will soon learn that a bank visit can buy you 45 minutes, a doctor's appointment can get you 90, and your best friend's mehendi ceremony can win you half a day off! Also you can kill your mother's cousin's husband's grandfather at least once every two months. No matter how fast and loose you play with time, the fundamental principle of IST is simple – appointments are for losers, and punctuality should be avoided like KRK at a Bollywood awards function.
It's only when the boss finally leaves that your ordeal will come to an end, dear former NRI.
By lunchtime, you former NRIs should have gotten the lie of the land. You will have had your first "meeting", aka the pointless gathering in the first half of the day where everyone practices their best poker face while using their laptop as a shield, before fucking off to do whatever they feel like for the remaining office hours. Lunch should also provide you with your first opportunity to ingratiate yourselves with your new co-workers, by winning the game of "East or West, My Dabba is the Best". Of course, unless you're ordering from the most expensive eatery in the neighbourhood, you'll be upstaged by that one dabba which is packed by someone's grandmom whose life mission is to make the world fat on ghee and halwa.
But fear not, for the Indian office saves the best for last. As the clock starts ticking closer to quitting time and you hapless H-1B orphans start packing your bags, you will be desperate to get to the nearest bar to forget about your day. You will take a look around to see everyone still seated with a look of extreme concentration on their faces. It's the final event of the day – a spirited round of "I Work Harder than You". As long as the boss is at their desk, the entire team will not budge, secure in the knowledge that the extra hours spent at work will make up for their lack of actual productivity. The most critical part of the whole operation is maintaining an expression that says, "I'm getting shit done!" even while browsing Facebook or MissMalini.
It's only when the boss finally leaves that your ordeal will come to an end, dear former NRI. You are going to take a long time to get used to the games people play in Indian offices. It's time to google the phrase "kachcha limbu".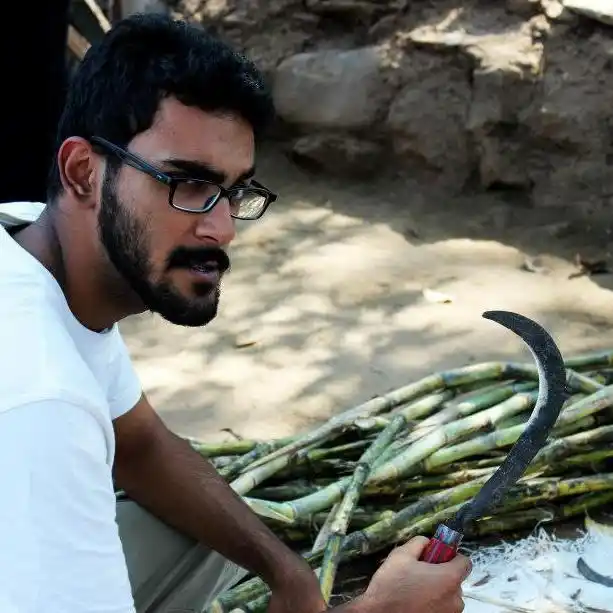 Dushyant Shekhawat really likes his mustache. He grew it himself. You can find him on Twitter at @SeriousDushyant.