In the last two years, Gwyneth Paltrow has turned her vagina into a lucrative business empire. Last week, she launched candles that smelled like her vagina. I wondered if she reads Rupi Kaur's poetry to her lady parts. Does she have meaningful conversations with it over sips of Kombucha because god dammit, I want to do it too.
Last week, Gwyneth Paltrow debuted candles that smelled like her vagina. Since it is Gwyneth's down under we're talking about here, it sets the bar high. A little like Sharma ji ki beti, it is an astonishingly "funny, gorgeous, sexy, and beautifully unexpected" scent of "geranium, citrusy bergamot, cedar, Damask rose, and ambrette seed," with a hint of a need for validation. The type you would love to take out for a drink. Instead you are expected to burn it and sniff the air like it were a glass of wine, swirl it inside your nostrils before inhaling it daintily.
I have always wanted to find out what burning $75 feels like. Guess I will never find out because "Smells Like My Vagina" candles sold out within hours on Goop, the lifestyle brand founded by the actress, currently valued at around 60 million dollars, give or take a few lawsuits for false claims.
This is not the first time Gwyneth's vagina has been good for her business empire. Goop's $66 Jade and Rose quartz egg, $38 moon juice sex dust along with $149 Vibrator necklace (yes, it exists) have earned her as much notoriety as wealth. But it's her bad-ass treatment for her beloved vagina that Gwyneth gets our silk knickers in a twist. Safe to say, I'm hooked. It keeps me up all night wondering if she reads Rupi Kaur's poetry to her vajayjay. Does Gwyneth have meaningful conversations with it over sips of Kombucha because god dammit, I want to do it too.
It doesn't stop at that. Now the actress also has a Netflix series. Titled The Goop Lab, she and her team explore unregulated ideas that may seem too out there or too dangerous, things that make us wonder: Should I be scared?
The show hawks a plethora of unproven treatments that promise miracles. Energy healing sessions that can cure anything from psychological distress to a bum foot. It talks about psychedelic therapy as treatment for post-traumatic disorder, addictions, and depression. This has flooded my pea-sized brain with a conundrum of dilemmas. Should I rush to a doctor or an energy healer every time I feel off-colour and under the weather or should I just have a magic mushroom? Should I risk dying of hypothermia by bathing in ice-cold water to cure me of my ailments? Because according to Wim Hof, the Ice Man we can cure ourselves of sickness (emotional and physical) by taking regular plunges in the cold.
The Goop Lab hawks a plethora of unproven treatments that promise miracles.
Of course, none of these ideas are new or surprising. You need to spend just five minutes on Goop Shop to realise the extent of the ridiculousness that Gwyneth passes off as merchandise: There's the "Olga," a 24-karat gold dildo being sold for $3,490 which I presume is a lavish but acceptable gift for your vagina when it's your largest selling merch. It's accompanied by an array of overpriced wellness products that I'm dying to get my hands on once my twice-removed aunt bequeaths her Jor Bagh mansion to me.
Like a $135 Implant O-Rama Coffee Enema system. Who wouldn't like coffee to go up their arse and deep clean their insides to make it harvest ready? I know my mornings will never be the same again once I get my hands on Cedes Milano Toothpaste Squeezer to squeeze out my toothpaste for me, and my biceps and triceps will collapse with gratitude once I get my hands on the $125,000 Hock Design Goldlift 18K gold dumbbells.
Basically, Goop is a treasure trove of eccentric wellness, pop spirituality, luxe beauty serums made with Lemur placenta, sex toys that went to Stanford, and stuff that any human with a sane mind has no use for. But they all come with descriptions that deserve a Man Booker Prize. Every product is a sonorous symphony and an adaptogenic blend of herbs that uplift and ignite while gently purging your ephemeral form of toxins. No wonder, it is the favoured destination for men and women with wads of dollars to spare, looking for an instant fix to fill that crater-sized void in their hearts with farm-sourced, sun-kissed, love-soaked, extraordinarily deep holistic healing.
Look, it's not as if I hold a grudge against the actress and her vagina for their astonishing success story. I am thrilled they have positioned themselves as the cult leaders of deluded self-belief backed by pseudo science and tall claims that are probably fictional and unsubstantiated. In fact, what I admire the most is her sense of humour. She calls Goop a lab against conventional wisdom that somehow suggests that it has something to do with logic. But I wouldn't expect anything less from her. After all this is the same woman who warned us against hurting water's feelings with our words. Ms Paltrow refrains from writing "I hate you" and "fear" on vials of water lest they become gray, misshapen clumps, just like the water in Delhi.
Gwyneth Paltrow has monetised our eyeballs into an insanely successful business model.
The actor turned entrepreneur doesn't really care whether you find her $956 toilet paper hilarious or worship her as the goddess of wellness. She has monetised our eyeballs into an insanely successful business model.
Interestingly "the cutting-edge" wellness advice that her site dispenses is basically dadi maa ke nuskhe rehashed. For a modern lifestyle brand that thrives on therapies ripped off from ancient cultures and packages them with fancy terms and eye-roll-inducing long-winded elucidations, did Goop really need to be a Netflix series? I'd have said no but Goop Lab has made me see a different side of me.
I guess, for all my complaints, I have to admit that Paltrow's succeeded. Here I am, ready to embrace vagina positivity. I want it to be the head-turner, traffic stopper, and my 3 am friend that I never had. Now, all I need is to rob a bank.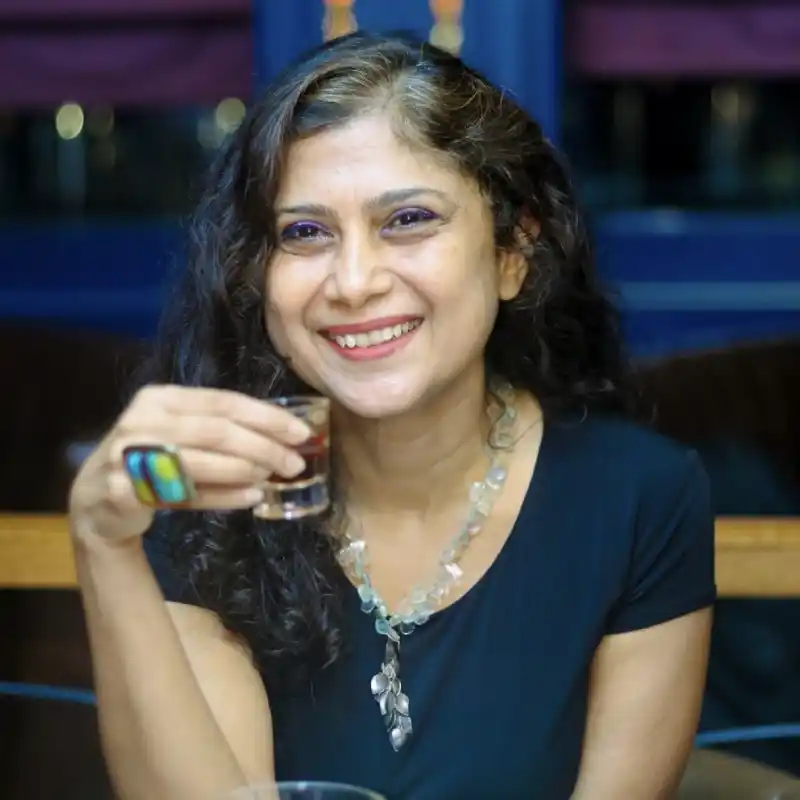 Nearly funny, almost liberal, rarely serious, Purba likes to keep a safe distance from perfection. Unfortunately she has an opinion on everything, fact or fiction, beginnings or ends, light or heavy, long and short.