Indian youth discovered that one of the biggest takeaways from Tuesday's Mark Zuckerberg Senate hearing, was that like most of our older relatives, a majority of U.S. Senators are completely clueless about how social media works.
April 11, Cumbala Hill: In a sudden and shocking development, millions of Indian memelords and redditors have changed their stance on Mark Zuckerberg. Overnight, the Facebook CEO has gone from "Saala Cuckerberg" to "#MeToo Mark". This is believed to have happened due to events that transpired at Mark Zuckerberg's Senate Committee hearing on Tuesday.
Sources tells us that the people who were changing their Facebook DPs to "Je suis Mark" to indicate their solidarity, were spurred to action after witnessing the rather painful line of questioning Zuckerberg was subjected to. The Harvard dropout, we found, finally experienced what most Indian youngsters have to go through every time Biji asks them to change her WhatsApp DP.
Twenty-three-year-old Suhani said, "Watching Senator Kennedy tell Mark that his user agreement sucks, without actually reading it, took me back to the time when my dad asked me why I didn't have the cool Holi rainbow filter on my profile picture. He assumed it was an act of me rebelling against Indian Sanskriti and traditions. I'll never forget that priceless look on his face when I told him that the rainbow filter was in support of legalising LGBT marriage."
Similar sentiment was expressed by 26-year-old Atul who compared Senator Deb Fisher's bumblical query on "data categories" to his own mom's constant nagging about not being able to untag herself from photos. "It's just embarrassing. If I teach her, she will find out that I've been untagging myself from family pictures for years now. So I just keep asking her if she can be more clear and that I'm not actually sure what she is referring to. Works like a charm."
Reactions came thick and fast from Indian millennials all across the country. Nihal Bajaj, a second-year B.Tech student in Roorkee, who has entrepreneurial dreams of his own, said, "My dad always called me a chomu for being a Zuckerberg fan as opposed to being a Steve Jobs bhakt like him. He always argued Mark lacked the innovation that Jobs had. But then, Mark's booster pillow has made papa a fan." "What an awesome jugaad yaar," said Bajaj Sr. Following it up with shamelessly plugging his son's Instagram handle.
No one was as annoyed with the level of ignorance on display than 25-year-old Vickey. "When the ignorant Sen. Brian Schatz brought up WhatsApp and Black Panther banner ads, I was immediately reminded of my annoying family get-togethers. It was just like the time Rajendar Chacha passed around a video of the supposedly GPS-chip enabled ₹2,000 note."
And there was even one young man that was able to identify with Zuckerberg because he was asked a version of the classic Indian question: "Your photography career will never pay the bills, MBA kyun nahi kar lete?" 26 year old Gagan, a stand-up comedian, confesses, "Just like Senator Orrin Hatch asked Mark, my parents often ask me how I sustain my business model when users don't pay for my service." He got teary eyed when we refused to come as his plus one to his next open mic.
Having discovered that old people in the U.S aren't any different from the ones here, many an Indian kid has gotten further disillusioned  with the idea of settling abroad. The Trump Presidency was bad enough, but an inept bunch of tech-noobs in their Senate might be the final nail in the coffin for the once-revered American Dream.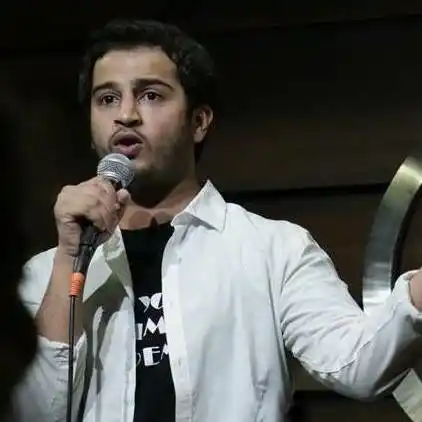 Masking anxiety with humour. Living with his dog, cat, and mediocrity. Creating content aur life se kaafi discontent. Tweeting as @juvenile_jack.