In the world of digital campaigns, women's empowerment is selling hotter than desi Chinese. From mutual funds to agarbatti brands, everyone wants to awaken the snoozing sherni inside you and shove an empowerment-friendly hashtag in your face.
The Game of Thrones title track suddenly reverberates through the four walls of a luxurious 400 sq ft apartment on the outskirts of picturesque Sakinaka. I make a dash toward my mobile phone and chirp, "Hey Shaun, loooong time. How have you been? You know I loved your Italy pictures!!" After indulging him for full 2.33 minutes – Shaun is cuter than Shaun the Sheep and he's yet to sign my cheque – I gently nudge him to come to the point.
An agarbatti brand that's big in tier-II and III cities wants to spread its wings in the bigger metros through a digital campaign. Cool, I say. What's the creative brief? He says with the same nonchalance he exudes while clearing my payments, "Nothing in particular yaar. Bas kuchh empowerment type ka socho (think along the lines of empowerment)."
I suddenly have a 2G moment. Still buffering. "Oh ok. Empowerment… So aah… basically how using this agarbatti will make you aah feel in control of the fragrances in your house, so like a bit of a diffuser or something or aah…" He laughs his horsey laugh, which is his way of shutting me up. Like, obviously he means women's empowerment. Duh! Don't I know that's the only thing that sells hotter than desi Chinese?
I feel like the native Chinawoman who's just bitten into Chinese bhel.
Meanwhile, Shaun continues bleating about some intensive multi-city research done by the brand that has thrown up three distinct insights. One, consumers respond the best to emotionally charged content. Two, women are 2.12345 per cent more likely to buy products that bank on ordinary-women-extraordinary-achievement type campaigns. Three, read one and two carefully and come up with some stereotype-breaking and earth-shattering idea, so that more of the world can feel empowered with Agar Magar Agarbatti!
My head is going to burst. What the fuck is wrong with them? The last I checked agarbattis had only one job. Drowning the stink of our karma in sandalwood fragrance hoping the Gods won't see through. How do I turn it into a beacon of empowerment? When did empowerment become such a convenient fucking commodity? How about a woman shoving agarbatti up his asshole, wouldn't that be empowering?
Brands have not just commoditised empowerment, they're also the ones defining it.
The voices in my head are doing a little tandav, but none of them make it past my larynx. "Sure bro," I say. "Whatever works. Can we discuss budgets?"
Honestly, who are we even kidding? In a post-truth world, where the facts don't matter and sentimentality is on steroids, the smartest way to get a message across is by appealing to emotions. To simplify it, over the last few years, two things happened. Increase in the purchasing power of seemingly independent women, and the explosion of online shopping. And despite all the share-the-load type campaigns, since it is the woman of the house who continues to be almost entirely responsible for keeping the house up and running, replenishing stocks of everything from potpourri to phenyl, it all translates thus. Sell that elusive world of equality, of liberation, of power to women. And sell it bloody hard, no matter what the product. Lingerie, toiletries, detergent, tampons, grocery, mutual funds, bonsai kangaroos, who cares? As long as it can lend itself to a catchy empowerment-oozing hashtag, you've made the cut. Wonder how long before a kachha-banian brand comes to you saying "kuchh empowerment type ka socho."
The funny part is, it doesn't end here. With the world and her husband trying to claim their place in the digital world through OTT platforms, brand sponsors become Gods. And when God dictates what empowerment is, you keep your trap shut.
Picture this. You're in the middle of writing a pilot episode after all approvals from the client, in this case an independent digital platform. Suddenly a hyperventilating show creative, who might get a heart attack any moment, calls and panics. "There's a huge problem yaa. You know we just had an internal meeting and the protagonist is just not working yaa. She doesn't have that edge, that spunk… blah blah. She's just not feeling young enough yaa." I keep the phone a few inches away and only when I realise she's stopped talking, I say, ohhkay. Well, she's headstrong. And ambitious. And irreverent. And 21. Not young enough?
And Ms Hyper rants, "See, that's the problem yaa. She's too serious. Why can't we show her having some fun? Like pick up boys. Get drunk and have sex with a stranger maybe. You know basically something much 'edgier.' She needs to feel like a young liberated woman. Something cool, something inspiring, something aspirational…" With every new adjective she drops, I punch my teddy bear. The bottomline is, a condom brand has agreed to become the main sponsor, only if we put our lead girl in a few risqué situations. Big deal if she's in the middle of cracking a huge investment deal for her start-up – having an orgasm in the middle of a presentation is exactly how business works. By the end, I have a room full of cotton and the teddy is as mutilated as the concept of #WomenEmpowerment.
Brands have not just commoditised empowerment, they're also the ones defining it. If a condom brand defines liberation through the sexual lens, an ethnic wear or a jewellery brand wants a celebration of her sanskars, while stomping on this bad, modern, MCP world with her successes.
In a post-truth world, where the facts don't matter and sentimentality is on steroids, the smartest way to get a message across is by appealing to emotions.
Once in a while, it gets a bit overwhelming for the over-analytic sentimental writer types. But then, you simply open the cabinet and dunk your bouts of sentimentality into a pool of vodka. And convince yourself that at least women's empowerment is creating noise, and you also have your Oktoberfest trip to fund.
So maybe you should stop pretending to change the world and dio into the Secret Book of Empowerment Formulae. (This is an update on the "andhi maa-vidhwaa behen" equation of Bollywood of the 70s and 80s.)
A. The Sarv-Gunn-Sampann Fighter
Comes from small town. Fighting small mindedness. . . Climax of girl winning over patriarchy. Somehow connect winning with brand philosophy and use a sappy one-line about naya din, nayi soch, shubh kadam etc. Thank Gulzar saab.
Suitable for: Campaigns targeting all SEC B, C. Also works in Sec A.
B. The Rebel
Big city. Big fights. Angry with the world. Short hair. . Can be used for intelligent-sounding issues like anti-labellism, anti-judgmentalism, anti-criticism, anti-whateverism.
Suitable for: Campaigns targeting SEC A.
C. The Misfits
Make a list of stereotypes. Then because every action has an equal and opposite reaction, pick out just the opposites. Boy putting make-up, girl bludgeoning heads, grandma bungee-jumping, saas bahu kissing etc. Journey from "log-kya-kahenge" to "fuck-that-shit".
Suitable for: SEC A, B
D. The Supermom
She's sarv-gunn-sampann++, the "Ghar bhi sambhalti hai, office bhi sambhalti hai" prototype. Knows what family needs reading brainwaves. Works. Works. Works. Build up to breaking point. The husband/son/FIL/pet dog does one lame task on his fucking own and she's all teary-eyed with love. Because an empowered woman is a superwoman!
Suitable for: All socio-economic classes.
Which one will I choose for Agar Magar Agarbatti? Umm… looks more like A into C plus D minus B. No, or let's keep the B out. Will add when client gives feedback. Let them think it's their masterstroke and approve it faster. Mr Agarbatti will mansplain brand positioning, philosophy, and of course empowerment. Shaun will love me again and hopefully clear my bill soon.
The client will be happy. So will my dead teddy. Oktoberfest, here I come.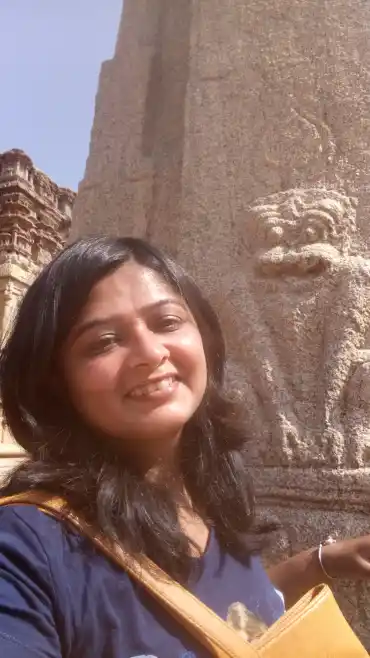 Harry Potter, GoTs, voices in her head... she swears by all things fantastical. A journalist turned storyteller for over a dozen years, she is generally spotted hogging, sleeping or travelling through a parallel universe.