Welcome to Comment of the Week, where we psychoanalyse one lucky commenter and try to understand what makes them tick. Brought to you by Arré's resident psychoanalyst and therapist, Sigmund Fried.
You know things are pretty glum when a Facebook page dedicated to finding people employment, decides to leave comments on your post to the tune of, "Your writers are dumb" and "Fire the writer." Yet, this was exactly the case when First Impression Jobs App decided to take our writers down a peg, instead of encouraging their users to turn their resume into 30-second elevator pitches.
As they say, one man's treasure is another man's trash. And so it was with the beautiful (if imagined) love story of a love-struck Shri Ram Sena Leader who falls in love with Internet Winking Sensation, Priya Varrier, that irked First Impression Jobs App. We're known to publish satire that hits very close to the bone, and our writer might have been a little too convincing, prompting some to get on Google and fact-check whether this Ram Sena Romance was legit taking place.
But none took it as badly as First Impression Jobs App. As you can see below, he/she/they/it were livid.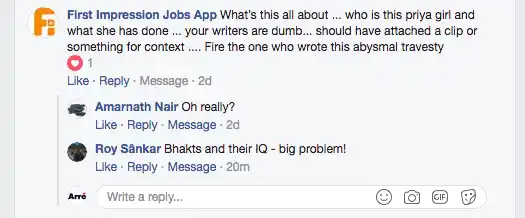 We have to admit. First Impression Jobs App hit us hard. In fact, it's an all-out assault on our poor writer's self-esteem. So we thought it fair to give him a chance to retaliate. He chooses to remain anonymous (although we can confirm it's a "he"), and the following is his response:
Hi, First Impression Jobs App! (Can I just call you FIJA?)
First up, thank you for delivering another blow to my ego. Since joining Arré, I have become accustomed to personal attacks so we can come to that later. But first, I must defend my fellow writers who you have accused of being "dumb". They aren't dumb! You can accuse them of being uncouth, loud, having serious trouble understanding boundaries, being clueless about their opinionated bourgeois scumbaggery, and pretty much representing all of the moral depravity and sexual deviancy associated with privileged millennials, but let me not dwell too much on their virtues.
Now, for the personal attack against me and my gainful employment. Listen, I get that your app's core demographic is the unemployed. But isn't demanding that employers fire people just to increase your user-base a little extreme? Also, what is so wrong with a homie smoking a couple doobs and using his vivid imagination to write satire? This is my work, FIJA. This is how I feed my family. Which at this point, is just a dog, an imaginary girlfriend, and a cat that refuses to acknowledge my existence outside of mealtimes.
Things haven't been easy lately, FIJA. I already told you about my morally depraved coworkers. But do you know that at the last office party, I got faced and legit burst out in tears in front of the entire staff? And recently, I accidentally shared a video of a colleague making vagface on our office Whatsapp Group. So thank you for trying to get me out of here but I don't need your help getting fired. I'm managing pretty well on my own.
P.S.: For future reference, what is the procedure of making something like this using your app? Zarurat padne wali hai, bahut jald.
Yours Unfortunately,
Still Employed Arré Writer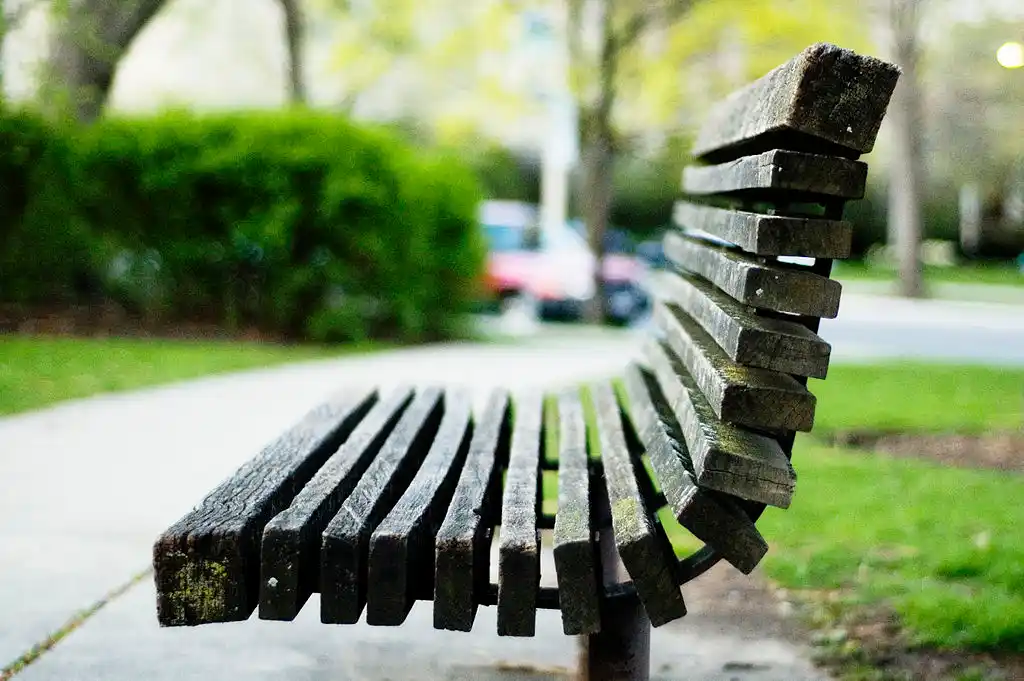 The Arré bench delivers stories that mattress. It hasn't achieved much sofar. But it's getting bedder.