Don't bother reading Chetan Bhagat's One Indian Girl because we've done it for you.
Nerdy Indian Girl with a Goldman Sachs job and fresh Brazilian wax meets Bong Boy who hates giving head. What follows after some light petting is a main course of missionary with cunnilingus as post-prandial aperitif. (Don't worry. The idea of Chetan Bhagat talking cunnilingus should grow on you.)
The story goes from Jism to Abhimaan in one tandoori night. Girl gets a big bonus and wants to crow about it to Bong Boy. Bong Boy, who is a leftist loser, shows interest in lamb kebabs instead. Fights ensue as marriage talks escalate with "Feminist" Girl playing her Gertrude Stein card and demanding he set a date. Boy, tired of this multi-million dollar-making machine who demands endless head, decides to dump her ass. Feminist Girl grovels with pancakes for breakfast, badgers with texts, and almost traps with a Tiffany ring only to find Bong Boy sleeping with White Tattooed Girl. Feminist Girl not only flees his house, but also the city, the country, and the continent.
In the new continent, she meets New Boy. Except New Boy isn't really a boy… he is a suited-booted man with a distinctly Christian Grey vibe, a wife, and two kids. But that doesn't stop either of them from getting down and dirty in exotic locations on the pretext of "business deals" where Super-Smart Girl wows everyone with her super intelligence and FYBCom-level answers. Old Man, desperate to get in the pants of Super-Smart Girl, stages a dramatic walkout during a business deal with Japanese giant Arai-san because Arai-san makes a sexist comment and sexist comment makes Feminist Girl uncomfortable. Naturally, the move lands him right inside her panties and another awkward sex scene follows, where she inexplicably compares the lovemaking of Bong Boy to beer and Old Man to champagne. As if sensing that this metaphor wasn't enough of a display of her language skills, she dazzles us with another one: Bong Boy is like French fries and Old Man is a six-course gourmet meal. Dessert is yet another topping of pro-feminist cunnilingus. (It's growing, isn't it?)
Finally, after much anxiety, she sets up breakfast meetings with her suitors because… duh… that's what high-powered deal brokers from NY do and it is not clichéd at all.
Indian sanskar makes a belated appearance and Adulterous Girl feels guilty AF when at a surreal lunch with the family of Old Man, she feeds his child, as if automatically answering the call of her ticking womb. Old Man, warmed to the cockles of his tharki heart, makes her a proposition: Will you be my mistress for life? Sanskari Girl recoils and says she wants marriage and mommyhood. Old Man says as a woman with incisive FYBCom-type answers, she should be setting the international mergers-and-acquisitions world on fire not pretending to be mommy material. Career Girl balks at this insinuation that she lacks maternal instinct when she has just proved said instinct by feeding his child peas.
Old Man and Not Maternal Girl break up and once again she flees job, country, and continent and Goldman Sachs once again helpfully flies her business class, thus winning the award for the Most Accommodating Company for the Broken Hearted at the annual HR award function.
Now, finally (yes, this is getting over soon) wanton affairs stop and feminism rears its ugly head, as she makes the really progressive choice of an arranged marriage, even as men run away from her gazillion-dollar salary. Until, finally, the prince rides in.
Enter Brijesh Gulati, the sum total of all generic clichés – likes travel, music, cricket, Bollywood, and Girl chooses him because hey, he's from Naraina in West Delhi and they have one more thing in common – their  "Indian roots". Very Jenny from the Bronx, these two.
Horoscopes are matched, a big fat destination wedding is planned in Goa, but Bong Boy and Old Man gatecrash the party in a most non-filmy twist of events ever and insist she swap the current groom for one of them. A swayamvar-type situation ensues, as Girl flocks from one man to another taking long walks on the beach and playing "Eeny, Meeny, Miny, Moe" while wedding guests prepare coordinated dance moves to "Chittiyan Kalaiyaan" in the background.
Finally, after much anxiety, she sets up breakfast meetings with her suitors because… duh… that's what high-powered deal brokers from NY do and it is not clichéd at all. Over breakfast, they chat about feminism and equal rights using bird metaphors like  "women want to fly and we also want a beautiful nest" and she asks them earnestly, "Do male birds tell female birds to choose?"
Girl packs off the suitors, cancels her wedding to Brijesh, crashes the dreams of the Chittiyan Kalaiyaan dancers, and flies off to Peru. (Why Peru? We have no idea and are never told.) And then, she heads to America only to end up with Boring Boy Brijesh again because:
1) He once bought her weed in Anjuna.
2) He was the one who explained to her that feminism was just basically humanism.
And so they lived happily ever after, giving equal opportunity head to one another. (Okay, fuck it. The idea of Chetan Bhagat talking cunnilingus will never grow on you.)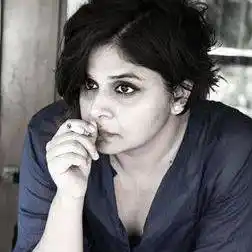 Sharan Saikumar is the Creative Director at Arré.