Meghna Srivastava of Step by Step school has topped the CBSE Class 12 Exams, scoring 99.8 per cent. Naturally, that's a shame for her and her family because even toothpastes and toilet cleaners promise 99.9 per cent cleanliness.
May 29, Mahipalpur, New Delhi: CBSE topper Meghna Srivastava's astounding score of 499/500 has given new meaning to the phrase, "leaving a mark". Naturally, this is cause for Ms Srivastava's family to immediately declare a three-day mourning period for the mark that prevented her from scoring the perfect 500. This will be followed by an angry few days of dharnas in the searing heat outside the CBSE office to demand to see the answer sheet. Obviously, the 0.2 per cent that she missed out on is secondary to the 99.8 per cent she scored.
Our sources tell us that Ms Srivastava's score has spawned a flurry of conspiracy theories. We spoke to expert neurologist, Dr Rath K Lele who suspects that the 0.2 per cent loss might have been due to increased exposure to harmful elements like Tripura CM Biplab Deb's remark about Mahabharat internet. "Such catastrophic displays of ineptitude have the power to fry brain cells instantly," Dr Lele told our reporter. "Perhaps poor Meghna was unwittingly exposed to the drivel coming out of Deb's mouth in this clip." He further stated that he expects the release of the recent Race 3 trailer to have similar consequences on students' grades in the future.
There are also those that are convinced young Ms Srivastava will go on to live out the Great Indian (Parents') Dream of excelling in either Medical or Engineering streams. "I am telling you na, she lost that one mark only because of bad handwriting. Which, as everyone knows, is the hallmark of every good doctor. Are you even a bonafide doctor if your handwriting isn't the leading cause of eyestrain among your patients?" snarked Priyanka Kalra, a second year resident at DY Patil.
When we finally approached Ms Srivastava, she seemed nonchalant about her impressive achievement.
Some, like MM Mithaiwala from Malad, Mumbai, were nonplussed at Ms Srivastava's feat. "Here in Mumbai, we offer discounts ranging from 10 to 50 per cent depending on the percentage. 60 per cent + gives you 20 per cent discount, 70 per cent gives you 30 per cent and so on. But we have no offer for anything above 90 per cent. I suspect she is diet conscious like all millennials today," said the owner, even as his shop was on fire behind him.
The Srivastavas' Nosy neighbour Mrs Sharma took this opportunity to cock a snook. "Arré what's the big deal? Nowadays toh even toothpastes and toilet cleaners promise to eliminate 99.9 per cent of germs," she said.  
When we finally approached Ms Srivastava, she seemed nonchalant about her impressive achievement. "To be perfectly honest, I wasn't aiming for even a 98 per cent – just a meagre 97 would have sufficed. Because the last place I want my face to be, is on the side of a bus with other coaching class toppers. Anyway, my life is now ruined, because the first day of college is only going to be filled with insults. I just hope the 10th standard topper isn't subjected to the same scrutiny as me because these are the kind of achievements that lead to future mid-life crises," the teenager confided.
We tried to reach someone from the Education Ministry to comment on plans of special scholarships or perks that might be in store for the prodigious Ms Srivastava in the future. However, they seemed too busy celebrating mediocrity, distributing cycles to 35-percenters.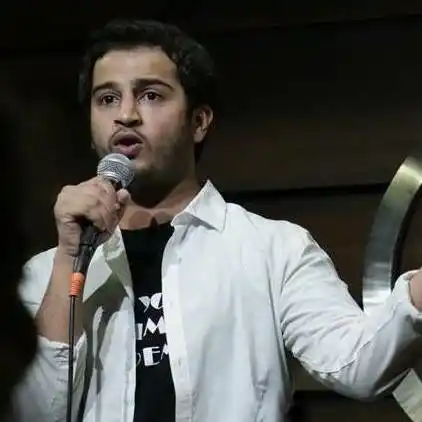 Masking anxiety with humour. Living with his dog, cat, and mediocrity. Creating content aur life se kaafi discontent. Tweeting as @juvenile_jack.