Hello and welcome to the first edition of Deja Chu: A dramatic and totally fictionalised version of how great Indian things came into being. In our debut edition, we focus on the formation of "The Dal."
On October 1, 1984, a fringe group by the name of Bajrang Dal was born. Over the next four decades, the group unleashed a successful reign of terror across India in the hearts of couples and PDA enthusiasts. However, few know of Satrangi Bhaijaan, the man who spearheaded their pathway to success. The following report details the chain of events that directly or indirectly led to the formation of "The Dal."
Chapter 1: Satrangi Bhaijaan falls in love
Satrugan was a modest son of the soil, born in the heartland of North India, Uttar Pradesh. He had a vivacious personality and was lovingly nicknamed 'Satrangi', meaning colourful, by his parents. Growing up, Satrangi heard rumours that he once had a sister, but these were eventually proved to be rumours. It was a happy, patriarchal upbringing that Satrangi was treated to. He was taught that cows are to be worshipped and protected at all costs and was asked to always be respectful to his mother, despite his father repeatedly treating her like garbage. High on this potent cocktail of patriarchy and mommy issues, Satrangi came of age.
Chapter 2: Satrangi and Radhe Whaa
He began viewing the fairer sex as something more than unpaid labour and khaandaan ki aabroo, i.e., as sexual objects. Each day after school, Satrangi fantasised about meeting a kesari kudi that shared his enthusiasm for oppressing minorities and worshipping cows. Soon enough, he met young Shookvinder Kaur aka Radhe "Whaa". The "Whaa" epithet was bestowed upon her by her spiritual gurus, in recognition of her uncanny ability to con naive, religious extroverts. Satrangi, awestruck, decided to proposition her immediately. For a while, their love blossomed. But upon learning that Radhe Whaa's oath to purity and commitment to cow-protection was just a sham to make money, Satrangi ended their relationship.
Satrangi was devastated and spent many a night drowning his sorrows in stiff 60ml servings of Gaumutra.
Chapter 3: Satrangi's break-up and subsequent war on love
Satrangi was devastated and spent many a night drowning his sorrows in stiff 60ml servings of Gaumutra. Hell hath no fury like a Sanghi scorned, and Satrangi vowed to avenge this betrayal by donning the colour orange and waging war against all those that were getting laid. He would run around his village like a deranged Rajpal Yadav from Bhool Bhulaiyya, startling unsuspecting couples with threats of, "Ram ji se daro!" and "Tera bhi katega." Pretty soon, Satrangi had attracted a slew of lovelorn followers who jumped at the chance to apply a saffron filter over their blue balls and raging hormones.
Chapter 4: Birth of BajSanghi CryJaan
Decades passed. Satrangi had now lost his colourful demeanour and seemed to only see saffron. "Zubaan Kesariya" had become more than just an ad jingle for him. By now, Satrangi had legally changed his name to BajSanghi CryJaan. His slew of followers had grown across the country and were collectively known as "The Dal". Couples making out behind rocks at Bandstand and behind the bushes at Buddha Jayanti Garden were now just as scared of being photographed as they were of a trishul in the buttocks. BajSanghi's minions had officially sent them cowering for the bushes. And not for reasons they looked forward to.
Chapter 5: Dal mein kuch kaala hai
However, after decades of not being in touch, in 2016, BajSanghi was lonely and had grown to miss his old flame, Radhe Whaa, who by now was a religious force to be reckoned with. After news of a very public meltdown, BajSanghi couldn't help himself from ringing his boyhood love. Finding out that the love of his life was exposed to the world as a con-artist and seeing Radhe Whaa's persona publicly denounced, BajSanghi's heart melted just enough to let Satrangi peep out.
He reached out to his former love and expressed how he still held a soft, saffron corner for her. And was ecstatic to learn that the Scarlet Sanghi reciprocated his feelings. After they openly shared a passionate milan, Dal members were troubled and decided to banish their leader. "If you can't be a Sakht Launda, you ain't no Bhakt, Launda," with these words, Satrangi was ousted from the very group he had created.
Since then, the Bajrang Dal has lost some of its momentum to more eccentric groups like Karni Sena and old rivals, Shiv Sena. At the time this article was published, they had been reduced to little more than Internet memes and fodder for trolls who host fake FB events in their name. Yet, like Bhuvan from Lagaan and LK Advani from the BJP, Satrangi's name has somehow been resigned to a footnote in the Bajrang Dal's history textbook.
As for Satrangi and his Godwoman GF, we aren't sure. But we're willing to bet that the two are just overjoyed at the prospect of finally getting some guilt-free action.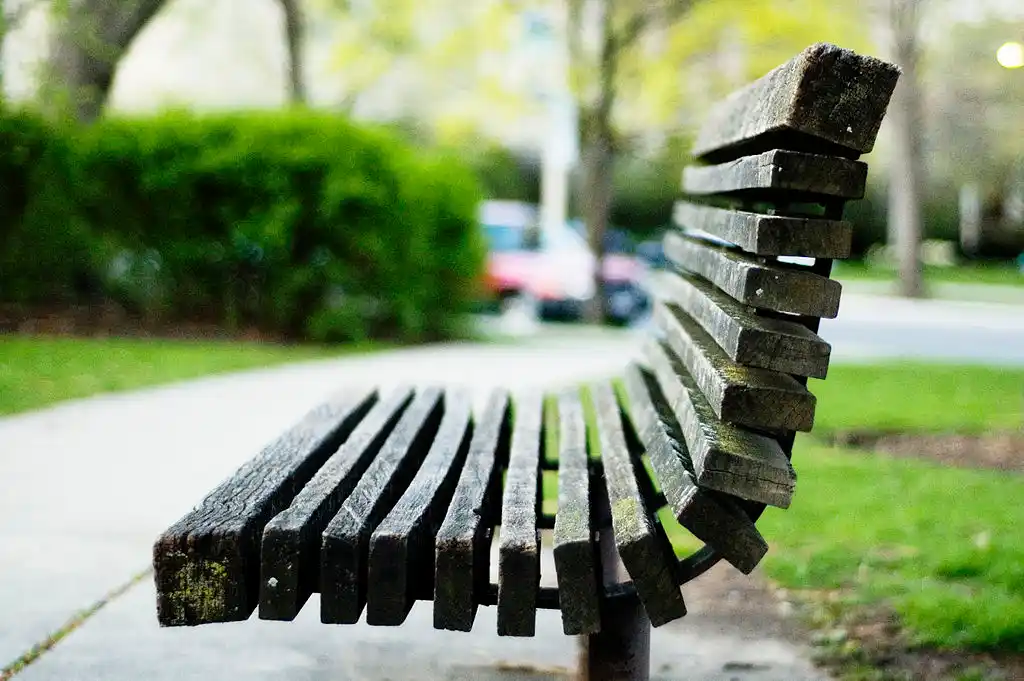 The Arré bench delivers stories that mattress. It hasn't achieved much sofar. But it's getting bedder.