With an all-star line-up of Urmila Matondkar, Sunny Deol, Hema Malini, and Moon Moon Sen, and a cameo by a pink-pant-clad Khiladi, the Lok Sabha election could easily be made into a masala Bollywood blockbuster. Here's what the screenplay would look like.
Exclusive access to the screenplay of the hottest apolitical hit of the year. Will Mantriji's Bollywood Berozgaar Yojana triumph over the Pappu and Pyaari siblings?
Our all-star lineup of candidates as well as incumbents this poll season reads less like a list of politicians and more like that of Big Boss hopefuls from 2012. There are more washed-up stars in the poll fray than Filmfare's Lifetime Achievement Award nominees. This unfolds like a Bollywood screenplay, obvs, complete with masaledaar conspiracies and enough plot twists to put any Abbas-Mastan screenplay to shame. Perhaps even the original that they lifted it from.
Location: Hindi Heartland
Time: Evening
Perched atop a grand stage, a wide-chested Nehru-jacket wearing gentleman bellows into a megaphone. The masses, gathered in hordes, listen intently, erupting into a rabid frenzy after every declaration. Sweat on their brows, hope in their hearts, and delusion in their psyche.
His loud exhortation, asking his gathered audience, "Mitrooon, hum vikas laaye ki nahi laaye? Nahi sach batao, laaye ki nahi laaye vikas?" were met with cheers. (It's not his fault most rural areas in this part of the country still consider getting clean drinking water for one hour every week as "vikas".) But some intrigue is afoot…
Fade out, Title Credits: Ab ki baar…
Location: Backstage/Mantri Ji's Green Room
Time: Night
Backstage at his rally, Mantri ji's minions look worried and have gathered around a TV. On the screen, standing in a line, with arms raised, the Opposition leaders seem to have formed a coalition and are taunting the current regime. The lotus lackeys are clearly miffed but their mulleted mantri looks undeterred by this Mahagathbandhan. Mantri ji has a plan – the "Bollywood Berozgaar Yojana" – and swears that this is the best logical defence against the Mahagathbandhan. At the party meeting, Mathura's Basanti has brought along her boy Handpump Hulk as a potential candidate. The leaders agree that HH has the correct balance of irrelevance and fan base that they are looking for.
Mantri Ji: Kya aap Gurdaspur se ladogey?
Handpump Hulk: Gurdaspur hi kyun oye? Mein toh kahiin se bhi ladunga. Ghar mein ghus ke ladunga, saato ko saath maarunga, ek saath maarunga.
Impressed with Paaji's enthusiasm, Mantri ji decides to give him the Northern constituency.
An influx of Bolly recruits, old and new, begins. Along with "Babu Bhaiya" and musical mishap, "Babul SsupYo", the party also has long-standing members "Terrific Tulsi" and "Rinkiya ke Papa". "Hihihi hans de le," Rinkiya ke papa says, a clear hint that the next recruit would be famous singer, Hans Zimmer Hanz. All seems fine for Team Orange.
Location: Mathura farm
Time: Afternoon
Suddenly, the lotus team receives a huge setback. They are informed of Shotgun's betrayal. Shotgun used to be a loyalist but of late had been khamosh when it came to praising mantri ji.
Mantri Minion 2: Sir, ab humare mitra bhi "shatru" ban gaye.
Rinkiya Ke Papa: Hihihihi
Mantri Ji: Khamosh!
More bad news arrives when Basanti decides to treat her constituency like Dhanno's very own manure pit. This leads to a media frenzy.
Basanti: Yun toh humein be'fizool ki baatein karne ki aadat nahi hai, but yes I totally had a brain fart while interacting with the media.
Mantri Ji: You had one job, Basanti.
Basanti: Gtg where my helicopter at?
Miss Moon: Waise Mantri ji aap chai banate the na? Ek cup bana denge. Missed my morning tea.
Meanwhile, over at the other camp…
Location: Congress War Room
Time: Day
At this point, the Mahagathbandhan is planning their comeback. Siblings, Pappu and Pyaari prepare to unleash their own Bollywood brigade. Pappu address the crowd.
Pappu: Inhe maat deni padegi, mein jhappi de dunga!
Amethi ka yeda hoon mein, chhotey! Yeh log fizool mein sadh rele.
Siachen mein Jawaan Ladh rele. Sahi kaha na Mummy?
Mantri ji boley ki 50 saal se kaat rele apun desh ki naak
Bamaai apun kabhi jumle nahi kiye, waise kidhar hai apun ke 15 lakh?
After Pappu's failed Gully Boy moment, the party realises they need some star power. They can't rely solely on hot takes from Swara Bass-kar and Naysayer-uddin Shah to win this election. So they rope in Rangeela Matondkar, who expects a mast outcome.
Location: Parliament
Time: Day
Mantri Ji takes centre stage and says, "Humein hamla karne ke liye kisi Abhinandan ki zarurat nahi hai." And just like that, his party's victory is almost sealed. Not one to be held back, Mantri ji rubs salt in the Gathbandhan's wounds by doing a rap of his own, addressing Pappu.
Mantri Ji: Beta, 56 inch ki chaati meri, karunga mann ki baat
Mummy ji se pehle permission le le, phir lagaunga teri vaat
Apna time aa gaya, mitron!
Ab tu vatt le idhar se
Pappu take a hike
Wapas kabhi jaadu ki jhappi di
Toh Ameethi mein kar dunga surgical strike.
Fade out.
Epilogue
Location: Hero Ke Bungalow Ka Lawn
Time: Morning
With his victory in the bag, Mantri Ji decides to indulge in some non-political flexing. He invites a pink-pant-wearing superstar for a special interview.
Propaganda Khiladi: … Aapus or Alphonso?
Mantri Ji: All are just fruits of my labour. Ask me about how little sleep I get?
At some point, Khiladi realises that he is but furniture in this interview. For the next hour, he endures humblebrags and not-so-subtle jabs at his wife.
Before the end credits roll, a montage of Mantri Ji's achievements begins, a retrospective of his humble beginnings and how he is the leader the country needs right now. The audience laps it up once again.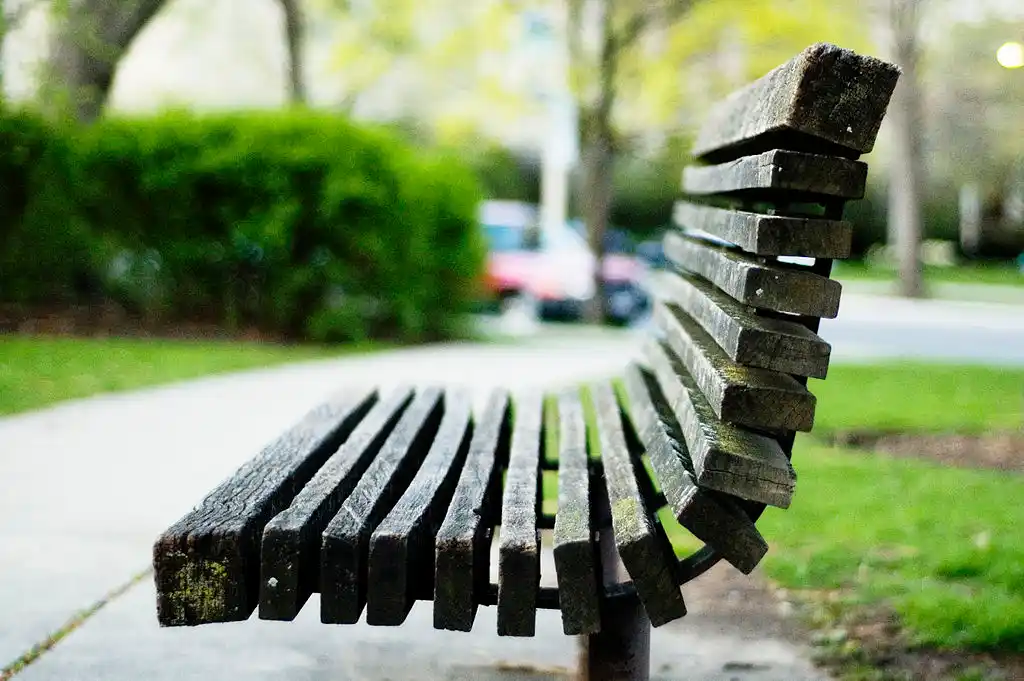 The Arré bench delivers stories that mattress. It hasn't achieved much sofar. But it's getting bedder.