The BJP's transformative strategy of distributing ladoos in ATM queues was revolutionary. We take you behind the scenes of the top-secret meeting.
Arré gives you the complete and authoritative oral breakdown into the functioning of the Indian government and the revolutionary process through which it arrived at the transformative strategy of distributing ladoos to those waiting in ATM queues.
Amit Shah: Hmmm. So according to UNESCO's latest report, demonetisation has made India the world's most cashless society. It's time to shake things up a bit.
Rajnath: Waah, Amit bhai, waah.
Manoj Tiwari: Sir, you might've heard of me. I'm your new attempt to fight Kejriwal.
Shah: Yes, yes. You acted really well in Pati Fauj Mein, Biwi Mauj Mein. Wonderful film about deshbhakti and the duty of our women. Also, I've heard Kejriwal is holding a langar at the ATM queue. People are going to get oil from the puri sabzi all over the machines. We can use that as a new excuse for the lack of money.
Arun Jaitley: Great idea Amitbhai, call a press conference immediately. But we need to do something about the queues. Should we also feed them or something?
Rajnath: Why can't they even stand in queues? Our soldiers fight on the border. One day I didn't have my convoy, I didn't complain. I hired a helicopter.
Manoj Tiwari: Sir, how about we call all attractive dancers to entertain people, like in my movies?
*Jaitley hurls a Swachh Bharat coffee mug at his head*
Manoj Tiwari: From all my experience in getting drunk and pulling saris in movies like Aurat Khilona Nahi, I think people will enjoy a glass of beer, sir…
*Jaitley hurls a Digital India ashtray towards him*
Rajnath: Amit Bhai… what do you think?
Gadkari: HEY! How about we give them biryani?
Jaitley: Gadkari!
Rajnath: GADKARI!
Shah: Biryani is a Mughal dish. It won't make everyone happy.
Rajnath: Whoever wants biryani can go to Pakistan! Kadi ninda kadi ninda…
Gadkari: You guys can't make everyone happy. You are not biryani. It's what life in India is Amit bhai: Kabhi sushi, kabhi slum.
Jaitley: Hahahaha
Jaitley: ROFL. Gadkari you are the boss!
Rajnath: Pulao khilao pulao.
Shah: No! Imagine our daughters and mothers indulging in pulao talk. Unless they're planning to have triplets, this is a bad idea. Plus we have to think of the entire electorate.
Rajnath: Waah Amit bhai, waah.
Manoj Tiwari: Sir if I may… whiskey pilayein?
*Jaitley slaps Tiwari. Leaks a shady story about him to his friends in the media*
Jaitley: I think food is definitely a good idea.
Tiwari: Sir but my Wikipedia page says I'm most laborious person please listen to me…
Jaitley: STFU TIWARI!
Tiwari: I'm also the captain of "Bhojpuri Dabanggs" in CCL. I understand politics sir please…
Shah: Remember guys, only one ladoo per family. We aren't opening an NGO. Divide carefully among all family members.
*Jaitley rises from his seat and does the Delhi boy "Hold me back" slow-walk towards Tiwari*
Tiwari: Bach gaya Punjabi, hume log Mard No 1 aise hi nahi kehte…
Rajnath: Are you guys done? Amitji please let's talk about important things such as making people like us…
Shah: Yes yes. If we get food, we need food that is evocative, that has feelings.
Gadkari: Samosa has fillings!
Shah: FEELINGS GADKARI NOT FILLINGS. PLEASE STOP THINKING ABOUT SAMOSAS! Can't you think of any other evocative and inclusive food?
Gadkari: Really sorry sir but there are naan left.
Jaitley: Oh Gadkari you are killing me! 😛 😛 😛
Tiwari: Naan nahi bache? Ab hum ka khayenge?
Jaitley: F***! This guy…
Gadkari: But seriously guys saffron samosa is a good idea…
Shah: No! Jab tak rahega samosa mein aloo, UP mein interfere karega tera Lalu. We need something krantikari!
Gadkari: Kabhi sushi, kabhi slum se yaad aaya, ladoo khila dein?
Jaitley: Ladoo? As in Hrithik Roshan?
Rajnath: Nahi he's Guddu! But ladka hai and looks like a sexy Hindu god.
Gadkari: Sahi pakde hain.
Tiwari: Seems like you didn't see me in "Ego chuma deda raja ji"
Jaitley: For the love of Savarkar…
Shah: Hmmmm wait a second. I have a new idea. *Sits up and scratches his beard* We will give them ladoos!
Gadkari: Sir that's what I s….
Jaitley: Shhhhh!
Rajnath: Waah, Amit bhai, waah.
Gadkari: MODICHOOR LADOO!!
Jaitley: Gadkari, you are my new best friend.
Rajnath: Gadkari toh genius nikla. Waah chal ab jaake road bana.
Shah: Remember guys, only one ladoo per family. We aren't opening an NGO. Divide carefully among all family members.
Tiwari: Yes sir I will lead it myself and prove that we have the best ideas and implementation. Our people will line-up in deshbhakti to distribute ladoos to people already lined-up in deshbhakti.
Jaitley: India Lining sir!
Rajnath: Hahaha that never stops being funny.
Shah: Lol. Our plan will be called, and I've just thought of it, "Abki baar, laddoo sarkaar".
Rajnath: Waah, Amit bhai, waah. Tum toh kamaal ke ho.
Tiwari: What an idea sirji!
Jaitley: Knew you had it in you, bud.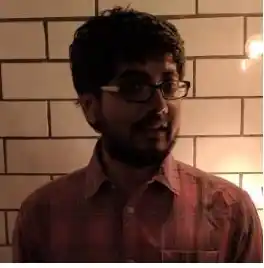 Lover of baby animals, Arsene Wenger, Damien Rice, Peggy Olsen and overly long podcasts. Tweets at @parthsarora.
Confused about most stuff. Writes things.