I tried it all, the leather outfits and the furry handcuffs. But my husband of 20 years preferred saris and my children tried to use the handcuffs to play chor-police.
The decision to attempt BDSM with my husband of 20 years was borne out of a thirst for knowledge rather than anything else.
Growing up in the era of Mills and Boon (me), Yash Chopra films (my husband) and DDLJ (our romance Bible), sex and romance for us was always about roses and dinner dates (me) and romantic Hindi songs (my husband). Handcuffs and whips just never came up. So when I read Fifty Shades of Grey and the world of BDSM opened up to me, I took my lack of knowledge as a personal affront and began to do serious research on the topic.
In any case, since all theoretical study inevitably leads to practical research, it wasn't long before I decided to invest in a pair of handcuffs… the kind that is lined with silky pink fur, no less. I waited with a mix of trepidation and excitement for the delivery of these magical handcuffs that were going to transform my life.
However, the day it arrived, I was not at home to receive the package and my kids opened the parcel. When I returned home, I found the two of them arguing about who was going to be the chor and who was going to be police.
"The handcuffs are pink, it's obvious that the handcuffs were meant for you. You should be the chor," said the son.
"But the handcuffs belong to the policeman. Since I am wearing pink, I should be the police," counter-argued the daughter.
Excellent arguments on both sides. It was obvious I was raising a couple of lawyers. Or dominants, I thought, using my newly-acquired lingo and half-baked knowledge. I left them to it because I soon discovered that none of my beds had a bedpost where someone could be handcuffed in any manner that was even remotely sexy. The handcuffs soon settled at the bottom of a drawer that works as the toy graveyard.
Meanwhile, I decided one needn't have kinky toys lying around the house to indulge in BDSM.
It was back to Google for some more research where I learnt that BDSM is more of a state of mind and kinky toys are only the tools. BDSM, I was informed, required open communication and complete honesty in the relationship, so channelling my inner goddess like Anastasia did hers, I bravely approached my husband as he was doing our taxes. Not the best time to talk to your husband about your fantasies, you might argue, but as any married person will tell you, any time that the kids and in-laws are not around can be quite sexy. Taxes or no taxes.
"I am quite the submissive sort," I mentioned casually, as he squinted into an Excel sheet.
He snorted without even looking up once. It struck me then that telling the average Indian husband that you want to be controlled by him is like giving a teenager a bottle of alcohol, an unlimited credit card, and a Porsche. I wanted to take my words back immediately.
"You were saying something?" said my long-suffering husband, finally looking at me after doing some complicated accounting.
"Nothing," I told him, and beat a hasty retreat.
I had lost my appetite for handcuffs and my husband had no appetite for black leather, so why waste money?
I got out my laptop and turned to Amazon for the next hint. "What kind of outfit looks sexy on me?" I asked, perusing 252 variations of black leather that all looked suspiciously like Catwoman outfits. Indians have really started to take Halloween very, very seriously, but BDSM still wasn't mainstream enough for Amazon.
"Saris," said the husband with smile, being faithful to the Yash Chopra movies that he OD-ed on before we got married. I guess I couldn't blame him. My husband grew up in an age where just having an inter-caste marriage was a pretty bold thing to do.
My last attempt at climbing the BDSM wagon was have a frank talk with him before I bought anything. I had lost my appetite for handcuffs and my husband had no appetite for black leather, so why waste money? Nothing turns my husband off quicker than useless expenditure and the idea was to turn him on.
So one evening, while sitting in a restaurant, over naan and paneer butter masala, l broached the topic once again. I realise it's really a sinful-chocolate-dessert-and-wine kind of conversation, but paneer is quite an aphrodisiac for the two of us.
"You know, there's an Indian version of Fifty Shades of Grey." I informed him directly.
"Hmm…," he replied and counted the paneer pieces. There were seven. He served himself three.
"So what do you think of bondage?" I asked, taking three pieces of paneer.
"Bandage?" he asked with a smile, his eyes on the last piece. "Why? Is someone hurt?"
I paused for a moment. Having this BDSM conversation was starting to feel a like a visit to the gynaecologist; painful, embarrassing and uncomfortable, but essential for my sexual health and mental peace. "Have the paneer. I don't want it," I said, gritting my teeth.
"No. No. You have it," he said, pushing the serving dish closer to me.
"No. You have a piece of naan left. You have the paneer," I insisted, pushing the dish towards him with more force.
At the end of the paneer tussle, my husband then shot me a knowing grin and that's when it struck me. He wasn't an obtuse man. In fact, he is very good at picking up subtle hints. I was the one who was not picking up his.
He was deliberately changing the subject because he wasn't interested in BDSM. Our entire 20-year marriage was based on the implicit understanding that we were equals and we've happily exchanged dominant and submissive roles which would make BDSM a fairly confounding thing. The Dom could be submitting and the Sub could be dominating.
I gave up on my BDSM dream. My excitement currently involves waiting for the fourth book in the Fifty Shades series. It should be called Fifty Shades: Twenty Years Later. In that book, Christian is going to convert his Red Room of Pain into a media room with a gigantic large-screen television. He watches football in his favourite room while Anastasia yells at him from the bedroom to pick up his socks.
Married bliss!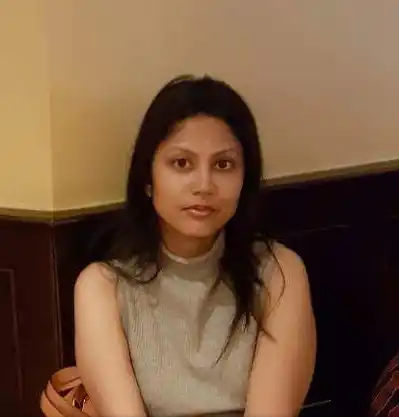 Ashwina Garg is a freelance writer and entrepreneur. She is the author of the best-selling book 'Spicy Bites of Biryani' and writes regularly for Women's Era, Bonobology and other sites. She has a keen interest in social causes and writes for the Hyderabad-based NGO, SAHE and TEDxHyderabad.