We open the fridge thrice a night, and it still doesn't have what we're looking for. What are we hoping to find in these cold confines? The meaning of life? A bag of fucks?
You've woken up from a long afternoon nap and the first thing you do is open your refrigerator. Then you shut it and walk away empty-handed. Why did you open it in the first place? Was that a Pavlovian response? What were you hoping to find? A leftover sandwich you never ordered? A bowl of dahi curdled like your last relationship? Motivation to get through next week? A portal to another dimension? Or did you open it simply to have a stare-down with that stale lemon wedge in the corner?
If you haven't found the answer to one of life's biggest mysteries – why do we stand in front of an open refrigerator? – we are here to help. Here are four things you might stumble upon in your fridge.
An Old Bag of Fucks
Imagine, opening your refrigerator for some leftover pizza, and stumbling upon your old bag of fucks. What a great feeling! It's almost nostalgic since you clearly haven't given a fuck in ages. You start thinking about those absurd times when you vended them by the multiple, and for days on end. How did you coast through life by caring so much, one may never know. But you know very well that being apathetic has done wonders to your life. If I were you, I'd still pick the pizza. Why would anybody give a fuck about anything anyway? It's too much of an effort.  
Passion that You Put Away in Cold Storage
Life hasn't been so great, you feel tired all the time, and you tend to miss your bed more than actual human contact. Has life dampened your spirit? Maybe, and just when you were about to go down on that tub of ice cream, you found that passion you stored away years ago. Yes, a pun specialist was an impractical career choice to begin with. Suddenly, time ceased to exist and you thought about some killer puns you cracked. Remember the time you said lettuce, when your friend asked if they wanted to have a spinach sandwich? You waited for some laughs but decades have gone by and she hasn't yet gotten it. See, this is why its in the freezer. Icy? But do you?
The Meaning of Life
From ancient philosophers to depressed writers, we've all tried to find the meaning of life, and felt like life is just moments away from dropping a huge turd on us. Well, look no further, the meaning of life can be found in the last place you were hoping to find, the confines of your fridge. Is life one big party? Is it a metaphor based on the smell of stale milk from last week? Is lauki ki sabzi, a metaphor for outward appearances and their deceitful nature? Who knows? I'd say open your fridge and waft in the glory of the yellow light. It's bound to inspire something. Maybe you can be the person who found himself without travelling. In fact, you found yourself in your refrigerator! How cool is that!    
A Portal to a New Dimension
You have to be severely intoxicated by drugs and alcohol along with some magic mushrooms to be seeing this inside your fridge. Although, I'd like to believe Rick and Morty is the future, so, this might as well take place. Besides, you've been meaning to take a small trip out of town for so long, well, here's your chance. Pack your bags and enter a new realm. Who knows, you may even return as some other person altogether. Maybe enter your fridge only to exit through someone else's. Life is one big mystery. You're bound to miss all the shots you don't take. That works for alcohol as well.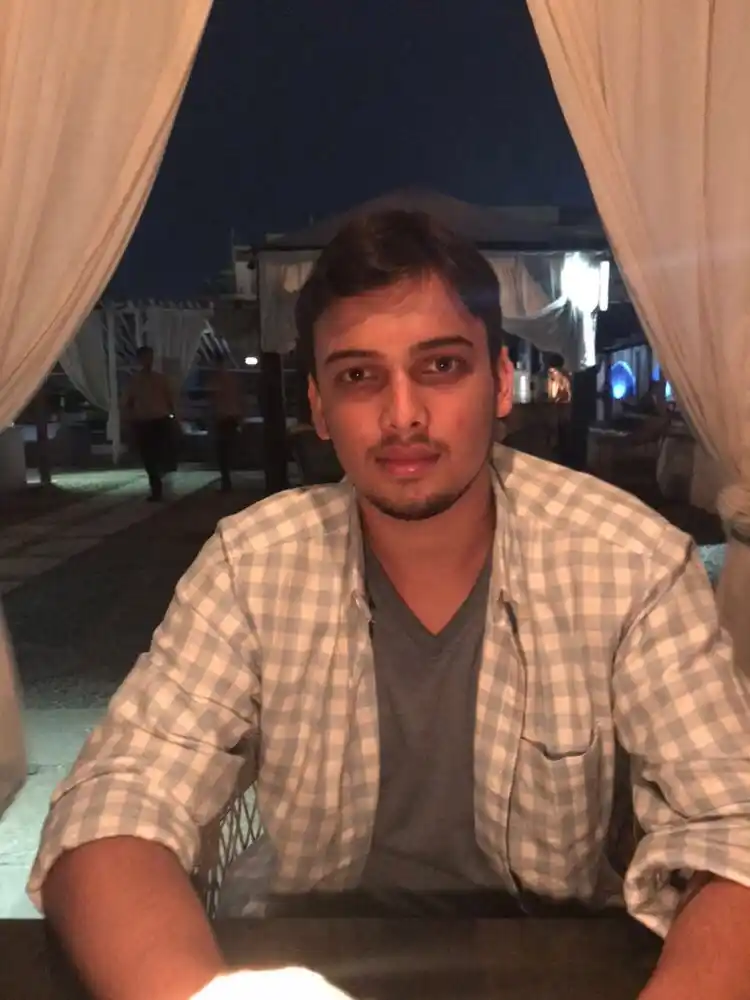 Nihal likes to believe that darkness is more beautiful than frightening. He likes to be called Bambi, a nickname, his friends gave him.