India had barely recovered from the media spectacle of Isha Ambani's wedding extravaganza in December. Yet here we are, three months later, digesting another opulent shaadi. Akash Ambani's nuptials have led to speculation as to whether all Gujaratis are boisterous and flashy. We are not.
After hosting the costliest wedding ceremony ever in December, Mukesh Ambani and fam are back to make us commoners feel even poorer. While Akash Ambani's wedding might not have caused the furore and buzz that his sister's shaadi created, the pre-wedding bashes and the nuptials has proved yet again that when it comes to obnoxious opulence, nobody can touch stinking rich Gujjus.
Amabani weddings, or Gujju Coachella typically feature a small entourage comprised of powerhouses from Bollywood, cricket, and politics. In fact, there's a rumour that the organisers of IIFA and Filmfare even contemplated giving away their awards during Akash's pheras since the glitzy turnout far outshone their own. I mean, where else will you get to see Aamir, SRK, and Jaggu Dada at the same time and place?
Naturally, Ambani weddings have led some to wonder if all Gujjus are this obnoxious. I am Gujju and I can say with confidence: We aren't. At least not that much. Look, I get that Gujjus are renowned for their "Ame to evaj che" or "We are like this only" approach to everything. But trust me when I say this, none of us consider dancing to the decade-old "G.U.J.J.U." as our definition of #ShaadiGoalz.
Most Gujjus just aren't as flashy as our Ambani cousins. Even the rich ones follow a tried-and-tested rule of "money saved, money earned". First-class local compartments are scattered with affluent Gujju diamond merchants who could easily drive their Beemers or Audis to work. But instead choose to travel by train, because "Train ma convenience chhe." South Bombay is overflowing with Gujarati families whose origins can be traced back to one BHKs in Vile Parle and Malad, who have successfully scrapped their way up to penthouses in Opera House. All while remaining down-to-earth and fun-loving people whose idea of evening entertainment remains watching Taarak Mehta reruns whilst munching on diet khaakra.
Unlike the Ambanis, we are more likely to pack our theplas with us to Europe trips than we are to invite a Bollywood biggie to our wedding functions just for the eyeballs. Our first response to concepts like pre-wedding bashes is "baapa ni taang" because damn it, if it doesn't involve garba, we ain't biting. Yeah, live pasta and pizza counters are great but put a traditional pure veg Gujju thaali in front of us and we'll be quick to call it a "Ekdum fuss class lagan."
Like many Gujjus, even I was left deeply traumatised at the sight of the richest family in the world refusing to get the irony of proudly grooving to "G.U.J.J.U"
And then there are the Ambanis, who probably yelled, "Beyoncé ben, plz 2 perform dholi taro" and asked Adam Levine if he could get Maroon 5 to do a rendition of Falguni's "Sanedo". While the rest of us Gujju kids are thrust into "bijness" or "baapa no gallo" post college, the Ambani kids have two simple life goals – putting the "dhan" in Jio: Dhan Dhana Dhan and making sure their wedding has the most generic of international artists performing for them. It's almost like the Ambanis look at #DeepVeer and #NickYanka and think, "Aww, that's cute. Now help us make sure nobody remembers your weddings by the end of the year." 
Like many Gujjus, even I was left deeply traumatised at the sight of the richest family in the world refusing to get the irony of proudly grooving to "G.U.J.J.U". And if you ask me, with the Akash Ambani-Shloka Mehta wedding looking like an equally vulgar display of wealth, Mukesh bhai has irreversibly tainted how the world will look at Gujaratis in the future. Which is quite a feat since we're already a community infamous for single-handedly raising the decibel levels of any group discussion. At this point, we definitely didn't need another blow to our abysmal cool quotient with yet another loud shaadi. Although the confused look on Sundar Pichai's face while playing the token NRI trying to blend in at a desi wedding was pretty memorable.
The Gujarati diaspora the world over has had some landmark moments in the recent past. Our propensity for business has seen us become one of the largest immigrant populations in the world and there's a popular saying that you can find a Gujarati almost anywhere you go in the world. Which explains the emergence of Gujju rap in 2005, or that time when aapdo Kalpesh Modi (or Kal Pen) became the Associate Director of the White House Office of Public Engagement in 2009.
However, spectacles like Akash and Isha Ambani's weddings, which showcase our fellow Gujjus acting extra AF, warrant an apology from our otherwise humble and simple-minded community. In retrospect, may be the "ame to evaj che" mindset isn't that healthy after all.
This is an updated version of a story published earlier.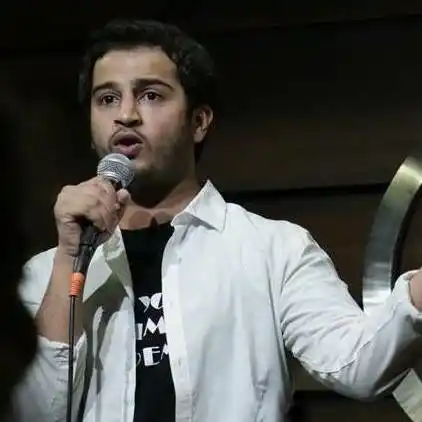 Masking anxiety with humour. Living with his dog, cat, and mediocrity. Creating content aur life se kaafi discontent. Tweeting as @juvenile_jack.