The most thrilling part of an NRI relative returning home are the phoren gifts – Jus' Heat n Eat Palak Paneer from the Jersey Indian store and the three-minute noisy beetroot cold-press juicer that takes about 30 minutes to clean.
The annual invasion of my relatives from the US has begun. They arrive – always around 3 am – in September in my city, Chennai. Either because there are four weddings and a funeral to attend, or else it's time for another root canal. So we set our alarm for 2 am, and off we go excitedly to welcome our NRI cousins home.
We smile and wave from the arrival lounge much like the Penguins from Madagascar, as we spot Sriram Anna and Kokila Akka wheeling in eight suitcases – four of which have about a thousand Pampers for their Baby Kathyayini. (Of course, how can they trust the desi Pampers sold at our local shops?) Anna and Akka are flanked by Kathyayini's scowling brothers, Agastya and Vishwamitra, and even from a distance we can lip-read what they're saying: "Why is Chennai SO hot, mom?"
They enter our house after a special aarti at the doorstep, for which even the maid miraculously turns up at 5 am to make coloured rangolis. Unfortunately, it doesn't take the gangly boys more than a minute to mess it up with their crocs. The same maid grumpily cleans up the mess, and we rush in to make idli-sambar and filter coffee to complete the grand Indian welcome home.
Now comes the thrilling part of an NRI returning home: phoren gifts. Cousin Kokila proudly demonstrates the noisy beetroot cold-press juicer. "It takes only three minutes to juice," she excitedly tells us, even though it takes about 30 minutes to clean up later. Unfortunately even the noise of the juicer fails to drown out nephew Agastya yelling from the bedroom, "Why are the bathrooms in India SO wet, mom?"
Now here come some really thoughtful "superfoods" they've bought us. Uh oh… someone run to the fridge and hide that unopened Trader Joe's Thousand Island Dressing, because she's bought yet another gigantic bottle of the same thing. And look, there's also Jus' Heat n Eat Palak Paneer all the way from the New Jersey Indian store. (Of course, how'd we southies ever get the authentic north Indian taste?). I just accept the gifts and thank Akka for being so being so thoughtful. And that's just when our kids end up exclaiming, "But we get all these at Mummy-Daddy Store down our road," leading to a bit of tension in the air.
Dentist appointment, check. Family visits, check. Now comes the series of weddings for our US guests to dress up in Nalli silks.
But we know exactly how to defuse that, don't we? Nothing like a traditional Tamilian breakfast. We change the conversation by asking the boys if they'd like some idlis and chutney. They stare at us as if we've spoken in Punjabi, but it's enough to make us realise that we need to talk to them in their language. So now we go, "Sorry, I meant rice cakes with coconut sauce. Or some savoury, crispy crepes?" Their eyes light up and they nod their heads. We put on a smile and tell the maid to make hot dosas instead. She's still a little miffed about the rangoli and that Akka has not got her anything from Amreeka even this year.
Meanwhile Baby Kathyayini, or Katy back home, is happily gulping down handfulls of mashed dal-ghee-rice that the maid feeds her, singing Tamil rhymes. Her stock of 200 tiny bottles of Gerber's stew lying unattended.
Fed up with their unpronounceable, unspellable Indian names, we hear the boys have officially changed their names to Aggy and Vishy from Agastya and Vishwamitra – the great saints they were named after. How do they so easily spell "koinonia" and "stichomythia" which helped them reach the finals of the Spelling Bee Contest last year, we wonder.
And then arrives the big occasion – the reason this trip has been planned – the root-canal appointment. ("So awesome and cheap in India.") There's some time before the appointment. What a fine idea to pay a visit to some relatives. We can guess exactly what the boys are going to chant the moment we're on Mount Road: "Why is there SO much traffic on Indian roads, mom?" We arrive, and the boys fall headlong at the feet of Venkatesh Periappa and Ambujam Periamma, after their mother hisses "Do namaskarams!" The grumpy boys know the 100-rupee note they receive as blessings is barely about a dollar and 30 cents.
Dentist appointment, check. Family visits, check. Now comes the series of weddings for our US guests to dress up in Nalli silks. Anna and Akka wear all the jewellery they've safely kept in the state bank locker for 20 years, but the stubborn boys refuse to wear the red kurtas and golden dupattas just for the occasion. "Why did you get us GIRLS' clothes, mom," they whine and instead put on their oversized Avengers tees, sneakers, and a cap worn backward.
In no time the holiday is over and now it's time for us to give our carefully chosen gifts from our own culture as they leave. We eagerly hand over Aggy and Vishy The Children's Mahabharata and My Little Autorickshaw, only to hear the boys complain once again, "But this is exactly what they gave us last year, mom!" And back they go to playing "Skull Smasher Returns" on their iPhones, all the way to the airport.
Our cousins are so happy they got to meet about 900 immediate relatives and friends, and we are so happy that the baby has learnt her first words in Tamil – ta ta bye bye po-lama, but the happiest of all are the boys as they've spotted a juicy burger in the McDonald's at the lounge.
Then we shout our goodbyes at the crowded airport in relief – and also remind them to come back for the boys' thread ceremony here in Chennai. How cute they will look dressed in traditional veshtis and angavasthrams, no? Until next year, then. We'll remember to hide the two bottles of Traders Joe Thousand Island dressing by then.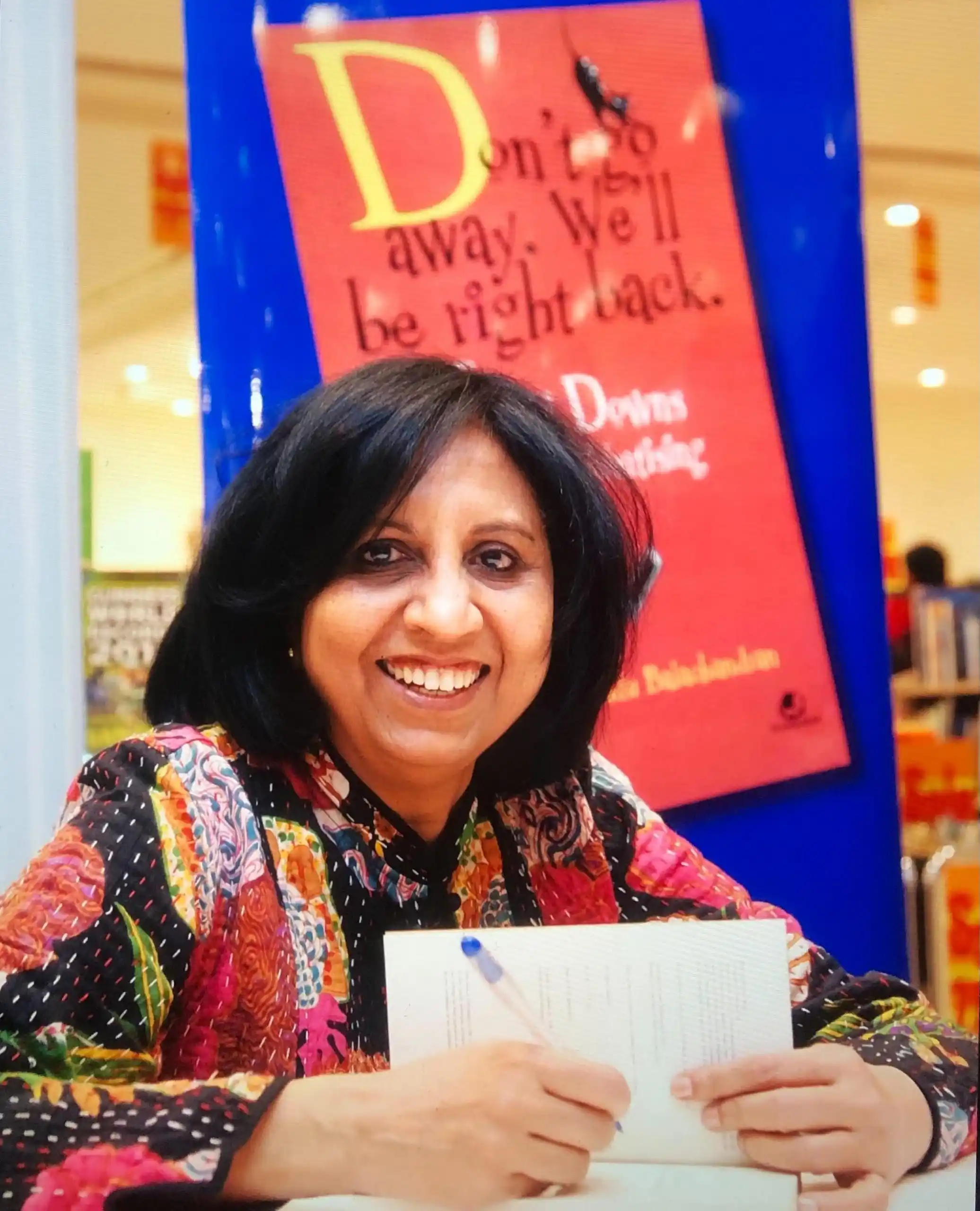 Indu's book, The Oops and Downs of Advertising, sold mostly because half of it was filled with cartoons by the famous Paul Fernandes. Her second book Runaway Writers is selling now, as Indu's large extended family gets easily bullied into attending book events and buying ten books each. Her next is probably an Alphabet Book for babies, as 26 letters takes little time to write.