The greatest love story never told is the one between you and your office air conditioner.
It was on the first cinder-y morning of the summer that I first noticed… Her.
Summer had arrived, burning me to a crisp as I rode to work, and that fateful morning she greeted me and changed my life. I looked back over my shoulder at the outdoor area. The plants were wilting in the heat and I swear I thought I saw steam rising from the gravel that covered the ground. I turned back around and there she was, beckoning me inwards with her siren song. It was twenty degrees of temptation, and it was irresistible.
She'd been around since I'd joined the place, but we hadn't mingled much until the summer turned up the heat. Earlier, I'd walk past her everyday on my way out of the office, to sit in the little outdoor section to enjoy whatever little winter Mumbai gets while she carried on doing her thing indoors.
But that morning, something changed. As I stepped tired and weary into the office, her presence was the only thing that I noticed.
She sat in the same place she sat in everyday, the very definition of a pale, cold, and beautiful ice maiden. She gently turned her neck towards the door as I entered, and my world flipped upside down. Bliss broke upon me in gentle waves, like wafts of cool breeze, and my senses came to a standstill. The English language is inadequate to describe what I was experienced, but there is a French term that approximates what I felt: Jouissance.
In the evenings, once our colleagues left and we were alone, she and I would steal some moments together in the conference room. It was our own little bubble.
I gave in, and for the next few weeks, we were just like two songbirds in Paradise. She became the first person I greeted every morning. I'd make it a point to spend five minutes alone with her before starting my day. Those five minutes were the most precious in all my working hours – and the thought of her kept me going through the rest of my day. For those five minutes, we were the only two souls in the whole world.
As summer intensified, our love blossomed further, and we became inseparable. In the evenings, once our colleagues left and we were alone, she and I would steal some moments together in the conference room. It was our own little bubble. It went down the usual path – lying. There were times when I would sheepishly tell my girlfriend that I was working late into the night, as images of me wrapped in her cool embrace while snoring blissfully on the office beanbag played guiltily in my head.
The realisation that this could turn into more than just a passing fling, hit me when I had to spend a sick day at home. In between bouts of diarrhoea, I lay sweating on my living room couch and longing for her touch. In that moment I knew that I could be sick anywhere in the world, but there was no better place to be sick than wherever she was around. This was serious.
But as with all such affairs, this was an ill-fated summer romance. It had begun as a tale about two lovers discovering each other, entwined by the red-hot coals of their passion, but ultimately drifting apart in tragedy.  The story of two star-crossed lovers… Me and my office AC.
***
Laugh all you will, but the relationship with the office AC is a special one, unlike with any other ACs you have ever known. It is a world away from the unhappy, dysfunctional ones at home. Those relationships are purely transactional: You pay your electricity bills and maintenance costs, but the ungrateful machines still break down or fail to cool your house properly. But your office AC will greet you with unconditional love each day. She doesn't need you to chase away any pigeons nesting on her compressor unit or clean her filters with an old toothbrush to shower you with affection and welcoming temperatures. Best of all, she'll never ask you to pay her bills.
But summer is nearly over and the romance had to come to an end. Like all fiery short affairs, the end was brutal. As the rains hit Mumbai, the early monsoon breeze made the air cool and my shirt was damp. That's the day she turned on me. Her chilled-out vibe became icy and frigid, and my shirt felt like a frozen shroud. By that evening, I was a sniffling, sneezing wreck.
The writing was on the wall. Our time together had come to a close. Yet, tis better to have loved and lost than never to have loved at all. Farewell, until next summer, beautiful AC. Out beyond ideas of wrongdoing and rightdoing there is a burning office. I'll meet you there.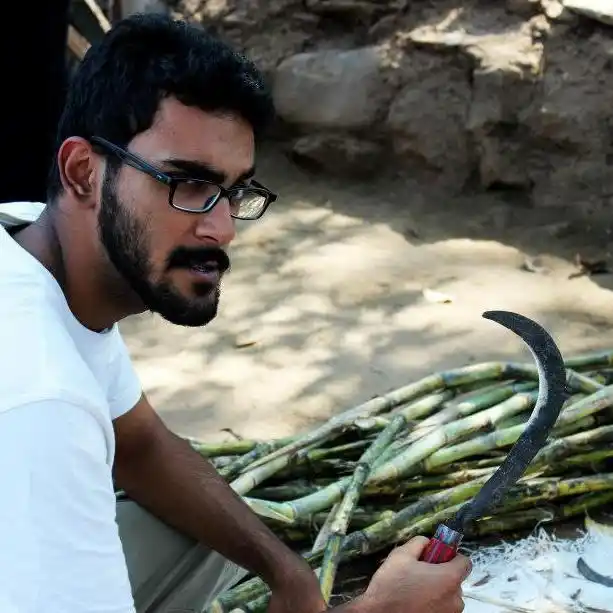 Dushyant Shekhawat really likes his mustache. He grew it himself. You can find him on Twitter at @SeriousDushyant.