This week, the student group supported the sexual harassment of a 20-year-old girl, displayed disdain for a Kargil martyr, and had a field day throwing stones at college students.
In any moment of crisis, there is both the opportunity of becoming a hero or the risk of being rendered a chutiya. For instance, last year, the Akhil Bharatiya Vidyarthi Parishad took the deshbhakti route to heroism when they called up "Zee News" to cover an event protesting Afzal Guru's hanging.
We all know what happened next. Videos, which were later proven to be fabricated, went viral. Kanhaiya Kumar and Umar Khalid, the movement's protagonists and later the nation's bêtes noires, walked away from the burning wreck with book deals and acceptance letters from political parties. In the aftermath, a reeling ABVP, much like Rahul Gandhi at a rally, tried hard to become relevant again.
They got that opportunity this past week, when they were called upon to defend the nation's izzat and prevent Khalid from giving a lecture at Delhi University's Ramjas College. Reminded of the pantsing they received the last time he had spoken, ABVP kept it classy this time: They surrounded the lecture hall, cut off the electricity, and went on to throw stones and tree branches, all the while serenading the university with chants of Vande Mataram and Bharat Mata Ki Jai. And then, in classic DU-politics fashion, the ABVP beat up resisting students and journalists who were trying to do their jobs.
Fast forward a couple of days, and the battleground had shifted. This time, the war was on 20-year-old DU student Gurmehar Kaur, whose campaign called #StudentsAgainstABVP went viral, for which she received rape threats.  First out to bat for the ABVP was bakchod extraordinaire Virendra Sehwag followed soon after by human dumbbell Randeep Hooda and Minister of Poor Statements Kiren Rijiju.
The ABVP's raison d'être is that it is a funnel for right-wing "nationalists" who go on to join BJP – just the way NSUI is a breeding ground for loaded babalog who go abroad to get degrees and come back to join the Congress.
In the process, the ABVP supported the sexual harassment of a young girl, displayed disdain for her father, a Kargil martyr, and had a field day mocking a person on the internet. And so, for this  absolute shitfuckery, we anoint them our Pimple of the Week.
In theory, student politics is what keeps a young country on its toes – it is a microcosm of the political experience of a robust democracy. Practically speaking, however, student politics is about as useful to this country as demonetisation was to overseas reserves of black money – not at all.
The ABVP's raison d'être is that it is a funnel for right-wing "nationalists" who go on to join BJP – just the way NSUI is a breeding ground for loaded babalog who go abroad to get degrees and come back to join the Congress. Current cabinet ministers like Arun Jaitley, Rajnath Singh, and Venkaiah Naidu have all held ABVP office during their student days.
A report from last year has detailed the ABVP, BJP, and RSS's progressive three-way marriage, concluding that the ABVP has only been relevant in the years the BJP has been in power. This is important because it allows the ABVP to indulge in low-level thuggery. Since 2014, the ABVP has tried its best to disrupt any proceedings they find to be offensive. Most recently, they vowed to disrupt a lecture on the rise of fascism at Panjab University, leaving irony reeling with a black eye. Both the ABVP's turns at JNU and DU have resulted in a powerful change in narrative, reduced to a jus of "deshbhakti" vs "anti-nationalism" that has polarised the country faster than a kiss scene in a Bollywood movie. 
This pattern can be seen between various student groups and the ABVP, which eventually brings in the state machinery for a last-ball six. It started with a fortnight-long ban on the Ambedkar Periyar Study Circle by IIT Madras authorities in mid-2015. Then there was another, more famous, strike from June to October 2015 by the students of the Film Television Institute of India in Pune against the appointment of C-grade filmmaker Gajendra Chauhan, followed by the death of Rohith Vemula at Hyderabad Central University.
You see, the ABVP may not always be the flavour of the season but that doesn't mean it'll give up. In 2014, it was just another student group. But it slowly rose through the ranks until 2016, when at JNU, it achieved peak stardom. And in 2017, here they are again, trying their best to make saffron sexy again.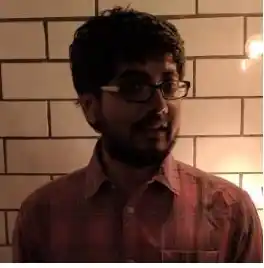 Lover of baby animals, Arsene Wenger, Damien Rice, Peggy Olsen and overly long podcasts. Tweets at @parthsarora.
Confused about most stuff. Writes things.