On Sunday, Winston Churchill's statue in London was vandalised by Black Lives Matter protestors. As news reached India, many recalled the 1943 Bengal famine, when the then UK PM diverted food to British soldiers and left millions starving.
Across the world, protestors are taking to the streets even in the face of the coronavirus pandemic to show their support for the Black Lives Matter movement, which have spread across the world after the killing of George Floyd, an African-American man, in Minneapolis. Alongside the peaceful protests, there have also been instances of rioting and property damage. While in the US, the statues and memorials commemorating racist figures from the Civil War era have been targeted by some of these groups, in the UK, a statue of the country's World War II Prime Minister Winston Churchill was marked with the words "Churchill was a racist" and other posters.
These demonstrations have been subverted by thuggery.

Justice will follow. pic.twitter.com/CL3gfOthkg

— Priti Patel (@pritipatel) June 8, 2020
For some, this was an unforgivable insult to the memory of a man who fought against Hitler's Nazis during WWII. However, many others saw the truth in those words, and the incident has become an occasion to revisit the tainted legacy of Winston Churchill and explore an uglier, less romanticised version of the leader.
No. They are treating Churchill exactly the way he deserves to be treated

He was blindingly racist to Indians, killed at least 4mn at one go during the Bengal famine because everything from India was directed towards war efforts.

White ppl need to stop calling him a statesman. https://t.co/3MSIVHkUgg

— Vidya (@VidyaKrishnan) June 8, 2020
In India, a country that suffered under Churchill's rule, there has been a wave of support for the protestors on social media, as people remember the Bengal Famine, where three to four million Indians died of starvation due to Churchill's policies, even as he turned a blind eye to their suffering. In 1943, he diverted food to British soldiers and countries such as Greece as famine hit India.
3 million people died in the Bengal famine as a direct result of Winston Churchill's crimes. Do they teach that in colonial history in UK schools?

Reading this might be a good start to get a fuller picture of him: https://t.co/Ix7nOdqpAb #Genocide#Churchill #WinstonChurchill pic.twitter.com/5SDPBwoeCo

— Papa CJ (@PapaCJ) June 7, 2020
#Churchill was a racist and a war criminal. Spread famine in India to win popularity back home.
Brits are only now waking up to reality.
pic.twitter.com/PLUHxi5mWP

— Anuraag Saxena (@anuraag_saxena) June 8, 2020
Through his own words, Churchill's racial biases come to the fore when examining some of his quotes with regards to India and Indians. Some choice selections of Churchill's most bigoted statements include "I hate Indians. They are a beastly people with a beastly religion" and blaming the Bengal Famine on Indians themselves, saying it was their fault for "breeding like rabbits".
"If there's a drought in Bengal, why isn't Gandhi dead yet?"

"I am strongly in favour of using gas against uncivilised tribes of Iraq."

"They (Indians) breed like rabbits."

Few statements of Churchill, who is hailed as a Hero in the Western World. 1/2

— Advaid അദ്വൈത് 🌹 (@Advaidism) June 8, 2020
It's not only in India that Churchill's prejudices came into play. In his time, the British Empire still held colonies across the globe, and from Africa, to Asia, and even in Europe, Churchill's tendency to look on foreign peoples and races as inferior was on full display. The criticism of Churchill is not limited only to Indian Twitter, but indeed issues forth from accounts across the globe.
India.

This is where his dark side is just unfor-fucking-givable.
He orchestrated a mass genocide in Bengal.

— Ireland / Mark (@ireland) January 20, 2018
Not only Churchill, most of the British government for several centuries were racists who looted more than half the planet with India as their crown jewel of exploitation, which as the kohinoor diamond remains the most expensive of the British crown jewels. https://t.co/gRmN187u7V

— Dr David Frawley (@davidfrawleyved) June 8, 2020
The former UK PM has for long been a controversial figure in Indian politics. Congress MP Shashi Tharoor has been a vocal critic and in his book Inglorious Empire chronicles the atrocities of the British rule in India. "This is a man the British would have us hail as an apostle of freedom and democracy, when he has as much blood on his hands as some of the worst genocidal dictators of the 20th century," Tharoor had said at the Melbourne's writers' festival broadcast in 2017.
'Winston Churchill is no better than Adolf Hitler,' says Indian politician Dr Shashi Tharoor | The Independent https://t.co/vpPjNgDHy6

— Stefan Ratcliffe (@stefanratcliffe) June 7, 2020
For Britain, of course, Churchill remains a hero and the descreation caused an outrage. In fact, on Monday morning, a group of volunteers scrubbed the graffiti off the statue.
In 2020 to question & seek removal of public statues is ok. But a small group deciding they can destroy & deface them is not. Churchill worked with Clement Attlee to stop Hitler's Nazis. Defacing this statue is an insult and does nothing to tackle racism today. pic.twitter.com/W8XQoW80HO

— Caroline Flint (@CarolineFlint) June 7, 2020
Walked down Whitehall and past Parliament on my way home from work this morning (out of curiosity following the protests) and I saw these guys cleaning the graffiti off the Churchill statue, thought they'd been ordered by the police to do it, but they got up early to volunteer pic.twitter.com/gE65aM8rvM

— Zora Suleman (@ZoraSuleman) June 8, 2020
But there is no denying that despite his role in resisting Hitler's Third Reich, Churchill was hardly a benevolent ruler to those under the oppressive thumb of his government. And it's high time his failings stopped being swept under the rug of history.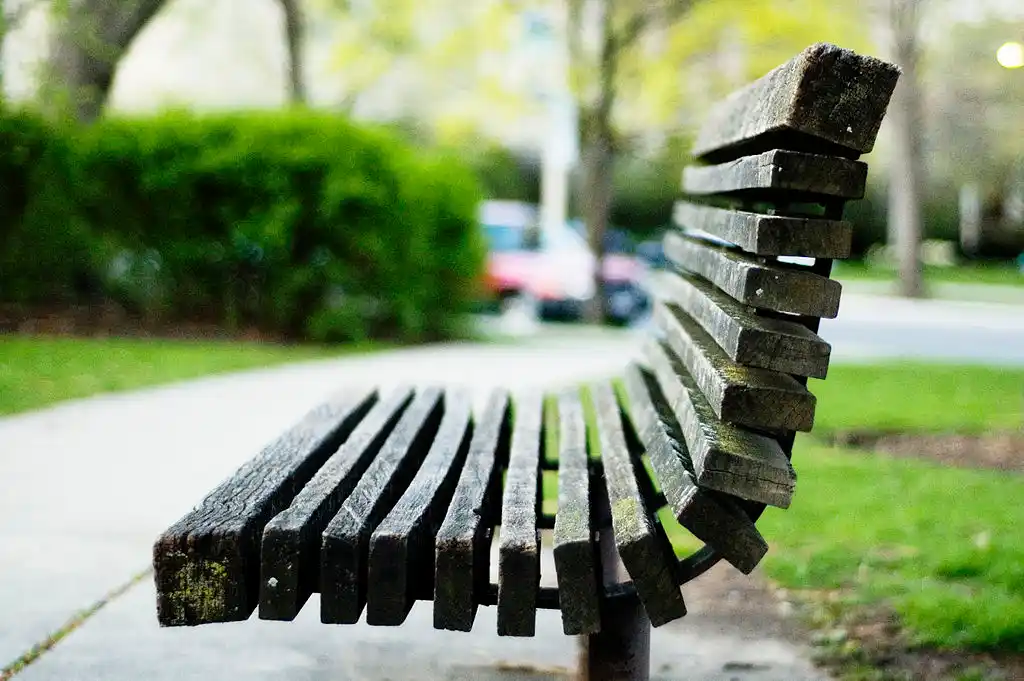 The Arré bench delivers stories that mattress. It hasn't achieved much sofar. But it's getting bedder.