After PM Narendra Modi declared a 21-day nationwide lockdown, Mumbaikars and Dilliwallahs panicked and thronged shops to stock up essential supplies. Meanwhile, in small towns and villages, citizens set a fine example by practising social distancing, the key to fight coronavirus.
Each time Prime Minister Narendra Modi makes an announcement at 8 pm, Indians panic. On Tuesday, after the PM announced a complete nationwide lockdown for 21 days, to be effective from midnight, chaos ensued in many parts of  the country, as people thronged local shops to stock up on food and essential supplies.
VIDEO- Check out the traffic in a Noida residential area. People doing the exact opposite of what they've been told.

Grocery stores will be open. Stop crowding the streets, shops and supermarkets. #StayAtHomeSaveLives pic.twitter.com/xJ7NrmniLN

— Zeba Warsi (@Zebaism) March 24, 2020
Social Distancing, the very goal of the lockdown amid the coronavirus pandemic, was completely lost within minutes as hundreds took to the streets. Chaos ensued outside a DMart store in Mumbai as supermarket officials and the police failed to convince shoppers that essential supplies would be available during the lockdown.
Visuals of people in a panic mode at a #DMart store. Please ensure all of us spreads the message that 'essentials will be available' in the #lockdown period. With such a situation, we are only making the condition worse.
.#coronavirusindia #LockDownMumbaiPune #lockdownindia pic.twitter.com/BGPBwBAOgK

— Mumbai Live (@MumbaiLiveNews) March 24, 2020
Whether it was stocking up on medicines or food, long queues where people stood in close proximity were the order of the day.
This is from Mumbai. Panic buying all over India on 21 day lockdown. Govt must reach out on social media. In NOIDA, police has blocked roads and petrol pumps have huge lines. Essential items would be available should be the message and which are. pic.twitter.com/fTZIPa4SyE

— Kartikeya Sharma (@kartikeya_1975) March 24, 2020
Social distancing is the key in our battle against coronavirus, and India's urban population could take lessons from our humble brothers and sisters from Talegaon, a small town in Pune, as they set a fine example by adhering to norms in a vegetable market.
#SocialDistancing: Residents of #Talegaon – #Dabhade (#Pune), are setting an example in checking #COVID2019 by adhering to social distancing principle in vegetable market. @HTMumbai #CoronavirusLockdown#CoronaInMaharashtra#coronawarriors#Social_Distancing pic.twitter.com/utOLz0Dznu

— Deshpande Shrinivas (@shrinihtmumbai) March 25, 2020
Such exemplary behaviour has been displayed in many rural parts of the country. In Mundra, Gujarat people obediently stood in a queue maintaining distance at a grocery shop.
WATCH | People maintain social distance while buying essentials at a grocery story in Gujarat's Mundra.

PM Modi has urged against panic buying and assured that essentials will remain available during #21daysLockdown #CoronavirusPandemic pic.twitter.com/JeGM6BUTmq

— NDTV (@ndtv) March 25, 2020
Kerala has been one of the leading states in India in the fight against the coronavirus, where customers don't even crowd at alcohol shops. Cheers to responsible drinkers!
We need to practice this distance.#COVID2019india A queue being maintained by people in Kerala at alcohol shop. pic.twitter.com/1hR3WZwfYZ

— B.S.Purohit (@BspurohitB) March 20, 2020
Who says you can't have a house party with yourself, and be a responsible citizen at the same time?
Most responsible alcohol consumers on the earth are from Kerala in India. While standing in a queue outside a liquor shop, they're maintaining #SocialDistancing in view of #Coronavirus. While agreeably drinking is injurious to health, they're following #COVID guidelines. 😇❤️ pic.twitter.com/pAtFG6Ud39

— Harjinder Singh Kukreja (@SinghLions) March 20, 2020
Right now there's no cure to Covid-19, so the only solution seems to be to stay in and if you step outside maintain at least a one-mettre distance. This is something our authorities have been emphasising on and endorsing, right from the PM to the Chief Minister of Maharashtra…
भाजीपाला व इतर जीवनावश्यक वस्तू खरेदी करताना Social Distancing या उपायाचा अवलंब करताना नागरिक.

Citizens practising social distancing while buying vegetables & other essential commodities. pic.twitter.com/Hiacyf4PC6

— CMO Maharashtra (@CMOMaharashtra) March 25, 2020
In a cabinet meeting chaired by the PM on Wednesday, ministers were seen seating at a distance from each other.
#Coronavirus | In PM Modi's cabinet meeting, a glimpse of social distancing#SocialDistancing #21DayLockdownhttps://t.co/MsnHLT1HfD pic.twitter.com/TFMGFxrB2c

— Hindustan Times (@htTweets) March 25, 2020
At truth be told when the crowds are thin there is no need to rush. In fact, residents in the Quezon city of Philippines have found creative ways of social distancing even in compact spaces like an elevator.
>

Ilang residential buildings sa Quezon City, pinapatupad na rin ang "social distancing" sa kanilang mga elevator. | via @LyzaAquinoDZMM #COVID19 pic.twitter.com/2ydWEFguXy

— DZMM TeleRadyo (@DZMMTeleRadyo) March 20, 2020
It might do us good to remember a lesson we learnt in school: One-hand distance at all times.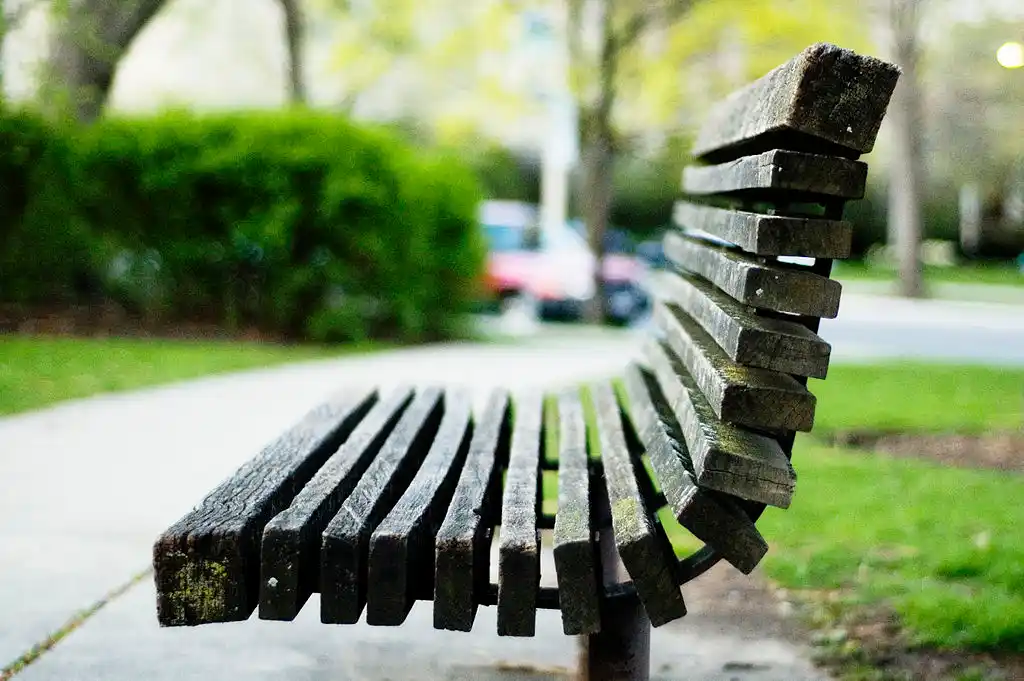 The Arré bench delivers stories that mattress. It hasn't achieved much sofar. But it's getting bedder.